Conacher
Sources yet to be consulted: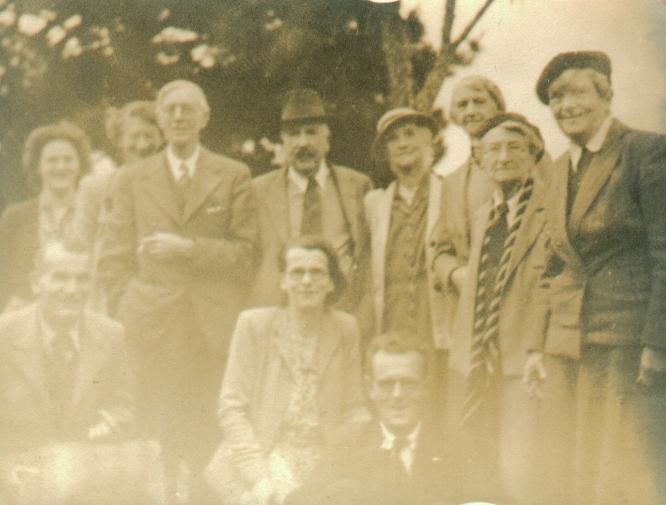 Back (Left to Right): ---, ---, William Conacher,
James O'Mara
,
Agnes Cashel
, Dot Conacher,
Cousin Bee
,
Aunt Al
.
Front:
Steen
,
Sheila O'Mara
, (poss. her husband
Capt. Rice
).
Think shortly after WW2, perhaps c.1946 (must be before 1948, when James died).
James Conacher,
NOT Connacher,
of Scotland [
Jim Conacher
had more info on Conacher ancestry],
had issue:

William M. Conacher,
Dr. William Morison Conacher, "Connie",
born 11th Oct 1877, Ashwell, Hertfordshire.
He was educ University of Lausanne. He was educ University of London.
He emigrated to Canada 1911.
In 1911-13 he was Master of Moderns at Upper Canada College, prestigious private boys' school, Toronto.
He returned to Europe to marry Madeline.
Listed as teacher, living Toronto, at mar 1914 [GROI].
He mar 16 July 1914 to Madeline Cashel ["Dot", born 23rd July 1882].
They were on honeymoon in Switzerland when WWI broke out on 1 Aug 1914. They fled across Continent on the last, overcrowded trains before the invasion of France.
In 1915 he was lecturer in French at Queen's University, Kingston, Ontario, where he remained for the rest of his career.
Editor of Queen's Quarterly. Secretary of "The Saturday Club". One of original members of the Queen's Faculty Players.
Madeline supposedly taught in Mary MacSwiney's school for girls in Cork. But this would be post-1917 - surely they were in Canada.
William visited his relations in Scotland early spring 1922, leaving Madeline with her sister at Cashel House, Connemara.
After the twins died at Cashel, July 1922, the Conachers had great difficulty getting back across Civil War-torn Ireland.
James O'Mara could not hire a car in Dublin to get down to Connemara, so he bought one, on the understanding that if it returned to Dublin safely, he could sell it back. See [Lavelle, 1961].
William got PhD from University of Montreal.
In 1931 he became Associate Professor of French at Queen's University.
In 1936 full professor.
He retired 1947, though still wrote.
Author of "Arnold Bennett and the French Realists", Queen's Quarterly, vol 56, no 3, autumn 1949.
He died morning of Fri 20th June 1958, Ongwanda Sanatorium, Kingston, Ontario, age 80 yrs.
Obituary in Kingston Whig Standard, Fri 20th June 1958.
Funeral Mon 23rd June 1958, bur St.Mary's cemetery, Kingston.
Madeline moved to Toronto.
She died think 10th, Sept 1965, Toronto, age 83 yrs.
William and Madeline had issue:
Jim Conacher,
Dr. James Blennerhassett Mary Conacher, born 31st Oct 1916,
BA 1937, Queen's University, Kingston, Ontario,
medal in History, MA 1938, Nuffield fellow,
historian, Dept. History, University of Toronto,
mar Muriel Foley [born Newfoundland, Canada, Mar 1919, nurse in WW2],
Associate Prof as at 1958,
author of these books:

Party Politics in the Age of Palmerston, 1959.
The Aberdeen Coalition 1852-55, 1968.
The Peelites and the Party System, 1846-52, 1972.
Waterloo to the Common Market, 1975 (textbook).
Britain and the Crimea, 1855-1856, 1987.

contributed to The Gladstonian turn of mind: essays presented to J.B. Conacher, edited by Bruce L. Kinzer, University of Toronto Press, 1985,
co-edited the Benjamin Disraeli Letters vol 3 (1987) and vol 4 (1989) and vol 5 (1993),
they lived Toronto,
he died 1993, age 77 yrs,
Muriel lived Toronto, died June 2005, age 86 yrs,
had issue:

Madeline Conacher, mar Louis Allen.
Desmond Conacher, mar Kim Chown and had issue:

Adam Conacher, mar Carolyn Ager and had issue:

Benjamin Desmond Conacher.
Madeline Catherine Conacher.
Kate Anna Conacher.

Megan Conacher, mar David Bastedo.




Desmond Conacher, mar Mary Smith and had adopted issue:

Hugh Conacher, partner of Marion DeGraves and had issue:

Genevieve DeGraves.

Susan Conacher.




Blennerhassett Conacher,
Blennerhassett Kevin Mary Conacher, Blen,
twin, born 9.30 am, 21 Feb 1922.

Hugh Conacher,
Hugh William Mary Conacher,
twin, born 9.45 am, 21 Feb 1922.

The twins were born 21 Feb 1922 at Madeline's sister's house, 13 Myrtle Hill Terrace, Lower Rd, Cork [GROI].
They both sickened and died in a few days at Cashel House, July 1922, age 5 months.
Deaths not found in [GROI] 1922-23.
They were bur in the graveyard on Cashel Hill.
(todo) See burial records in Cashel church.
Eithne O'Mara thought maybe one died in Cork, other in Cashel. Though probably not if both bur Cashel.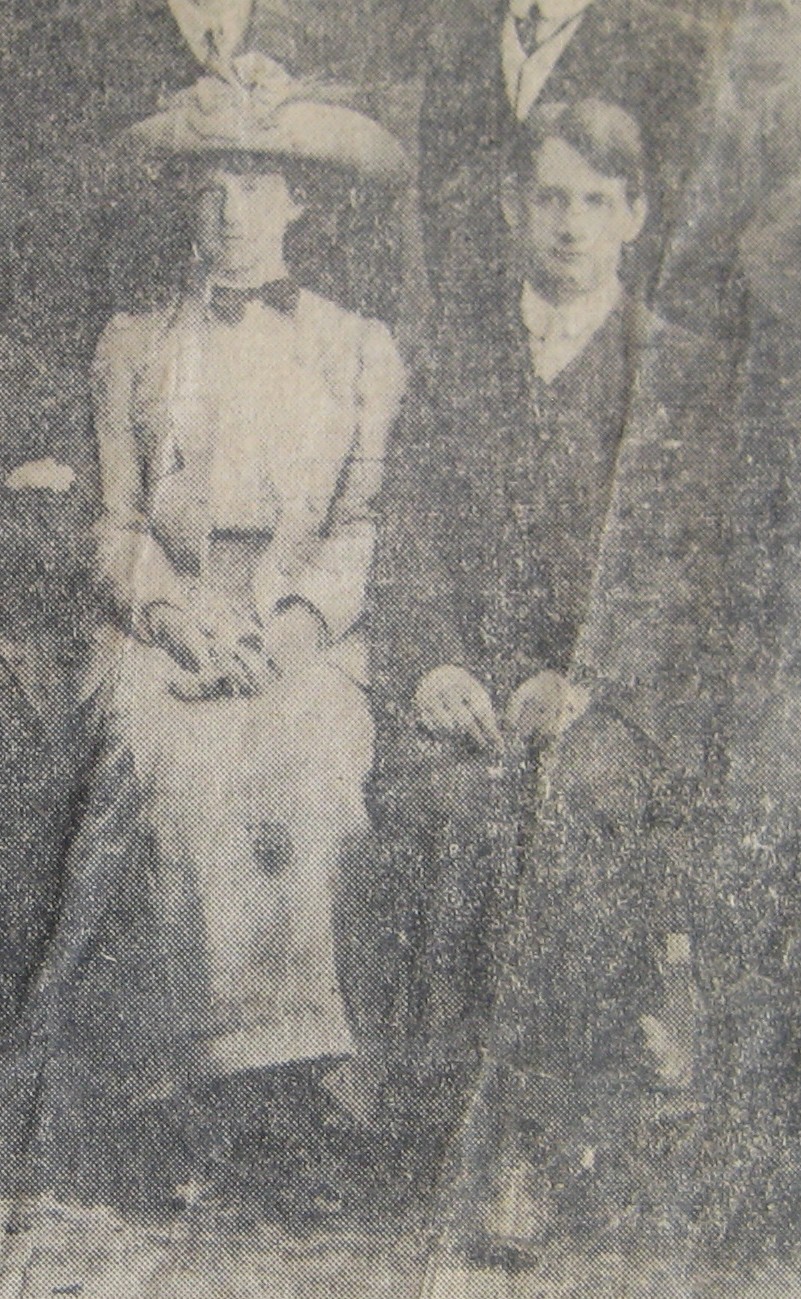 "Miss Cashel" and
Terence MacSwiney
in photo of staff of Cork Municipal School of Commerce, 1911-12.
This would be
Alice
or (more likely) Madeline.
See
larger
and
full size
and
other shot
.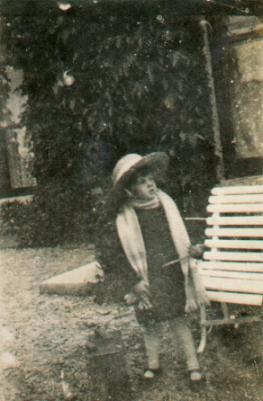 Desmond Conacher, Cashel House, 1922.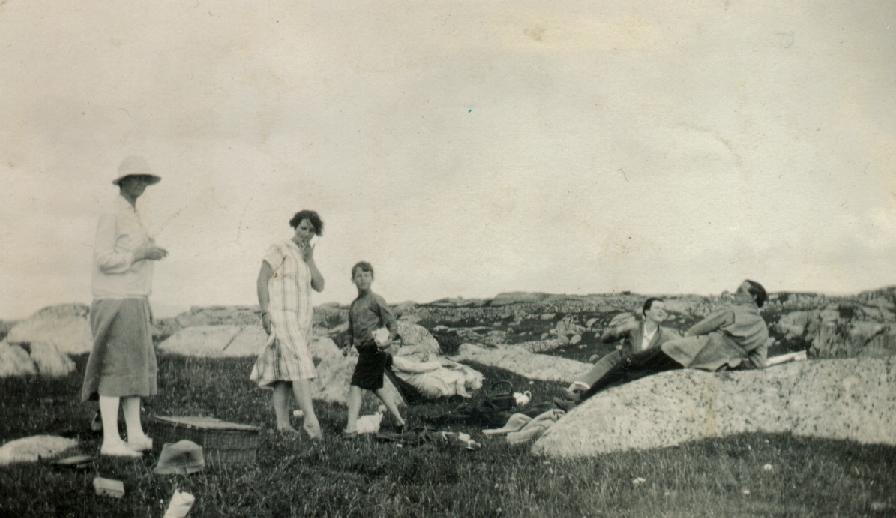 (Left to Right): Dot, Maureen O'Mara, Desmond, (obscured) Eileen O'Mara, Eithne O'Mara, Connie.
Roundstone, Connemara, 1927.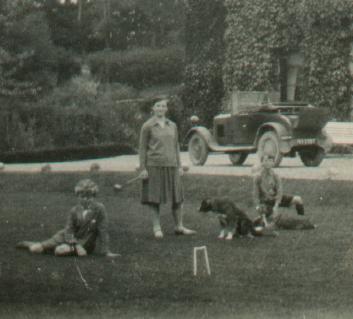 (Left to Right): Jim Conacher, Eithne O'Mara, Desmond Conacher.
Cashel House, 1927. See full size.
---
The Conacher twins died in July 1922 at the O'Mara house,
Cashel House, Co.Galway
.
They were bur nearby in the graveyard on
Cashel Hill
.
The graveyard, called "High Cashel", is 1 mile up a track on the hillside behind Cashel church. See
old map
.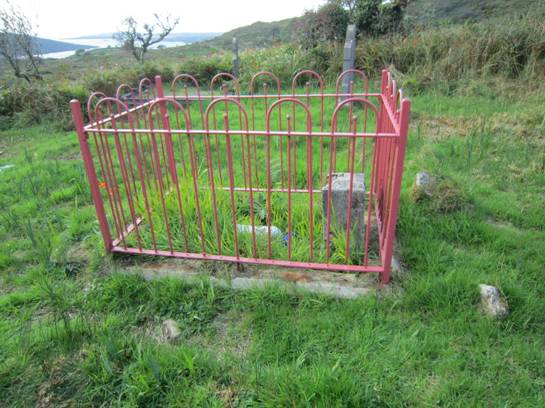 This is meant to be the grave of the Conacher twins.