William Dicey
References:

Sources yet to be consulted:

William Dicey, from British Museum.
Will of William Dicey, [NA.UK] PROB 11/829.
Will of William Dicey and other documents, Northamptonshire Record Office, Northampton, MS Yz 4711-4737
Will of Robert Dicey, [NA.UK] PROB 11/118.

W.W. Hadley, The Bi-centenary Record of the Northampton Mercury, Northampton, 1920.
Victor E. Neuburg, 'The Diceys and the chapbook trade', The Library, vol 24, no 3 (1969), 219-31
J. Burnby, 'Printers ink and patent medicines: the story of the Diceys', Pharmaceutical Journal, 14 (Aug 1982), 162-3, 169
Susan Pederson, "Hannah More Meets Simple Simon: Tracts, Chapbooks, and Popular Culture in Late Eighteenth-Century England," Journal of British Studies, 25 (1986): 84-113.
Gilles Duval, 'The Diceys revisited', Factotum, 35 (1992), 9-11
M. Hobbs, 'The Diceys revisited', Factotum, 36 (1993), 27
Gilles Duval, 'More facts, afterthoughts and conjectures about the Diceys', Factotum, 40 (1995), 13-18
St Mary-le-Bow
church and Bow Church Yard,
Cheapside
, London, on 1720 map.
The Cluer/Dicey family printing business was at "the Maiden-Head", opposite the S door of St Mary-le-Bow church, in Bow Church Yard, London. Also listed as "No. 10, Bow Church-Yard".
From
here
.
William Dicey
,
born 25 Dec 1690,
originally of
Basingstoke
, Hampshire,
pioneer
printer
and newspaper owner, pioneer of cheap print.
He was first apprenticed as "leather seller".
He mar pre-1715 to
Mary Atkins
.
They were living in
St Giles Cripplegate
, London, in 1719.
He co-founded
Northampton Mercury
newspaper 1720 with his partner
Robert Raikes the Elder
. This was the first press in
Northampton
. Press was near
All Saints' Church
, Northampton.
He co-founded
Gloucester Journal
1722 with Robert Raikes. This was the first press in
Gloucester
.
He and Raikes divided the business 1725. Raikes became owner of Gloucester Journal. Dicey became owner of Northampton Mercury. He was based in Northampton.
He built up a successful business, as printers and sellers of books and maps and prints.
He also built up a major business selling patent medicines.
He, his brother-in-law John Cluer and Robert Raikes were involved by 1726 with Benjamin Okell in funding and promoting "Dr. Bateman's Pectoral Drops".
His son Cluer joined him in the business.
In 1736 he took over the running of his late brother-in-law John Cluer's London printing business from his sister and her 2nd husband. His son Cluer was sent to run it.
The Diceys sold patent medicines throughout Britain and Ireland. They even sold to the American colonies (from at least as early as 1737) and Antigua. See [Simmons, 2000].
Mary died 28 Dec 1748.
William printed a catalogue of their publications with his son Cluer in 1754. It shows they printed a range of maps, prints, music and chapbooks: "Printed and sold by William and Cluer Dicey, at their warehouse, opposite the south door of Bow-church in Bow-Church-yard".
They were "easily the most important figures of their time in popular publishing" [DNB].
[Simmons, 2000] says: "The Diceys are well known to print and book historians. No other producers of cheap print operated on the scale suggested by the Catalogue and the family has generally been regarded as its" [cheap print's] "most important printers and sellers in the eighteenth century to about the 1790s."
He died 2 Nov 1756, Northampton, age 65 yrs.
William and Mary had issue:
Cluer Dicey,
eldest son, born 28 Jan 1715 (using new style, regarded at the time as the end of 1714).




William Dicey,
birth (think 1719) registered at St Mary-le-Bow (at Bow Church Yard), London [DNB].

Robert Dicey, born 16 Jan 1720,
managed the Northampton Mercury for his father from 1747 until his death,
died 28 Mar 1757, age 37 yrs,
will pr 9 April 1757.

Rev. Edward Dicey, born 8 Feb 1721,
educ Trinity College, Cambridge,
died 31 Mar 1790, age 69 yrs.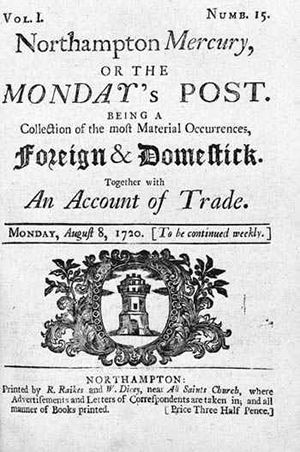 Northampton Mercury
in its first year, 1720.
From
[BL]
.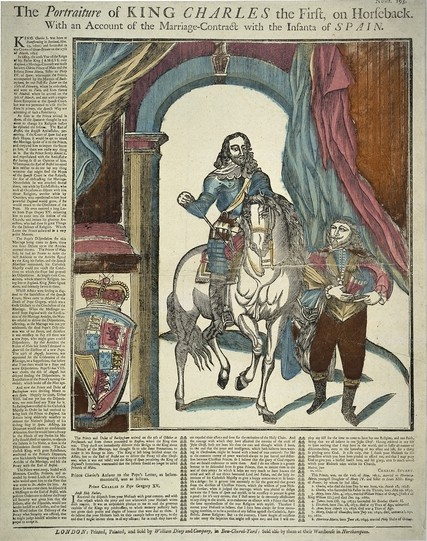 Print made by "William Dicey and Company, Bow Church Yard", c.1730-50.
From [BM].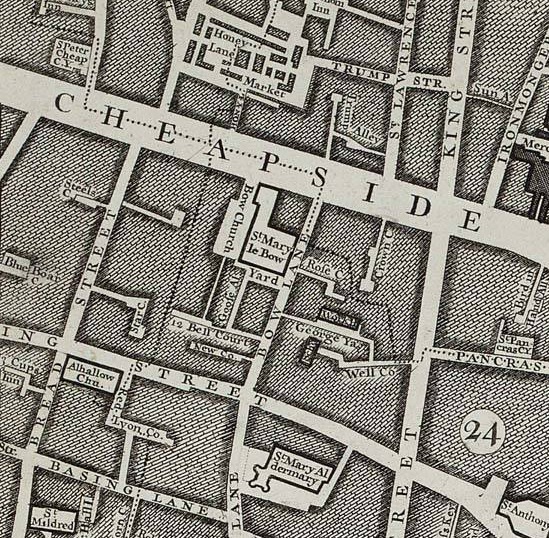 St Mary-le-Bow and Bow Church Yard, London, on 1746 map.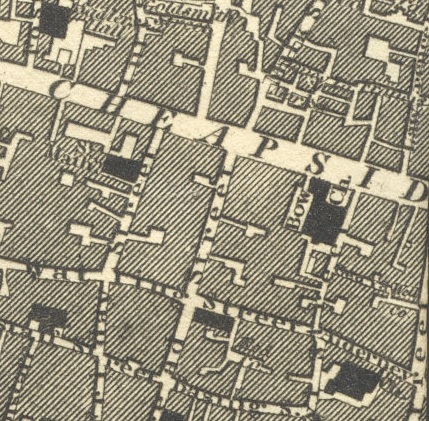 St Mary-le-Bow and Bow Church Yard, London, on 1827 map.
See modern satellite view and street view.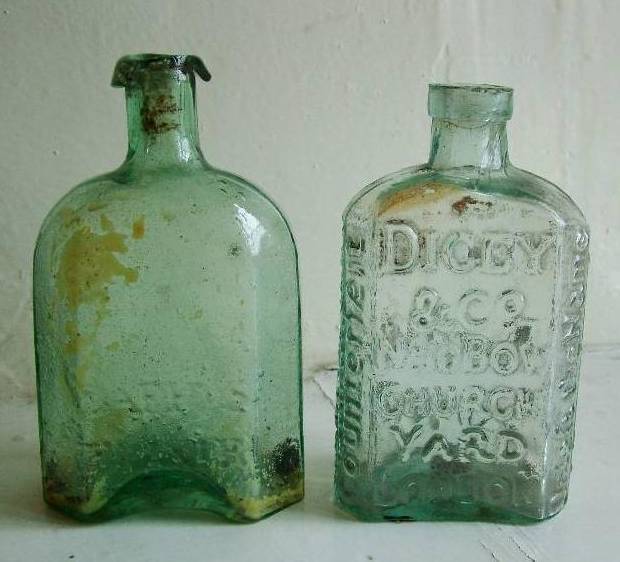 Early 19th century patent medicine bottles.
Formerly here.
Shows Dicey and Co. still at "No. 10, Bow Church Yard".
---
"Daffy's Cordial, warm and spicy,
Sold in Bow-Church-Yard by Dicey"
- Ad for Daffy's patent medicine sold by William Dicey in London.
Quoted in
[DNB]
and
[Neuburg, 1977]
, which says it
"must have been one of the earliest of advertising jingles"
.
---