Richard Fitzalan, 10th Earl of Arundel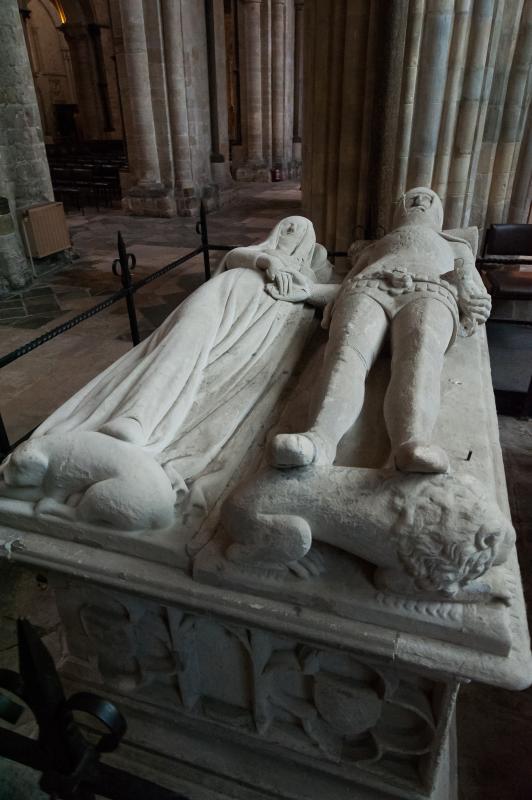 Tomb of 10th Earl and his 2nd wife, Chichester Cathedral.
Photo 2012. From
Jacqueline Poggi
. Creative Commons.
Richard Fitzalan, 10th Earl of Arundel
(see
here
and
here
), born c.1313,
mar 1stly to
Isabel Despenser
[descendant of
Edward I
],
marriage annulled by the Pope in 1344,
had issue by 1st wife:
Sir Edmund Fitzalan, had issue:

Philippa Fitzalan, mar Sir Richard Sergeaux and had issue:

Alice Sergeaux, mar Richard de Vere, 11th Earl of Oxford [born 1385] and had issue.




Mary Fitzalan [the sources have her as dau of 10th Earl or 9th Earl, but given the date of her dau's birth, it must be 10th Earl],
mar John Lestrange, 4th Baron Strange and had issue:

Ankaret Lestrange, born 1361, mar Richard Talbot, 4th Baron Talbot and had issue.

mar 2ndly to Eleanor Plantagenet [descendant of Henry III],
Celebrity Net Worth estimates him as the 15th richest person in human history (adjusted for inflation),
he died 1376,
bur with his 2nd wife in Chichester Cathedral,
their lovely tomb inspired the poem "An Arundel Tomb" by Philip Larkin,
had issue by 2nd wife: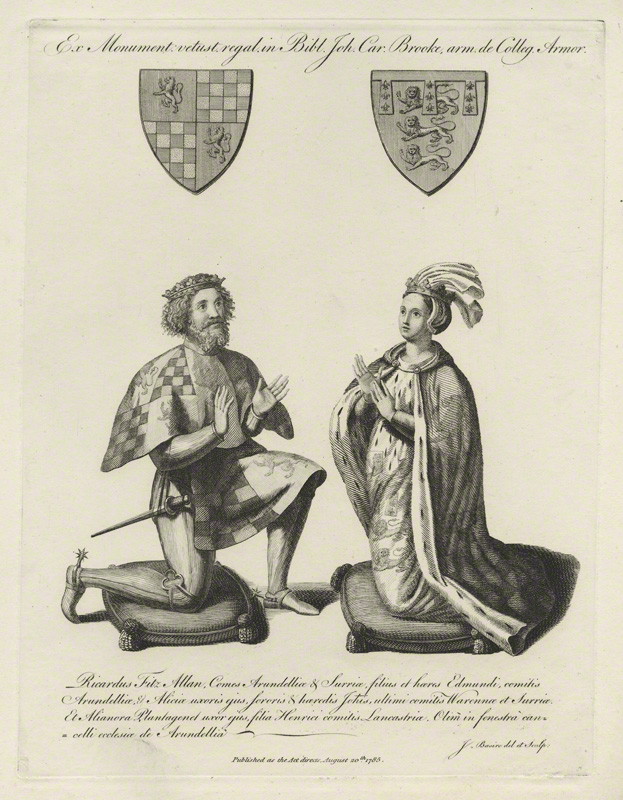 10th Earl and his 2nd wife.
Print of 1785.
From
NPG
. See
terms of use
.


Philip Larkin reads his lovely poem "An Arundel Tomb" (1964).
See text.
Of the Earl and his lady holding hands: "Rigidly they persisted, linked, through lengths and breadths of time. Snow fell, undated. Light each summer thronged the grass. A bright litter of birdcalls strewed the same bone-riddled ground. And up the paths the endless altered people came, ... Now, helpless in the hollow of an unarmorial age ... above their scrap of history, only an attitude remains".
---
Photos of tomb of 10th Earl: