Sir Edward Grey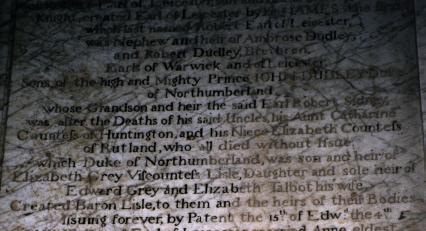 Tomb of the
5th Earl of Leicester
(died 1705). Erected 1743.
Showing ancestry back to Edward Grey and Elizabeth Talbot.
Sir Edward Grey
(see
here
), born c.1415-16,
mar
Elizabeth de Ruthyn
[descendant of
Edward I
],
had issue:
Sir John Grey of Groby, 7th Lord Ferrers, had issue:

Thomas Grey, 1st Marquess of Dorset,
mar Cicely Bonville [descendant of Edward III] and had issue:

Elizabeth Grey, mar Garret Og Fitzgerald, 9th Earl of Kildare and had issue.




Edward Grey, mar Elizabeth Talbot [descendant of Edward I] and had issue:

Elizabeth Grey, mar Edmund Dudley and had issue.
Donation Drive: Please donate to support this site.
I have spent a great deal of time and money on this research. Research involves travel and many expenses.
Some research "things to do" are not done for years, because I do not have the money to do them.
Please Donate Here to support the ongoing research and to keep this website free.