The Blennerhassett problem
There has been one
epic
problem in all of my family tree research - the Blennerhassett problem. This is the problem of how we descend from the Blennerhassett family. I first became aware of our possible Blennerhassett descent in 1985. It took me 35 years to prove it. In 2020, DNA testing finally proved that we descend from the
Blennerhassett Baronets branch
.
See Proof of our descent from Blennerhassett for the proof that we descend from the Blennerhassett Baronets branch.
I call it as proved that my ancestor George Cashel (born 1807) descends from Robert Blennerhassett (died 1765) and his wife Frances Yielding. Nothing else explains the DNA.
That we descend from this family is proven, but the exact descent is unproven. The story in our family is that George Cashel's mother was "Letitia" Blennerhassett. However no such Blennerhassett girl has been found. The family memory may be confused, but DNA says that some descent from this family definitely exists.
The exact link to the Baronets family is unknown. It remains to prove this from paper, to confirm from paper records what the DNA says must exist.
I am trying to prove a story from 1807.



George Cashel's RIC record.
Showing that he was recommended by "A. Blennerhasset, J.P." when he joined the County Constabulary in 1828.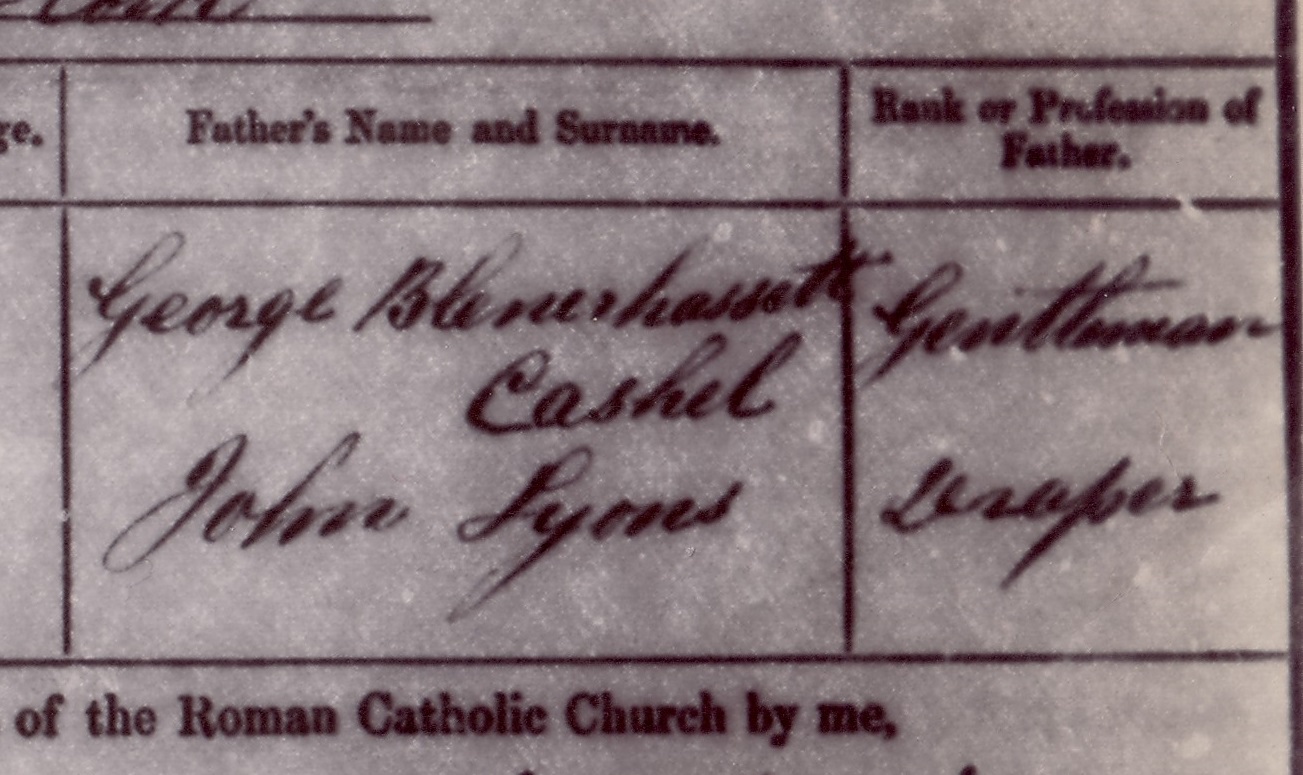 George Cashel is written "George Blennerhassett Cashel" on the marriage cert of his son Blennerhassett Cashel in 1869.
See full size.


Detail from grave of George Cashel's son Blennerhassett Cashel.
---
The search from 1985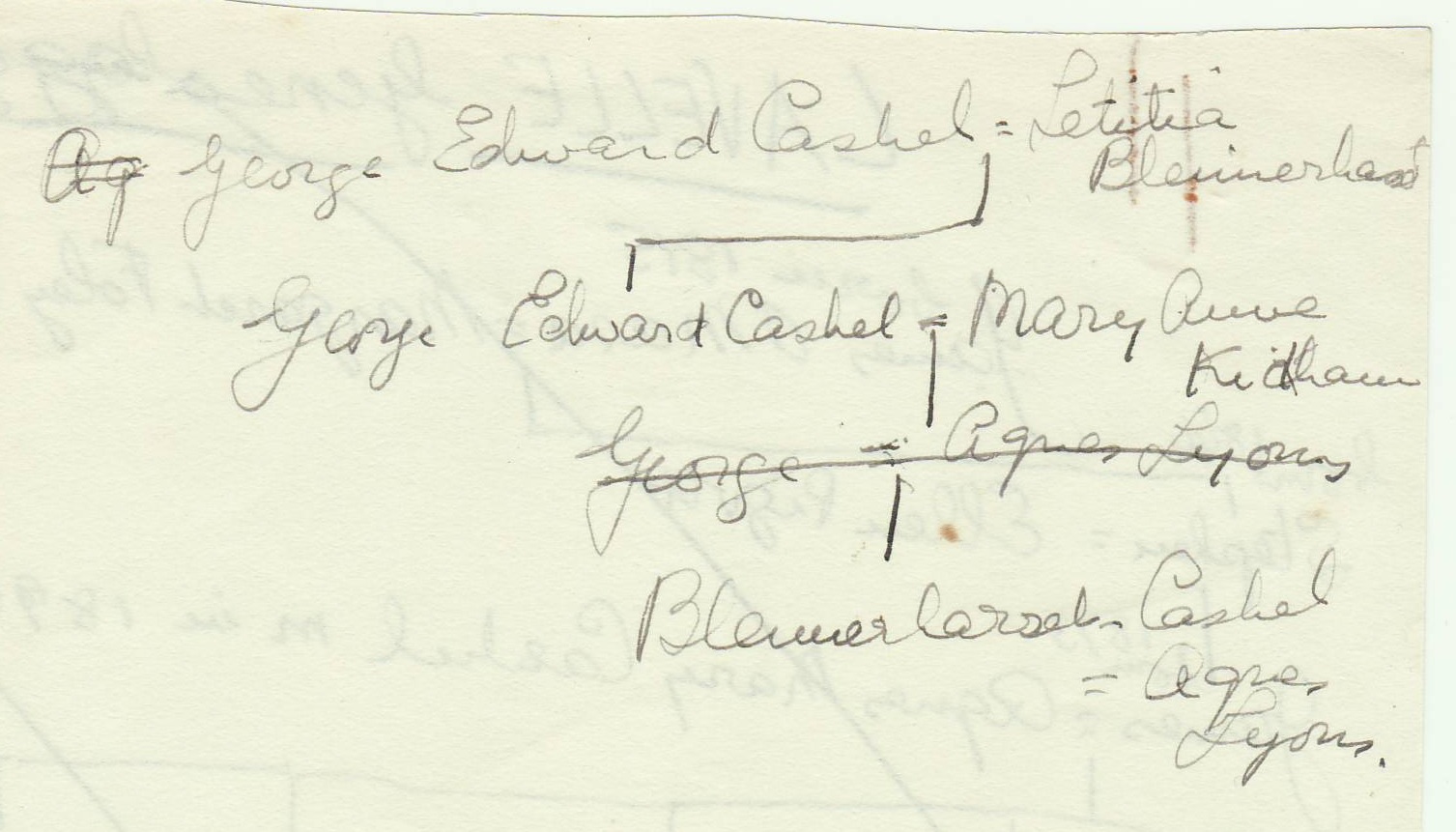 The Blennerhassett descent
in the notes of my grand-aunt Pat Lavelle.
Pat died in 1966, before I was born.
I discovered her notes in 1985, and set off to prove the Blennerhassett descent.
It took me until 2020 to prove it.


This brief note in the BLENNERHASSETT entry in [Burkes Irish, 1976] by Brian Fitzelle first made me realise in 1985 that my Blennerhassett line might connect to the World family tree.

U2 at Live Aid in 1985 - the summer when my lifelong quest for Blennerhassett began.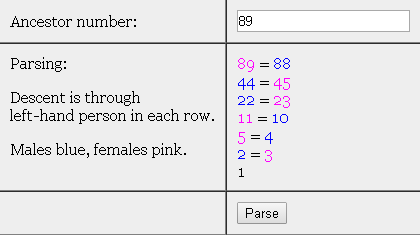 The parents of George Cashel are not that far back.
They are Ahnentafel number 88 and 89 (if I am number 1).
There are 64 people in that generation, numbered 64 to 127.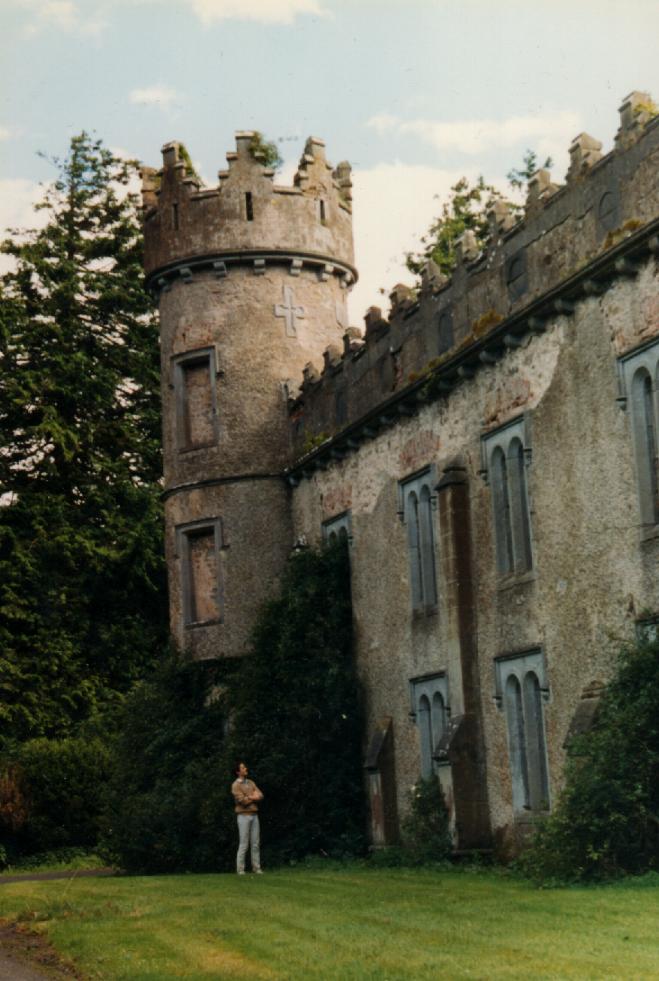 Me at New Ballyseedy in 1985, at the start of the life-long hunt for Blennerhassett.
It later turned out that my ancestors never lived in this building.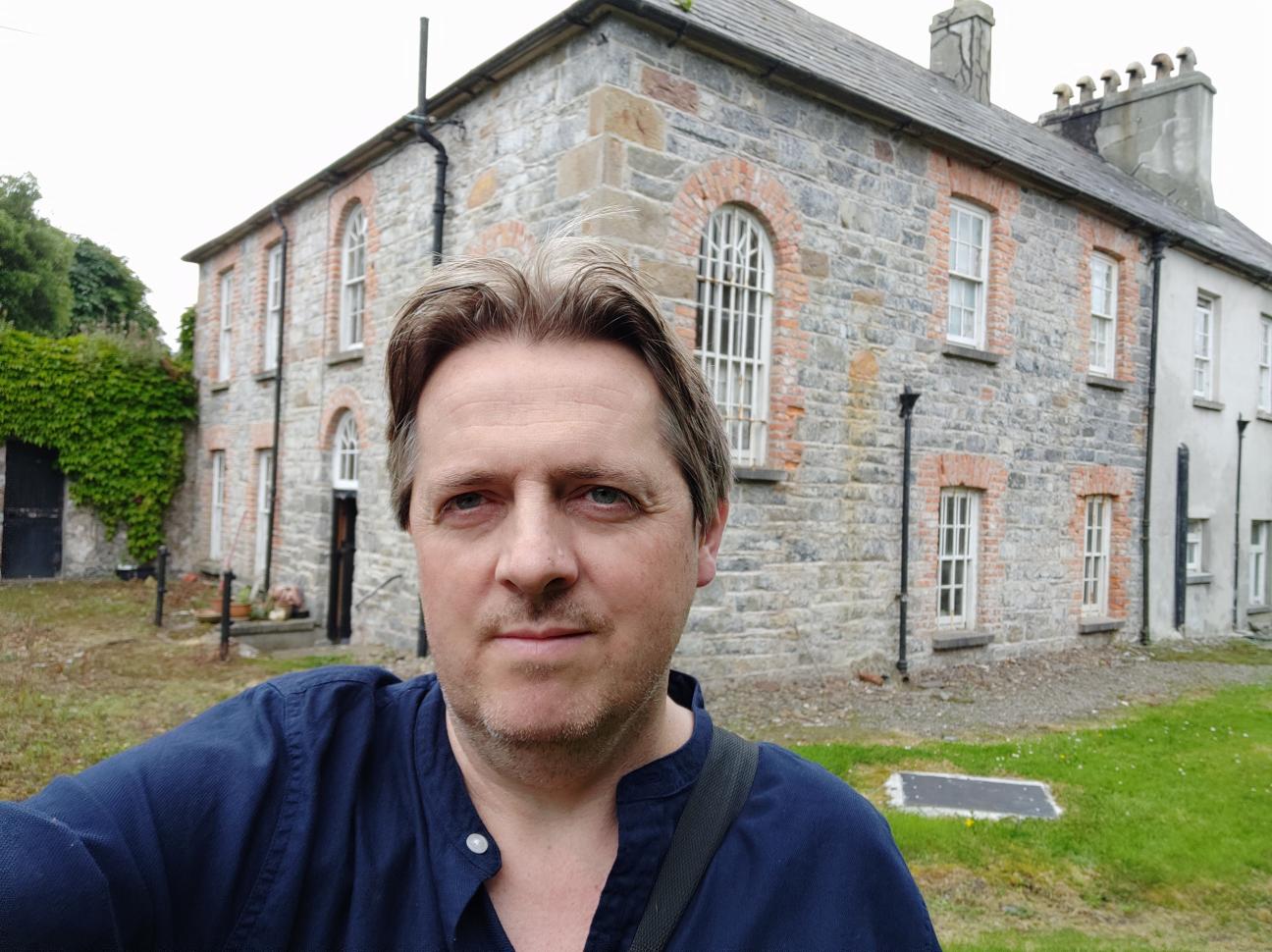 Me at the rear of Blennerville House in 2022.
This is probably my actual ancestral home.
---
Letitia Blennerhassett in popular culture
Due to my friendship with the cartoonist and artist
John Chambers
, a mythical version of our supposed ancestor "Letitia Blennerhassett" has entered popular culture. John has followed the Letitia Blennerhassett story since the 1980s, and, loving her name, has included her in various of his creations.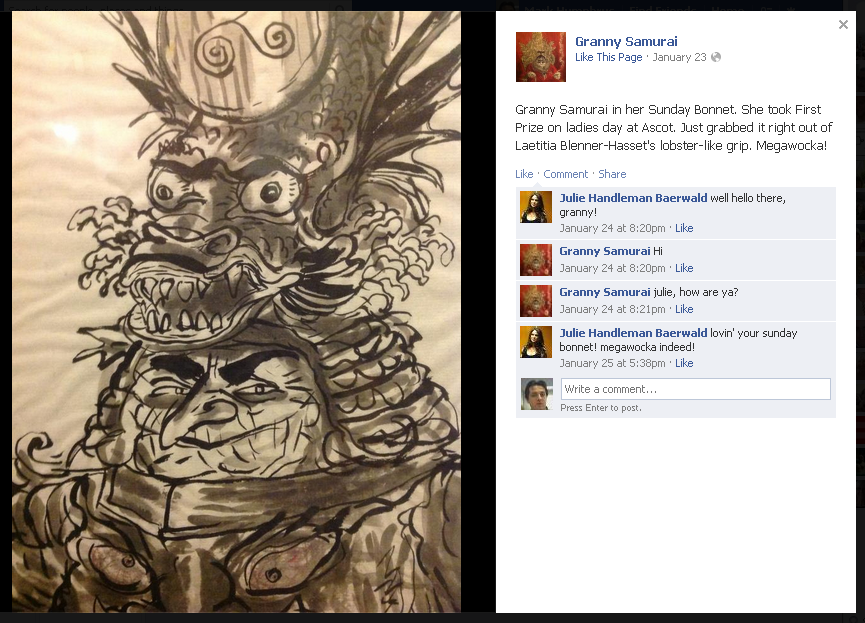 Post
, 23 Jan 2013, by
Granny Samurai
on Facebook.
"Granny Samurai in her Sunday Bonnet. She took First Prize on ladies day at Ascot. Just grabbed it right out of Laetitia Blenner-Hasset's lobster-like grip. Megawocka!"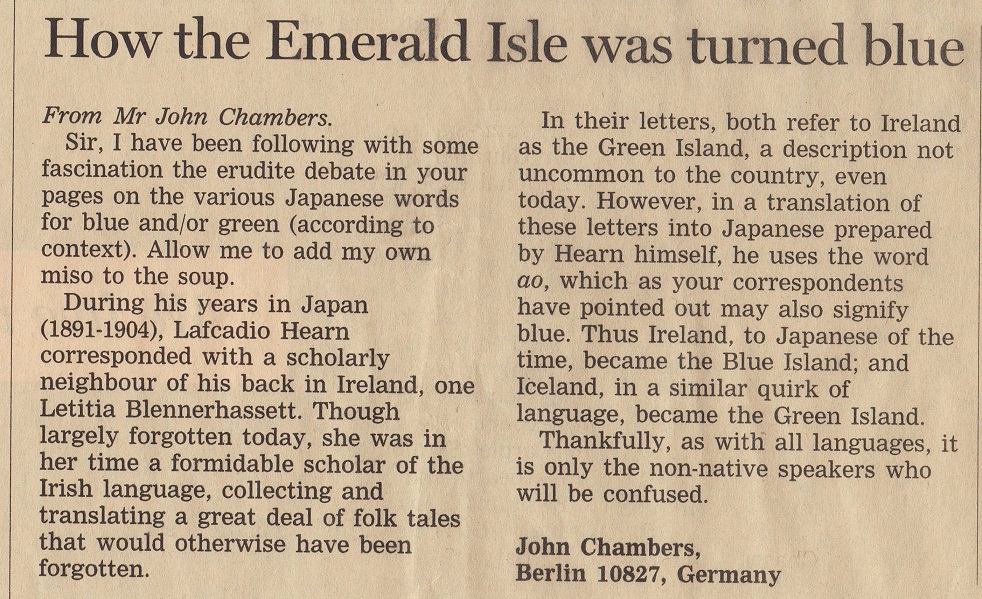 John writes a joke letter to the Financial Times in 2008.
"How the Emerald Isle was turned blue" (and here), Financial Times, 22/23 Mar 2008.
"During his years in Japan (1891-1904), Lafcadio Hearn corresponded with a scholarly neighbour of his back in Ireland, one Letitia Blennerhassett. Though largely forgotten today, she was in her time a formidable scholar of the Irish language, collecting and translating a great deal of folk tales that would otherwise have been forgotten."
This letter was published, but the data is entirely made up.
---
My link to medieval Ireland
My link to medieval Ireland and England was
burnt
in 1922, and
rediscovered
by me in 2020.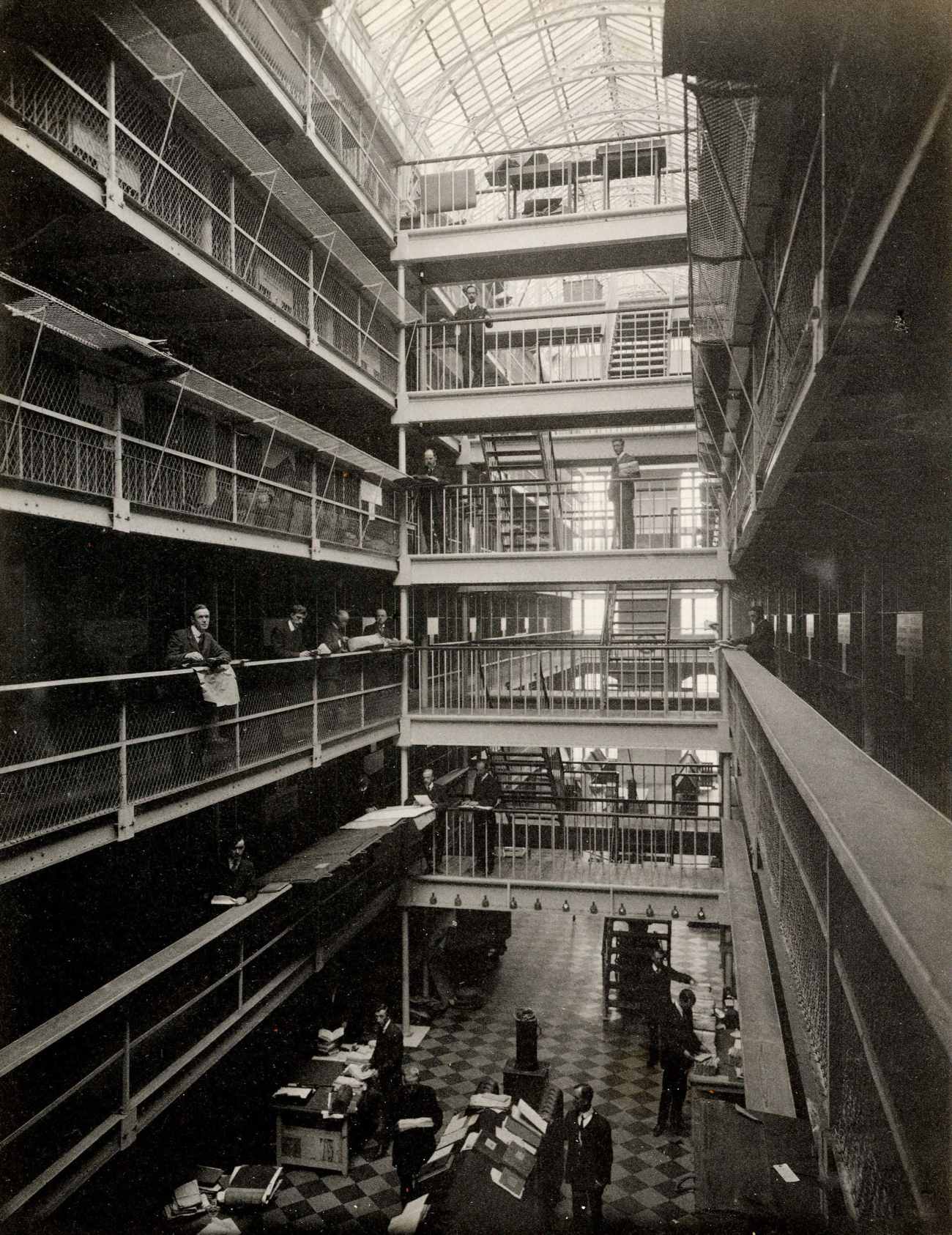 The Public Record Office, Dublin, before it was burnt by Irish "patriots" in 1922.
The 1821 census would probably have solved the Blennerhassett problem immediately, by explaining who 14 year old
George Cashel's
parents were.
But it was burnt in 1922. My link to medieval Ireland was broken for most of my life, because of Irish "patriots".
They burnt the 1821 census, 1831 census, 1841 census and 1851 census.
See
larger
and
full size
.
From
here
.