Thomas Hopper
References:

Sources yet to be consulted:
Thomas Hopper
, born 11 Oct 1724.
He mar at St Margaret's church,
Durham
(see
entry
)
on 16 Jan 1751 [using
[NJ]
date format, note that at the time this was regarded as the
end
of 1750]
to
Margaret Smirk
[born 27 Dec 1729, dau of John Smirk, think NOT Margret].
[Noltie genealogy]
says she was of
Sunderland
, and was born Sunderland.
[Noltie memoir]
though says she was born "at Shiels" (perhaps this is
North Shields
or
South Shields
, both of which are a bit N of Sunderland).
Both Thomas and Margaret worked in the service of Sir William Carr of Etal, Northumberland.
They were working there by 1752. Think both worked there before marriage.
They worked at Etal Manor (built 1748).
At one time after marriage, Thomas left Carr's service and got a position as "Supervisor of Excise" at the Cheshire Salt Works.
This would be Middlewich salt works. Note their child died at Middlewich in 1757.
But Carr wanted Thomas back and made him "Land Steward" at Etal (children born at Etal again 1763 onwards).
In 1762 Isabella Carr, dau of Sir William Carr, married James Hay, 15th Earl of Erroll.
Thomas and Margaret's dau became a maid to Isabella Carr prob. 1770.
Sir William Carr died 1777.
Etal was inherited by the Earl of Erroll.
Thomas and Margaret both continued working in the service of the Earl of Erroll.
Thomas was "land steward" at Etal. Margaret was "housekeeper" or "lady's maid".
Their dau married the Earl's valet 1780.
They retired with a pension from the Earl of Erroll, and they lived in old age "in the Black Horse Entry" (unidentified) in Durham.
When their dau Mary's husband Henry Noltie was away on the Continent, his business in Edinburgh failed and Mary returned in c.1792-93 to her parents in Durham with her child.
The 15th Earl's younger son William Hay, 17th Earl of Erroll inherited Etal, and changed his name to Carr 1795, but then had to give up Etal on succeeding to the Earldom 1798.
Margaret died Durham, 25 Apr 1796, age 66 yrs.
Thomas died Durham, think c.1810, age c.86 yrs.
Thomas and Margaret had issue:
Thomas Hopper,
born Etal, Northumberland, 19 June 1752 old style,
died Etal, Northumberland, 11 May 1763, age 10 yrs.




Mary Hopper,
born 18th Feb 1754, "Fatfield Steathes", Fatfield, NE of Chester-le-Street, Durham (see map and close-up),
she became maid (must be 1770) to Isabella Carr, wife of 15th Earl of Erroll,
she met Henry Noltie 1770 (her age 16), he was working as the Earl's valet,
the Earl died 1778,
she and Henry continued working for his widow,
mar 1780 to Henry Noltie and had issue.




Elizabeth Hopper,
born South Shields, 22 Jan 1756,
died Middlewich, Cheshire, 11 Sept 1757, age 1 yr and 8 months,
there is another Elizabeth.

Margaret Hopper,
born Sunderland, 28 Aug 1758,
died Sunderland, 4 July 1759, age 11 months.

John Hopper,
born at Lanchester, Durham, 3 Apr 1761,
died Etal, Northumberland, 24 June 1763, age 2 yrs.

Edward Hopper,
born Etal, Northumberland, 10 Mar 1763,
died 29 Mar 1785, age 22 yrs, "in the last year of his apprenticeship", at "Mr. Bayill's" in "New Bridge St", Edinburgh (i.e. Bridge St, connecting the old town with the new town, see 1784 map, now N Bridge, see modern map).

Joshua Teasdale Hopper,
Teasdale after grandmother,
born Etal, Northumberland, 24 Jan 1765,
died Etal, 7 Feb 1765, age 2 weeks.

Elizabeth Hopper, second Elizabeth,
born Etal, Northumberland, 3 June 1766,
died Etal, Aug 1766, age 7 weeks.

Tobias Hopper,
born Etal, Northumberland, 27 July 1767,
died Etal, 17 July 1769, age just under 2 yrs.

Addie Hopper [dau],
born Etal, Northumberland, 17 June 1769,
died Etal, 4 May 1771, age just under 2 yrs.

Benjamin Hopper,
born Etal, Northumberland, 22 Jan 1772 [mother age 42],
served for 24 years in the Royal Navy,
"was in several engagements in the late war" [Noltie family memoir, c.1839], this would refer to the Napoleonic Wars (1803-15),
apparently [Barrow, 2005] lists him as on the ship Colossus at the Battle of Trafalgar 1805, listed as "from Etal in Northumberland",
he was the only son that survived his parents,
did not marry,
he retired from the navy 1830 (or "about 1828") with a pension,
in winter 1834 he went into Greenwich Hospital (Royal Naval Hospital for sailors, later became the Royal Naval College).
Etal Manor, E end of Etal village.
From
Google Maps
.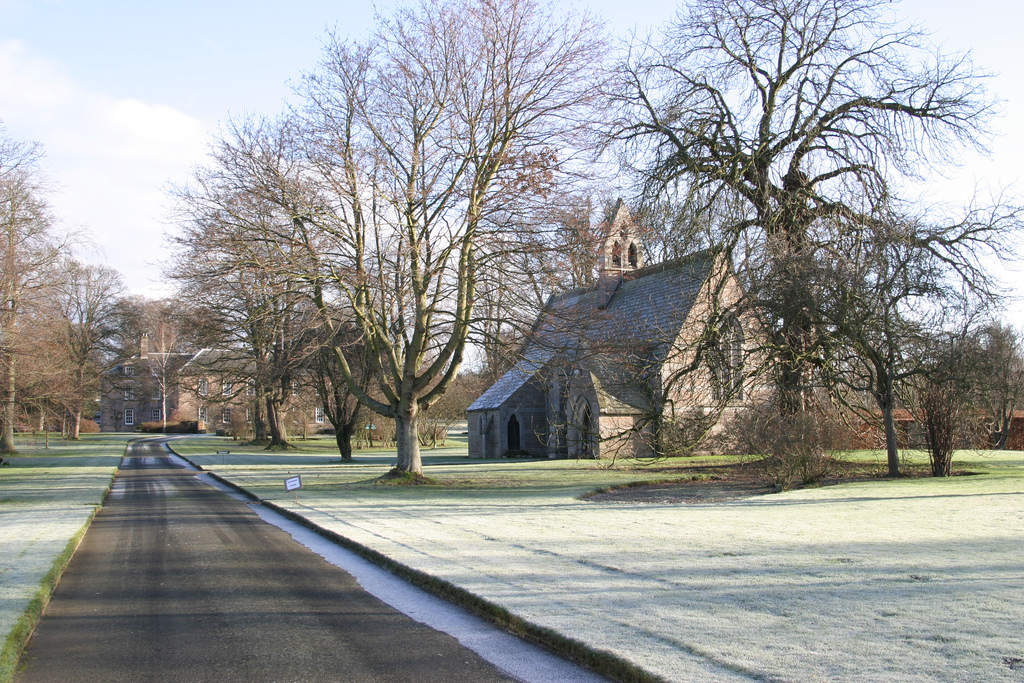 Etal church. Etal Manor in background.
See larger and full size.
Photo 2003 by Phil Thirkell. See terms of use.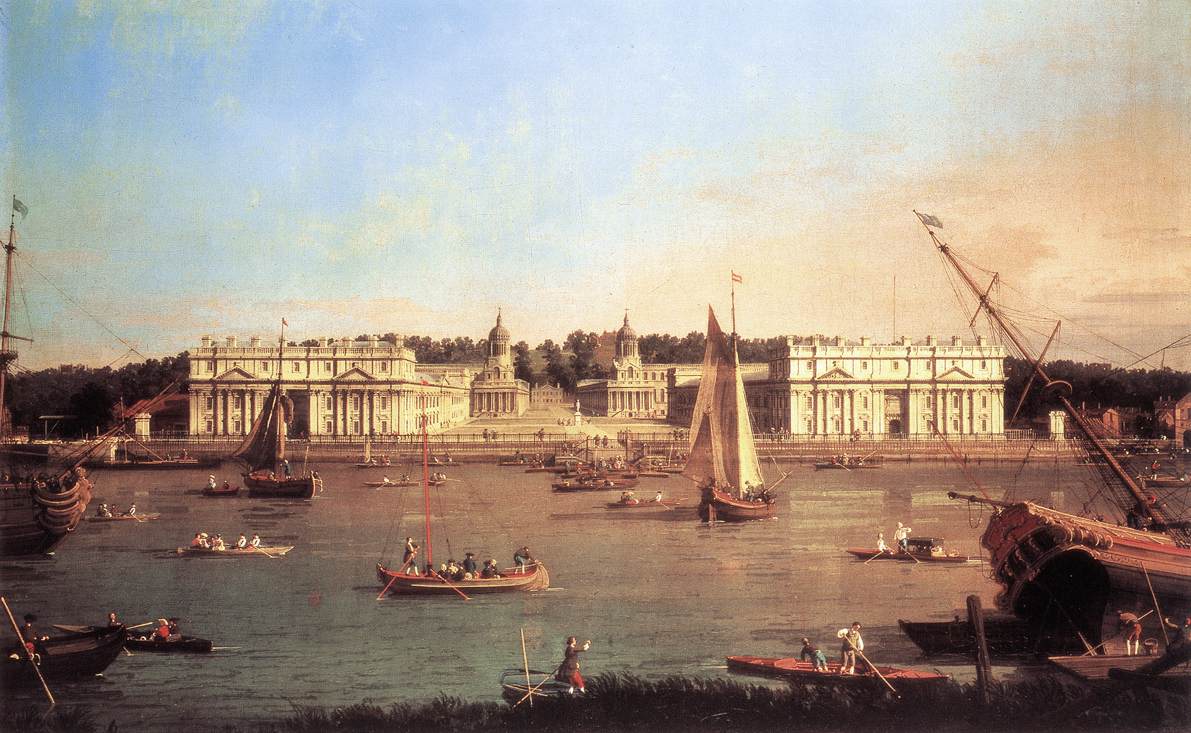 Greenwich Hospital, 1752.
See full size. From Wikimedia Commons. See more images.