Corbett
Sources yet to be consulted:

[P106/417] is letter of 24 Dec 1913 from Kathleen Ryan, Castleview House, to Nell. Refers to Mary Humphrys' "romantic engagement" to Vincent Corbett, "who fell in love with her at first sight".
JohnJo Corbett,
mar Kate Cavanagh,
had issue:

Vincent Corbett,
of Balla, Co.Clare,
born Dublin, 15th May 1879,
mar post-1911 to Mary Humphrys [bapt 5th Feb 1882],
he died 24th Dec 1940, age 61 yrs,
had issue:
Kitty Corbett,
lived Dublin,
mar Willie Sheridan [William],
he ran garage in Phibsborough, near Phoenix Park,
they lived 232 North Circular Rd, Dublin,
she died of meningitis, 14th July 1949,
bur Glasnevin Cemetery,
he died 13th July 1970, bur Glasnevin,
had issue:

Harry Sheridan, mar Mary Claire Kearney and had issue:

William Sheridan.
(dau) Sheridan.
John Sheridan.

Vincent Sheridan, mar Aileen Bingham and had issue.
Mary Sheridan, mar Cathal Higgins.




Mabel Corbett,
mar Jim Loughnane,
they lived Nenagh, Co.Tipperary,
both died,
had issue:

P.J. Loughnane, mar Catherine O'Connor.
Vincent Loughnane, mar Eileen Begley and had issue:

Síona Loughnane, mar Larry Meyers.
Orna Loughnane.
Cian Loughnane.

Marie Loughnane, mar Michael Hughes and had issue:

David Hughes.
Martin Hughes.

Anne Loughnane, mar Jim Gilchrist and had issue:

Jamie Gilchrist.
Orna Gilchrist.
Maeve Gilchrist.

Kathleen Loughnane, mar Eamonn Cannon and had issue:

Cormac Cannon.
Paul Cannon.
Catríona Cannon.

Mairead Loughnane, mar Bob Doherty and had issue:

Tiarna Doherty.
Niamh Doherty.
Conor Doherty.

Jim Loughnane, mar Anne Griffin and had issue:

David Loughnane.
Andrew Loughnane.

Gemma Loughnane.




Fr. Jack Corbett, born c.1920/21,
C.Ss.R (Redemptorist) priest,
of Mount St. Alphonsus Redemptorists church, Limerick city,
carried out wedding of his 1st cousin Cora Humphrys c.1965,
living in Springfield, MA, as at 1992,
was later in nursing home in Co.Clare,
died Apr 2007, age c.86/87 yrs,
bur Limerick.
---
Sheridan grave (grave of Kitty Corbett) is opposite
Jim Humphrys grave
.
See
street view
.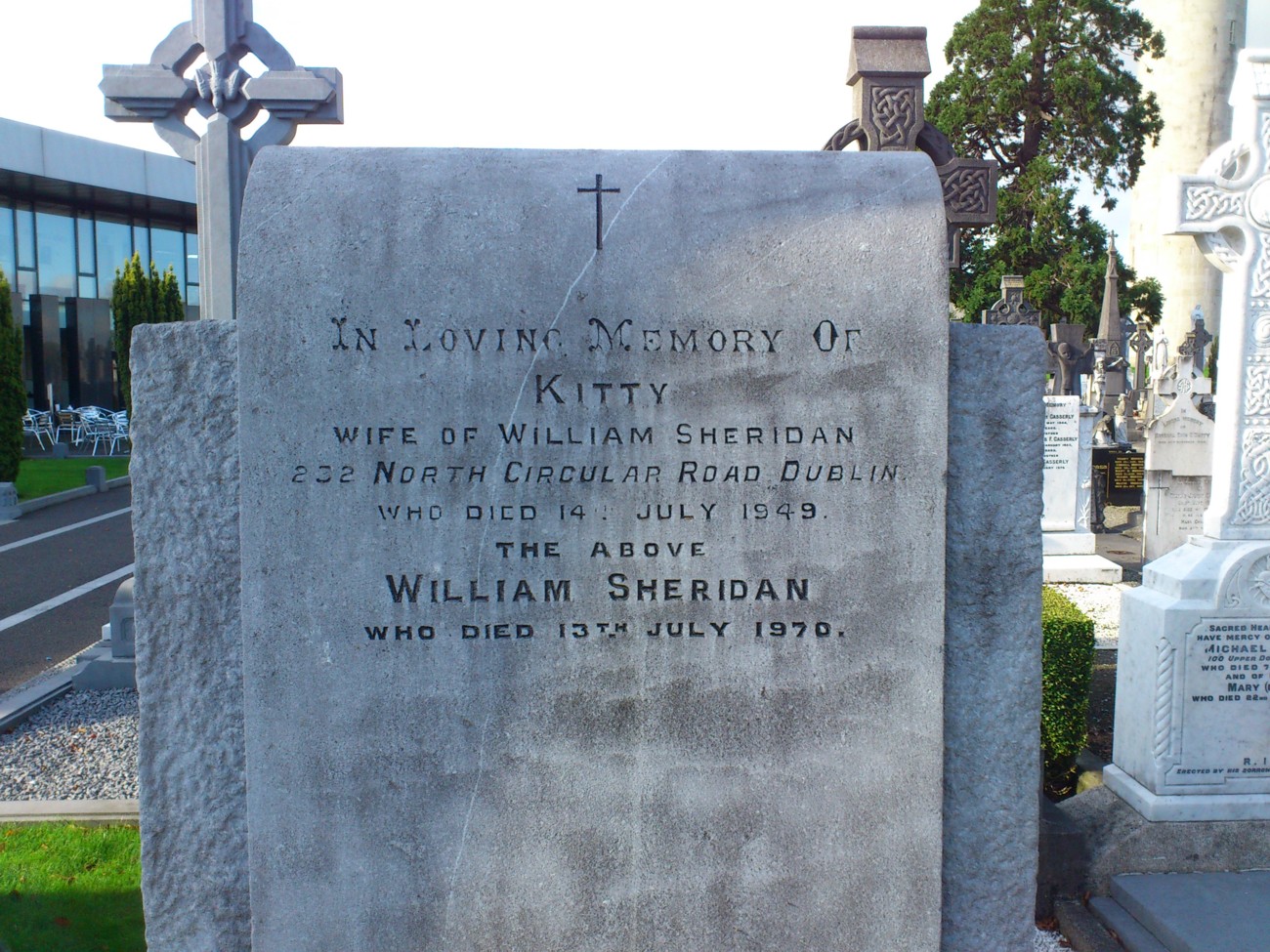 Sheridan grave, Glasnevin.
Photo 2013. See
full size
and
wider shot
.
See also nearby Sheridan graves (must be relations).
See 2006 photos of these here, here and here, courtesy of Richard Humphreys.