General Robert Sloper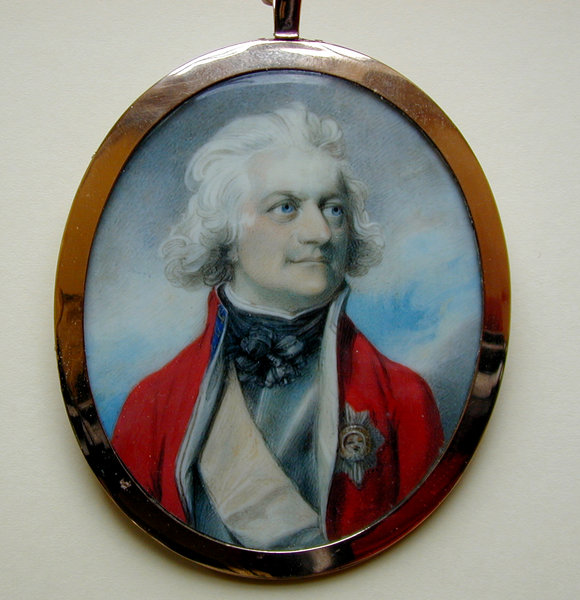 General Robert Sloper.
Miniature painted c.1785 by
Richard Cosway
.
Formerly for sale at
Judy and Brian Harden Ltd
.
General Robert Sloper
, born 8 May 1729,
of West Woodhay House, Berkshire,
Commander-in-Chief, India
1785-86,
became Sir Robert Sloper,
K.C.B.
(Knight Commander of the Order of the Bath), 1796,
bur in a vault under the main aisle of St Martin's Church,
East Woodhay
, Hampshire (nr Berkshire border),
memorial on the wall of St Mary's Church,
Hartley Wintney
, Hampshire,
had issue:
Robert Orby Sloper, born 1769, had issue:
Rev. John Sloper, born 1798, had issue:
Gerard Orby Sloper, born 1851, had issue:
Marion Sloper, mar Bernard Hamilton Conran and had issue:
Rupert Conran, born 1905, had issue:
Terence Conran (and here),
the designer and restaurateur, born 1931,
Sir Terence Orby Conran, the family name "Orby" goes back to here,
mar 2ndly, 1955, to Shirley Pierce [the novelist and author Shirley Conran], divorced 1962,
founded Habitat 1964,
had issue by 2nd wife:

Jasper Conran, the fashion designer, born 1959,
paid huge price for Walpole House, London, named after nephew of Robert Walpole (who his ancestor William Sloper served).