Hunter of Hunterston, Ayrshire, Scotland
and of Croyland Abbey, Lincolnshire
References:

Sources yet to be consulted:

HUNTER in [Burkes Peerage]
CATHCART in [Burkes Peerage]

Record of Hunter of Hunterston, Ayrshire, Scotland, 1902.
Some family papers of the Hunters of Hunterston, J. Skinner, Edinburgh, 1925 (Scottish Record Society Series, v.58).
Hunterston Castle, West Kilbride, Ayrshire: the historic fifteenth century strong-hold of the Hunters of Hunterston, guidebook, 1975, classification 914.1461, [TCD] Santry (use call slip) P 50162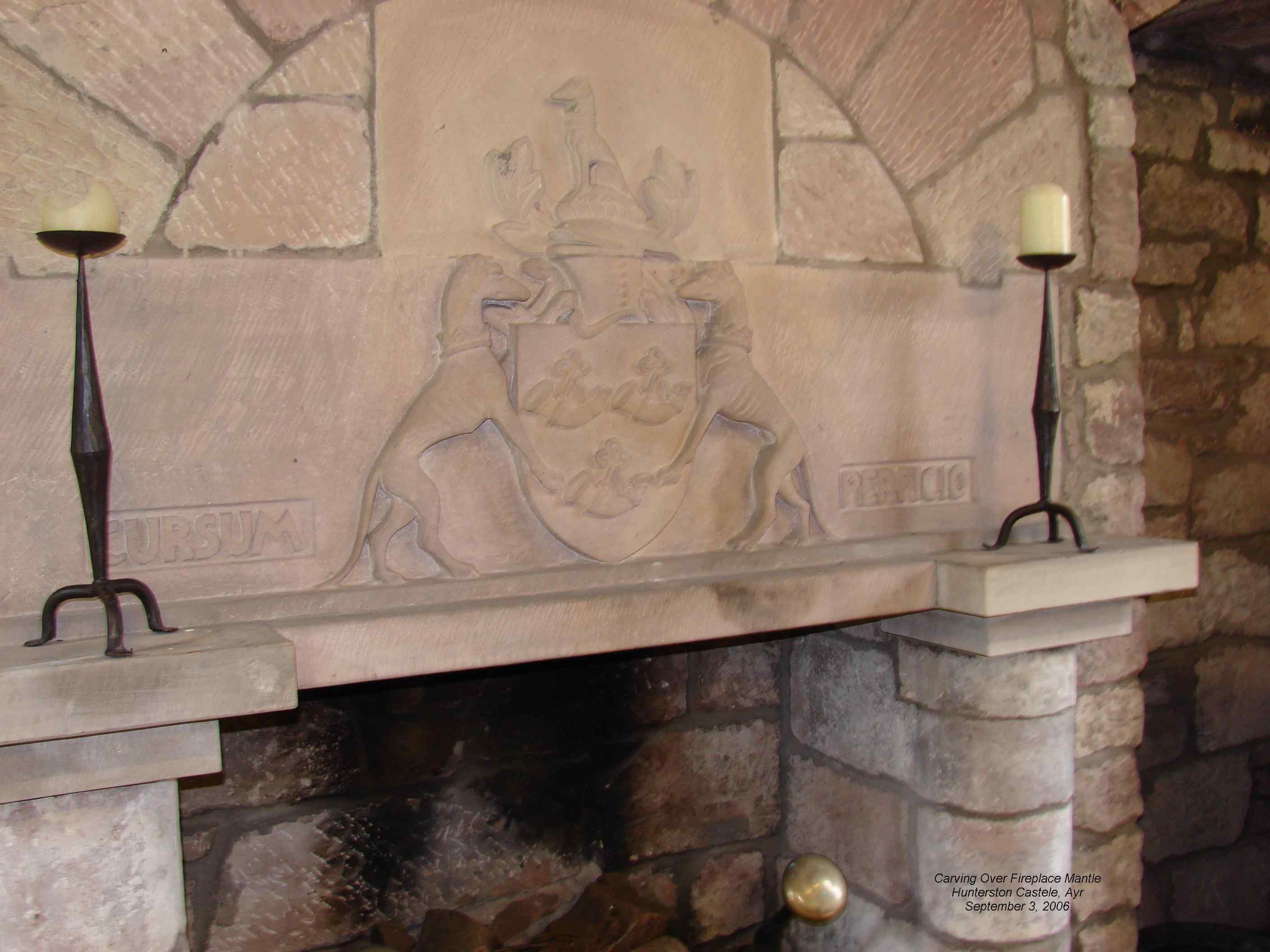 Hunter arms over fireplace, Hunterston Castle, Ayrshire.
Photo 2006 by Marian Aelick. Used with permission.
See
full size
.
Hunterston Castle, Ayrshire, was built 13th cent. by Hunter, Laird of Hunterston,
of which:
John Huntar, 14th Laird of Hunterston, succ 1487,
built the Great Hall at
Hunterston
1500,
mar 1505 to
Margaret Cathcart
[dau of John Cathcart, 2nd Baron Cathcart],
killed in the
Battle of Flodden
1513, in which
Sir William Sidney
fought on the other side,
had issue:

Robert Huntar, 15th Laird of Hunterston,
died 1546,
had issue (apparently father of rather than brother of):

Kentigern (or Mungo) Huntar, 16th Laird of Hunterston,
mar Marion Hamilton [dau of James Hamilton, of Torrance, Lanarkshire],
fought in the Siege of Dumbarton 1545,
succ 1546,
killed in the Battle of Pinkie Cleugh 1547,
Marion lived at Hunterston until 1595,
had issue:
Robert Huntar, 17th Laird of Hunterston, born c.1545, succ 1547.
---