Cleary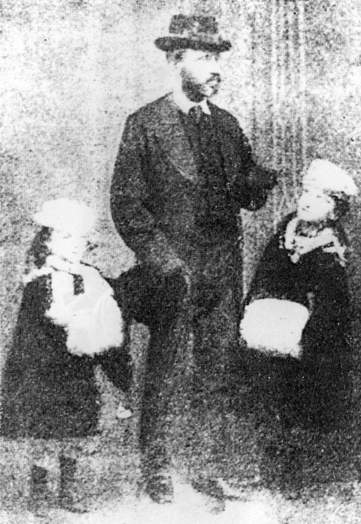 Photo of
Charles Joseph Kickham
with his nieces Annie and Josie Cleary, c.1869.
Image courtesy of
Cork Multitext Project, UCC
(see
here
). Used with permission.
Originally from
Tipperary Annual
1912.
James Mansfield Cleary,
a
Clonmel
businessman,
mar c.1860 to
Maria Kickham
,
he got into financial difficulties 1863, had to emigrate to US,
because she was pregnant with Frances, she was unable to travel to the US with her husband 1863,
she came back to Mullinahone,
after Frances born she went to US, took baby, leaving Annie and Josie in Ireland,
her brother
the Fenian
went across with her, sailing from
Queenstown
16th Sept 1863
[Comerford, 1979]
,
Annie and Josie ended up staying in Mullinahone for long time, living in
the house in Fethard St
, with a cousin as governess, they finally left to join their family in US, Sept 1876,
Maria died Chicago,
had issue:
Annie Cleary,
Annie Kickham Cleary,
eldest, born 1861, Clonmel, Co.Tipperary,
at her birth, her uncle the Fenian composed for her a lullaby "My Annie",
while they were in Mullinahone, their "Uncle Cha" was attached to them as if they were his own daughters,
they went to local school in Clonagoose, nr Mullinahone,
her uncle was jailed 1865-69, [Sigerson, 1933] says that Annie said about him: "When he came home in '69 we just clung to him and, I might say, never let go until we were forced to leave him when I was 15",
her uncle dedicated Knocknagow (1873) to "my little nieces Annie and Josie",
he was heartbroken when they finally left to join their family in US, Sept 1876,
after Josie's early death, Annie devoted herself (unmarried) to bringing up Josie's children,
she mar late in life to Florence D. White [of St.Louis, Missouri],
he was Circulation Manager of the New York World,
he waited patiently for Annie's nieces to grow up until she would marry him [Maher, 1954],
they lived Carriglea, Riverside, Greenwich, Connecticut (basically part of outer NE suburbs of New York, see map),
she wrote Kickham genealogy, apparently written 1940, pub 1954,
she fl 1942,
think he fl 1954.




Josie Cleary,
born c.1862, Clonmel,
Josephine, Joe as she called herself,
emig to US with her sister Annie Sept 1876,
mar young to John Templeton [of Chicago, brother of William],
she died young,
he died Superior, Nebraska,
had issue:

William James Templeton.
Charles Kickham Templeton.
Annie Cleary Templeton.
Aileen Josephine Templeton.

Frances Cleary,
"Fannie", born Mullinahone, Co.Tipperary, 9th Aug 1863,
taken by her mother to US, 16th Sept 1863,
mar William Templeton [of Chicago, brother of John].

Elizabeth Cleary, mar Dr. J.E. Keeffe [of Chicago].
Kathleen C. Cleary, died Chicago.
John F. Cleary, mar Lillian McAlister.