Edward Kickham, of Kilvemnon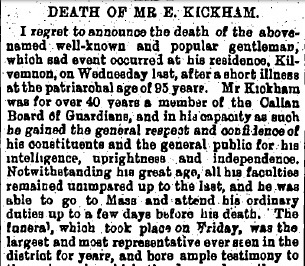 Extract from funeral report for Edward Kickham, 1902.
See
full size
.
Edward Kickham
, of Kilvemnon,
born 1808 or 1807,
Edward on grave, also known as Ned or Edmond,
of Kilvemnon, Kilvemnon par, Co.Tipperary (S of Mullinahone).
He mar
Mary Hawe
[born 1809 or 1811].
He was on the Board of Guardians for
Callan Union
for over 40 years.
[House Book for Kilvemnon parish, 1846]
lists Edmond Kickham at plot 23, Kilvemnon.
"Edmund Kickham" is listed in
[Griffiths Valuation, 1850]
at Kilvemnon, occupying 45 acres (with a house), leased from landlord George M. Foster.
"Edmond Kickham" of Kilvemnon registered his mother
Johanna
's death 1866
[GROI]
.
"Edmond Kickham" of Kilvemnon is listed in
[Bassett's, 1889]
.
Mary died 3 Jan 1894 [grave, Kilvemnon], age 83 or 85 yrs.
Edward died at his house in Kilvemnon, Wed 12 Feb 1902, age 94 yrs [grave, Kilvemnon] or age 95 [funeral report],
bur at Kilvemnon.
See funeral report in The Nationalist, Sat 22 Feb 1902. Says died "on Wednesday last". Think they mean previous week.
Edward and Mary had issue:
Johanna Kickham,
born 1841,
must be named after grandmother,
mar 14 Feb 1874 to James Phelan,
see mar cert,
had issue:

Edward Phelan,
after grandfather.

Laurence Phelan,
had issue:

Martin Phelan,
mar Mary Quinn,
Mary descends from Ellen Crean and Patrick Quin,
had issue:

Eily Phelan,
mar Gerard Moylan,
researching family tree.
Her DNA matches with Jean Pennington, descendant of Crean of Fethard, and Kickham of Knockelly.
The DNA match is probably through Crean of Fethard.
Though it may be further weak evidence that Kickham of Kilvemnon are related to Kickham of Knockelly.




Catherine Kickham, born 1843,
died 22nd Apr 1917, age 74 yrs [grave, Kilvemnon].




Laurence Kickham,
eldest son,
born 1844 or 1845, would be after grandfather,
lived Kilmurry Lodge, Ballyneale, Co.Tipperary,
didn't marry,
listed as "farmer" at death,
died Kilmurry, 4th Apr 1917, age 73 yrs [GROI] or 72 yrs [grave, Kilvemnon].




Charles Kickham, born 1849,
died 23rd Aug 1894, age 45 yrs [grave, Kilvemnon].

Philip Kickham,
listed as one of the principal mourners at father's funeral 1902.