Swaine
Sources yet to be consulted:

Merrion: A History of the Cricket Club 1892-2010, Alan Little and Danny Parkinson, 2011.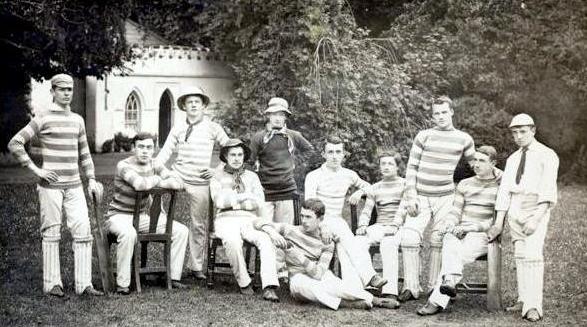 Blackrock College cricket team, c. mid 1880s.
John A. Swaine is the smaller boy, sitting down, 4 from the right.
Richard Swaine,
Richard David Swaine, born 1846.
See
entry
in
tree
by
Emma Fenton
.
He mar 1868 to
Belinda Jennings
[born 1848].
Listed as "clerk" at son's bapt 1869 and (after death) at son's mar 1904.
Listed as "manager to a wine merchant" at death 1896.
He died Dublin,
1896
, age 50 yrs.
Belinda is
listed
in 1901 census at Leeson Park Avenue, Rathmines, Co.Dublin. Family all Catholic.
She died 1911, age 63 yrs.
Richard and Belinda had issue:
John Swaine,
John Aloysius Swaine, born 22 June 1869, 2 Drumcondra Terrace East, Drumcondra, Co.Dublin. See birth cert.
He was educ Blackrock College.
At home in 1901 census. He is Attendant, Record Dept, Irish Land Commission.
At mar he is listed as civil servant, of Summerville park, Rathmines, Co.Dublin.
He mar 1904 to Kathleen Kickham [born 9 Apr 1875].
Living 3 Maythal Villas, Terenure, Co.Dublin, at children's births 1905-1909. He is "clerk" and "government clerk".

Founded Merrion Cricket Club, 1906:
John Swaine was the main co-founder in 1906 of Merrion Cricket Club, Dublin. Their first grounds were at Mulally Fields, Dolphin's Barn.
Many of the founders worked at the Irish Land Commission, and the club was in the early days sometimes called the "Land Commission team".
In 1906, Swaine purchased a lease of grounds on Anglesea Road, Ballsbridge.
After two years' preparation, Merrion Cricket Club opened its grounds on Anglesea Road in 1908. It is still there today.

Living Templeogue Rd, Dublin, at son's bapt 1909.
See them listed in April 1911 census at Terenure Road South, Terenure, Co.Dublin. He is "Civil Servant, Attendant in Record Dept of Irish Land Commission". They have 1 servant.
At son's birth May 1911 his address is 1 Mount Tallant Terrace, Harolds Cross Rd, Dublin. He is civil servant.
Living 3 Auburn Villas, Rathgar, at dau's birth 1913. He is civil servant.
He died 9 Mar 1947, age 77 yrs.
She died 4 Nov 1964, Mossvale, Dundrum Rd, Co.Dublin (see map), age 89 yrs.
John and Kathleen had issue: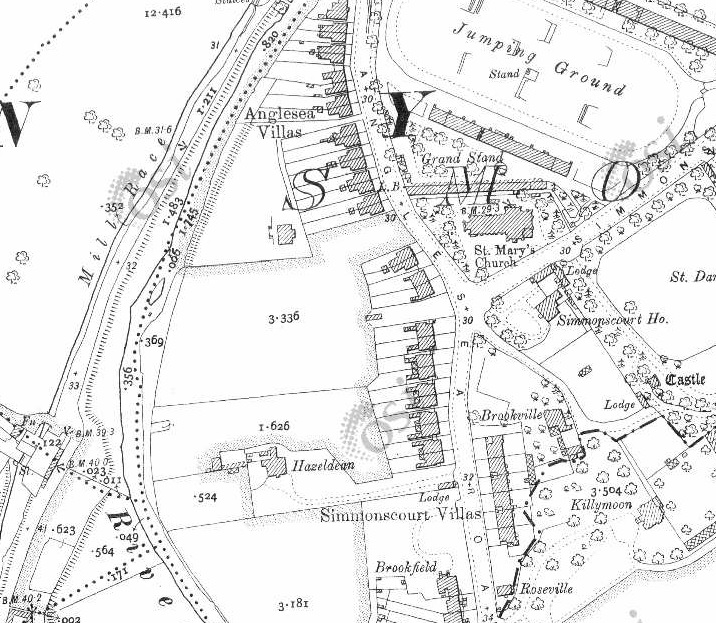 The future site of Merrion Cricket Club ("3.336" plus "1.626").
Anglesea Road, Ballsbridge, Co.Dublin.
From
1887 to 1913 map
.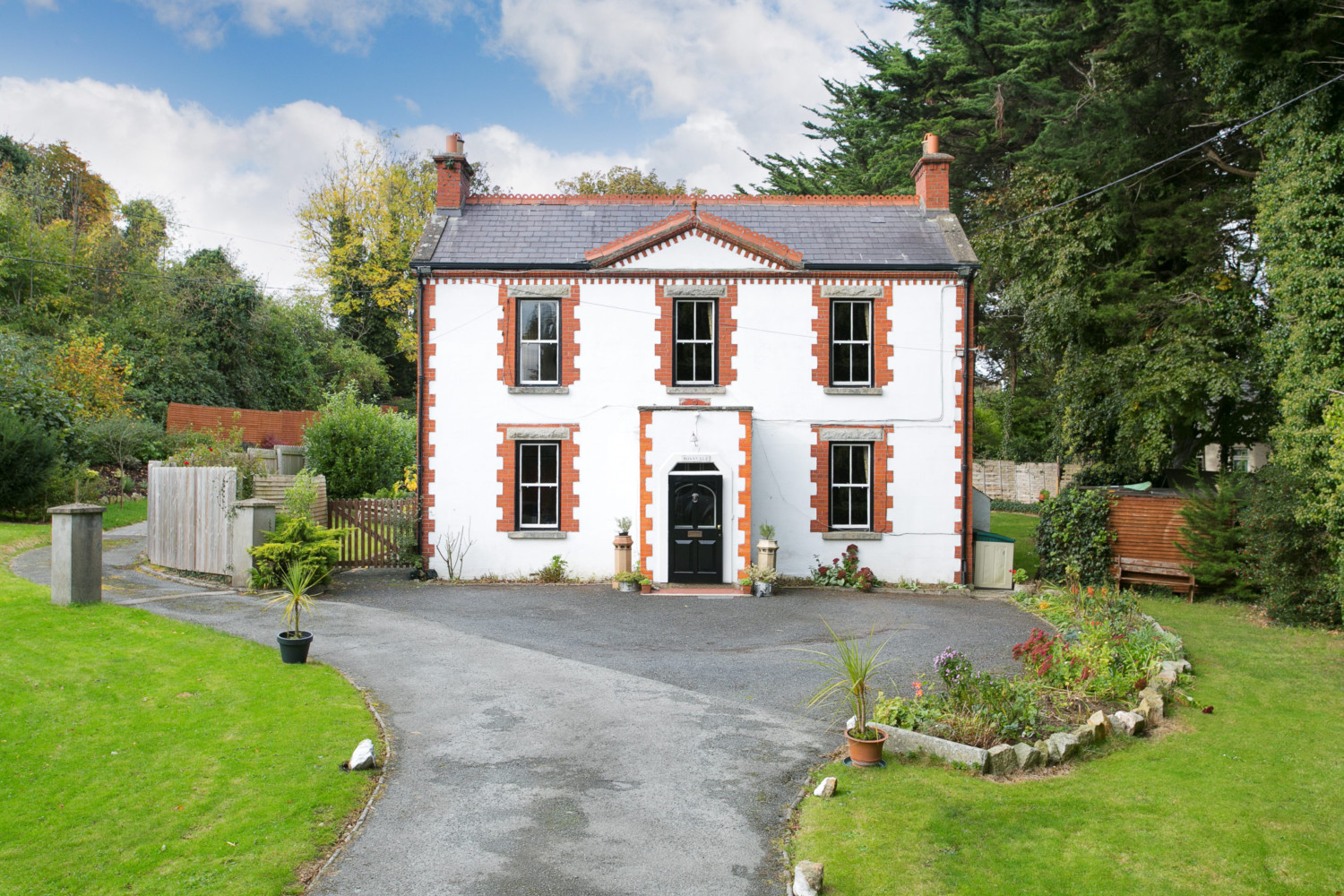 Mossvale, Dundrum Rd, for sale in 2015.
From Irish Independent, Fri 17 April 2015.
See full size.
---