Vaughan-Fowler
Sources yet to be consulted: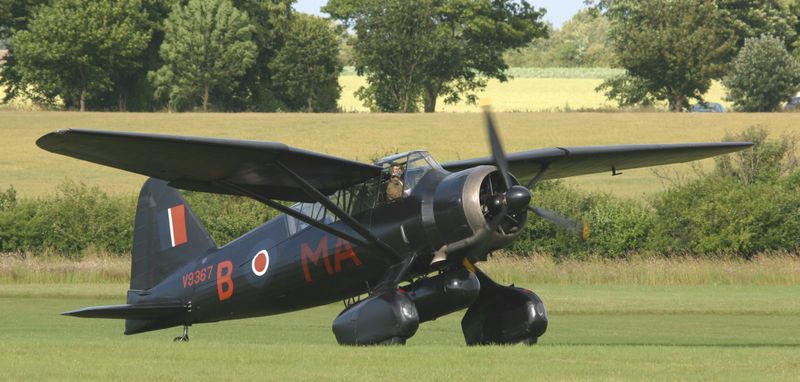 This
1936 Westland Lysander III SD
(G-AZWT) was purchased by the
Shuttleworth Collection
, Old Warden, Bedfordshire, in 1998, and repainted in the markings of Peter Vaughan-Fowler's aircraft that was used in occupied France.
The Shuttleworth Collection fitted it with dummy long range fuel tank and ladder, and repainted it to represent Peter Vaughan-Fowler's aircraft (V9367 / MA-B).
Photo from
here
. See
full size
.
More pictures
here
.
And search
Flickr
and
Flickr CC
.
Peter Vaughan-Fowler,
NOT Vaughn-Fowler,
Peter Erskine Vaughan-Fowler, born
Lahore
(then India but now Pakistan) 18 Jan 1923.
He was from a family of aviators. As a young boy his father took him up on his first flight in an
Avro 504
biplane.
RAF pilot behind enemy lines in WW2:
He was RAF Pilot Officer in World War II.
He was at school at Imperial Service College, Windsor, when war broke out 1939. In 1940 he enlisted in the RAF Volunteer Reserve.
He flew as a "spy taxi", picking up and dropping secret agents behind enemy lines. Operations run by Special Operations Executive in support of the French Resistance 1940-44.
He flew with 161 Squadron (Special Duties) from c.May 1942 (age 19) on. They were based at RAF Tempsford, Bedfordshire (see here).
He flew a Westland Lysander, with long range fuel tank and ladder. Had to navigate by night into enemy territory, and land in small fields aided only by moonlight and torches laid out by French agents.
He flew on operation Apollo during the winter of 1942.
He carried Jean Moulin, de Gaulle's representative for co-ordinating the resistance. (Moulin was tortured and killed by the Nazis in 1943.)
He flew the female agent Noor Inayat Khan on a failed drop into Occupied France, 1942 or 1943. (Khan was tortured and killed by the Nazis in 1944.)
He was awarded DFC and Bar 1943. Described as Flying Officer (no. 110008). See London Gazette supplement, 16th Apr 1943.


He flew with No 21 Mosquito Squadron for a time.
In early 1944 he was back with Special Operations Executive, in Mediterranean theatre, flying Lysanders from bases in Italy and Corsica and carrying out operations in southern France before the Allied landings.
Flight Lieutenant. He flew the last Lysander pick up to France, to Pont de Vaux, 10th-11th Aug 1944.
In all he did 17 landings in occupied France. He carried out more successful "pick-up" operations in France than any other pilot.
After liberation of France he commanded a Mustang ground-attack squadron in the Balkan Air Force (existed June 1944 - July 1945).
He was Squadron Leader of RAF 213 Squadron (and here), Biferno, Termoli, Italy, 10th Dec 1944 (age 21) to 21st Jan 1946.
He was awarded DSO 1945.
French government awarded him Croix de Guerre with Palm and later appointed him a Chevalier of the Legion d'Honneur.
He stayed in RAF after 1945. Permanent Commission 1945.
He mar pre-1947 to Hilary Quin [born 16 Jan 1923, poss. descendant of Edward III].
He became commander of 247 Fighter Squadron.
He worked with the Central Fighter Establishment.
For years after the war he and his wife were involved with the survivors of the French Resistance.
He was awarded AFC 1954 New Year's Honours.
He was Wing Commander at RAF Wildenrath, West Germany.
Promoted to Group Captain. He was Deputy Captain of The Queen's Flight for 5 years.
He was awarded CVO 1967.
He had a staff job at Air Support Command. Senior Personnel Staff Officer.
Finally worked in Ministry of Defence Public Relations Branch.
He retired 1975 (age 52). Took up charitable work.
Think he is Peter Vaughan-Fowler, Administrator of Oxford University Catholic Chaplaincy, from late 1980s for 6 years.
He died Oxford, 24 April 1994, age 71 yrs.
See obituary, (and p.2) The Independent, June 4, 1994.
Peter and Hilary had issue:
Alexandra Vaughan-Fowler, mar John Eyers and had issue:

Edward Eyers, mar Nancy --- and had issue:

James Eyers.
Oscar Eyers.
Louise Eyers.

Thomas Eyers, mar Rebecca --- and had issue:

Oliver Eyers.
Miles Eyers.

Martha Eyers, mar Doug ---- and had issue:

Rohan ----.

Jeremy Eyers, mar Samantha ----.
Andrew Eyers.

Susan Ursula Vaughan-Fowler, mar Joseph Santamaria and had issue:

Jerome Santamaria.
Ben Santamaria, mar Alexine ---- and had issue:

Henry Santamaria.
Ivo Santamaria.
Edmund Santamaria.
Olive Santamaria.

John-Paul Santamaria, mar Skye ---- and had issue:

Jack Santamaria.

Clare Santamaria.
Helen Santamaria.

Michael Vaughan-Fowler, mar Jessica Gilford-Mead and had issue:

Patrick Michael Peter Vaughan-Fowler.
Nicholas Guy Alexander Vaughan-Fowler.
Charlie Vaughan-Fowler, mar Antonia ---- and had issue:

Cosima Vaughan-Fowler.

Margaret-Mary Vaughan-Fowler.

James Vaughan-Fowler, mar Penny Saugman and had issue:

Tom Vaughan-Fowler, mar Victoria ----.
Edward Vaughan-Fowler.
Olivia Vaughan-Fowler.

Philip Vaughan-Fowler, mar Emma ---- and had issue:

Dominc Vaughan-Fowler.
Alexander Vaughan-Fowler.
Peter Vaughan-Fowler.

John Vaughan-Fowler, mar Kate Broadbridge and had issue:

Emily Vaughan-Fowler.
Alice Vaughan-Fowler.
Matilda Vaughan-Fowler.
Katherine Vaughan-Fowler.

Catherine Vaughan-Fowler, mar Andy Bernard and had issue:

Patrick Bernard.
Edmund Bernard.
Genevieve Bernard.
The Shuttleworth Collection Westland Lysander.
And search for
more videos
.