House of Plantagenet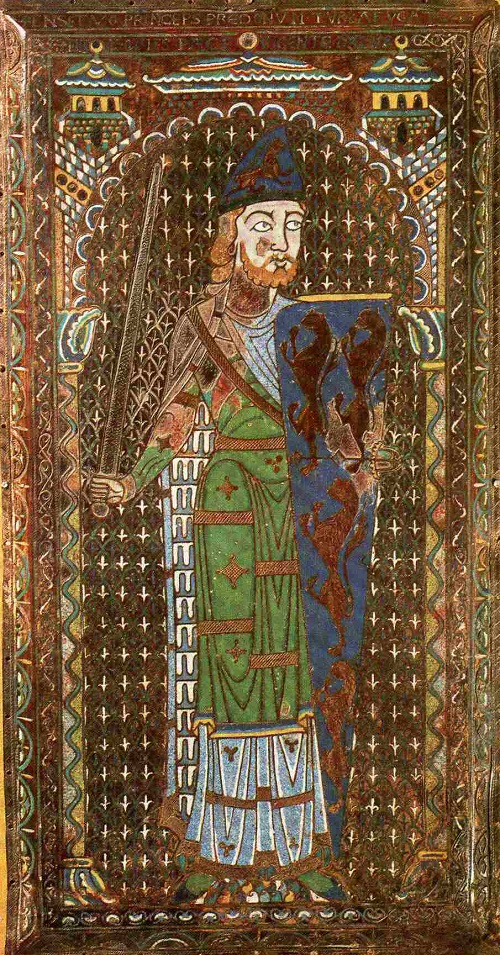 Geoffrey Plantagenet, Count of Anjou.
Tomb at Le Mans Cathedral.
See
full size
. From
here
.
Geoffrey Plantagenet, Count of Anjou
,
born 1113.
He mar 1128 to
Matilda the Empress
[daughter of
Henry I
of England, and widow of
Henry V, Holy Roman Emperor
].
Matilda's father Henry I died 1135, leaving no legitimate son as heir to the throne of England.
Her father had tried to make Matilda his heir, but her cousin
Stephen
seized the throne.
"The Anarchy"
was a civil war in England and Normandy between 1135 and 1153, as Matilda and her supporters attempted to regain the throne from Stephen.
Geoffrey died 1151. He was bur
Le Mans Cathedral
, France.
The Anarchy ended with the
Treaty of Wallingford
1153, where Matilda's son was designated as Stephen's heir.
Stephen died 1154 and Matilda's son became King.
Matilda died 1167. She was bur
Rouen Cathedral
, France.
Geoffrey and Matilda had issue:
Henry II, reigned 1154-89.

Geoffrey had by an unknown mistress a natural child:
Hamelin de Warenne, Earl of Surrey,
"Hamelin Plantagenet", illegitimate,
mar Isabel de Warenne and had issue.
He adopted her name. So we continue the line on her page.