Ponsonby
Pronounced "Punsunby", according to [Gourley, 1965].
Stop! Special page! Contact me now!
Stop! This is one of the most important pages on this site.
If you know anything about the people on this page, please contact me now. You may solve a problem I have been working on for years. I will give €2,000 to anyone who solves this problem. If you know anything about the people on this page, contact me now!
References:

Sources yet to be consulted:

The Ponsonby family, 1929-1970 (a supplement to [Ponsonby, 1929]), Sir Charles Ponsonby, 1970. [BL] Humanities and Social Sciences, St Pancras Reading Rooms, X.800/4911.

PONSONBY, Sir John Bernard Burke, in The Patrician (1846-48), vol 6, p.305, [NLI] 92905 p 1 (offsite, order in advance).
[Denny, 1923] said there was reference to PONSONBY in [Kerry Magazine, vol. III, p.83] but nothing there.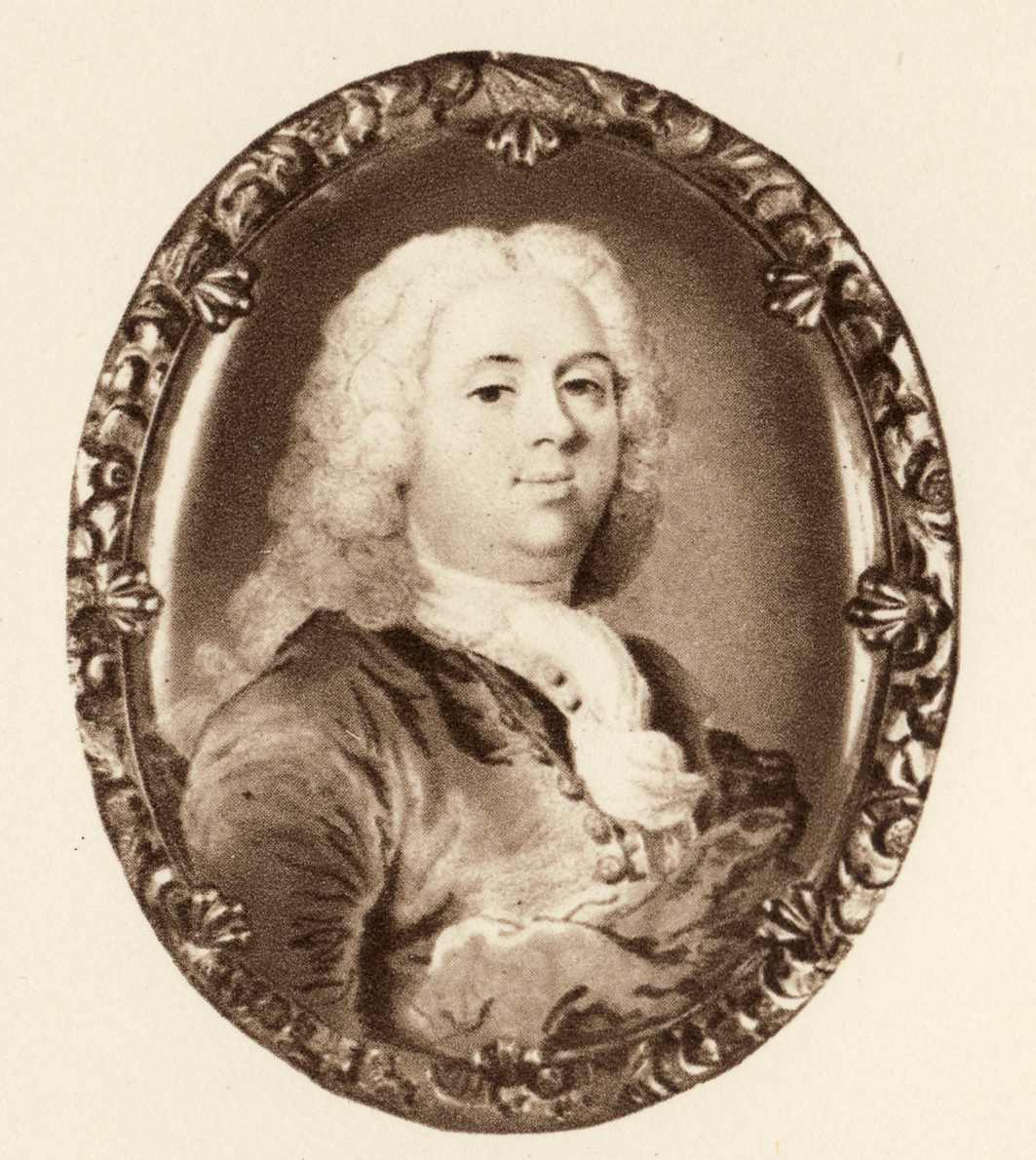 William Carrique Ponsonby (formerly William Carrique).
From
[Ponsonby, 1929]
.
As at 1929 this portrait was in the possession of
Richard Ponsonby Blennerhassett
.
See
larger
and
full size
.
Henry Ponsonby, born 1619,
mar Rose Weldon,
served under
Cromwell
in
Irish Confederate Wars
,
he was granted
Crotto (or Crotta)
, between Tralee and Listowel, Co.Kerry, in 1666,
built
Crotto House
1669,
died at Crotto in 1681,
had issue:

Thomas Ponsonby,
of Crotto,
mar 1685 to Susanna Grice,
had issue:
Rose Ponsonby, born must be c.1686,
mar 1705 to John Carrique [descendant of Edward III],
had issue:

William Carrique (later William Carrique Ponsonby),
mar Margaret Crosbie,
inherited Crotto from his uncle Richard Ponsonby in 1763,
changed name to "William Carrique Ponsonby",
[Ponsonby, 1929] thought he changed his name to Carrique Ponsonby in 1729,
though [Ms 20608] says he was still "Carrique" in 1735,
maybe he only changed name when inherited in 1763,
Tralee church held a silver paten, the gift of "William Ponsonby" to the church of Kilflynn in 1764,
see abstract of deed of 1765,
he was party to his son's [Marriage settlement, 1766],
(todo) see William Carrique Ponsonby, 1770 case in: House of Lords, Irish Appeal cases, [NLI] ILB 34791,
he is William Carrigue Ponsonby, of Cloghers, Co.Kerry, whose will was pr 1782,
had issue:

James Carrique Ponsonby, of Crotto, only son,
born 1738, according to entry in [MPs in Dublin: Companion to History of the Irish Parliament, 1692-1800, E.M. Johnston-Liik, 2006],
mar settlement 1766,
ancestor of Carrique Ponsonby (or sometimes Carrigue Ponsonby) of Crotto.




Alice Ponsonby,
mar 1718 to Edmund Peacocke and had issue,
ancestors of:

Georgina Pinkas, researching family tree.




Richard Ponsonby, of Crotto,
MP for Kinsale 1727-60,
mar 2ndly to Arabella Blennerhassett [born 1726],
his will of 1762 left Crotto to his nephew,
died 1763, will pr 1764.

Honora Ponsonby,
mar 1733 to John Wren and had issue.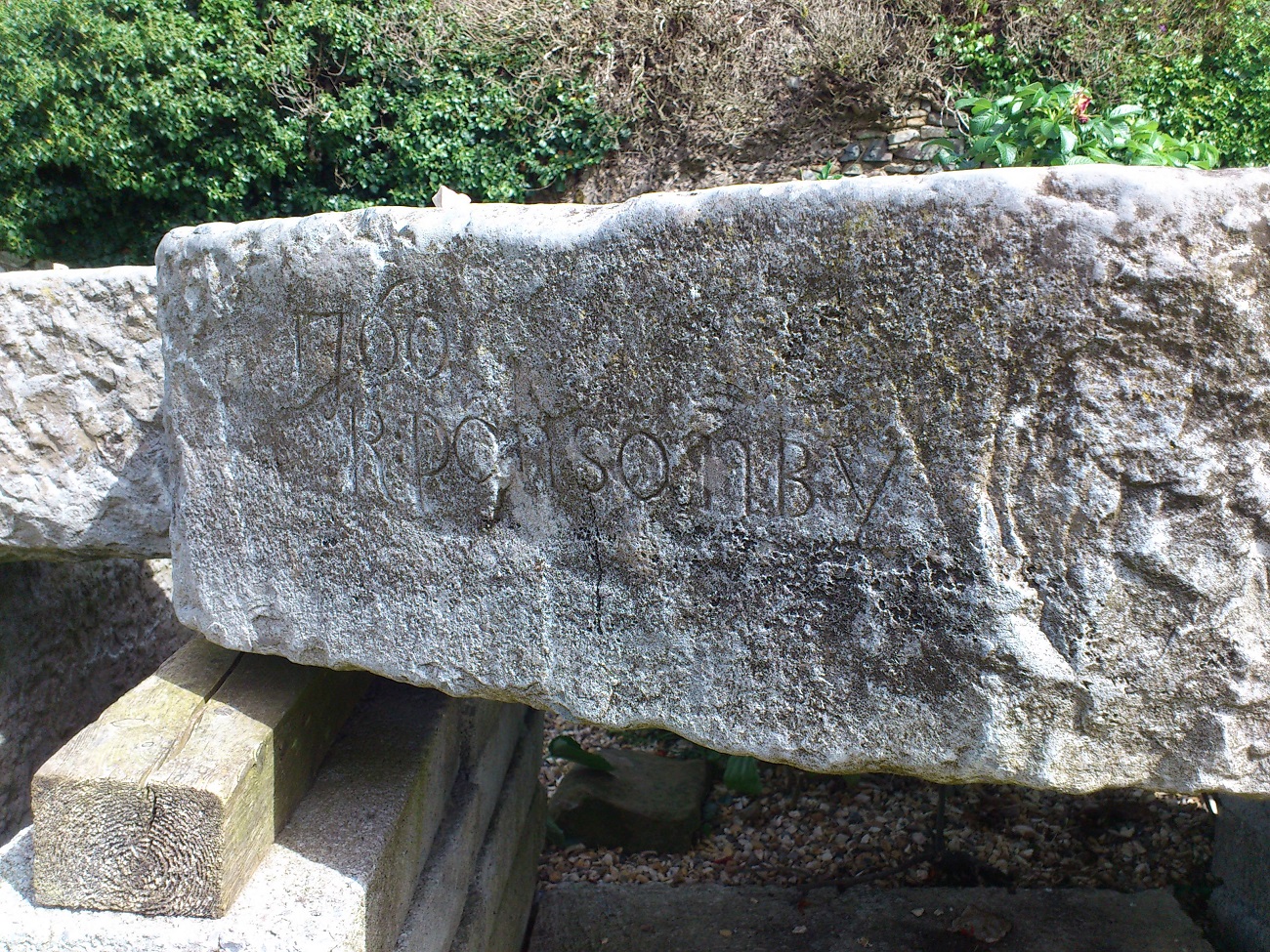 Surviving stone from
Crotto House
, dated 1760.
It has the name
"R. Ponsonby"
(Richard Ponsonby, MP, died 1763).
Photo 2013. See
larger
and
full size
.
See
wider shot
and
other shot
.
See also
photo
in
[O'Flaherty, 2003]
, which says this stone is part of the old cider press, though dates it wrong as 1790.
---