Thomas Luttrell, MP
Thomas Luttrell, MP
,
of
Luttrellstown
, Co.Dublin,
prominent Roman Catholic,
mar 1stly, 1605, to
Eleanor Preston
[according to
[Burkes Extinct]
, but
[Ball, vol.4, 1906]
says she was Eleanor Cheevers, dau of John Cheevers],
had issue by 1st wife:
Simon Luttrell, of Luttrellstown,
born 1600 according to [Ball, vol.4, 1906].

MP for Co.Dublin 1613,
mar 2ndly, 1616, to Alison St.Lawrence [Catholic, born est c.1585-90, descendant of Edward I],
died 12th Nov 1634, bur Clonsilla Church,
[Ball, vol.4, 1906] references his will and funeral entry,
Alison fl 1663,
had issue by 2nd wife:
Mary Luttrell,
or Alice, born est c.1620,
mar William Fitzwilliam, 3rd Viscount Fitzwilliam and had issue.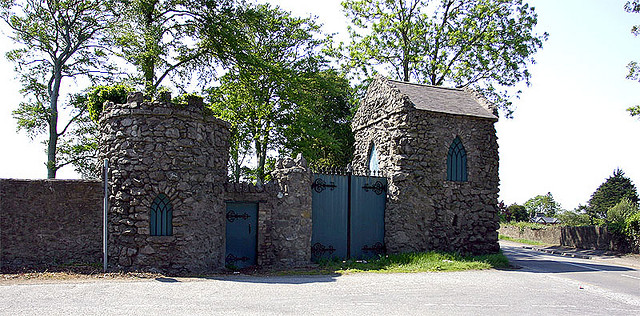 Old gate to Luttrellstown Castle.
Photo 2005. From
Graham Duke
. Used with permission.
This gate is at the NE corner of the estate.
It is called "Rustic Lodge" on
1829 to 1842 map
.
---
[Ball, vol.4, 1906] says that as at 1630, there was a Catholic schoolmaster teaching in the parish of Clonsilla, under the protection of Thomas Luttrell, MP.