White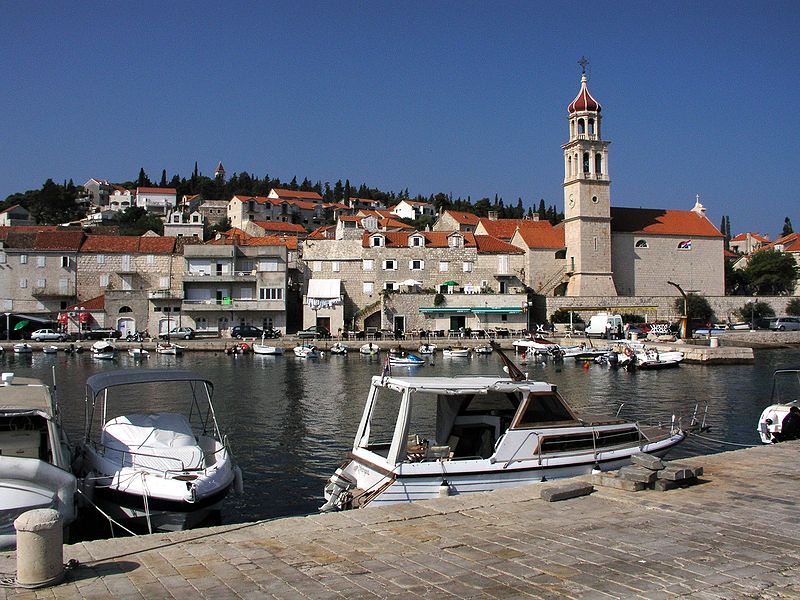 San Giovanni della Brazza, now in Croatia.
Photo 2005. From
here
.
Marko Biscupovic,
had issue:

Marko John Biscupovic,
later Marko John White,
born in 1846 in San Giovanni della Brazza (now Sutivan, Croatia), then in the Austrian Empire,
the surname Biscupovic was simply changed to "White" on arrival in America,
had issue:

Edward White,
Edward Timothy White, born 1888, Florida,
mar Kathryn Wilson [Kathryn Lillian Wilson, born Florida],
they lived Pensacola, Florida,
they are listed in Pensacola in [US Census, 1 Apr 1930], he is listed as a "merchant" in the "haberdashery" industry, living in an expensive house which he owns,
had issue:
Marlow White,
Marlow Vincent White, NOT Marlow O.,
born 31 July 1915, Pensacola, Florida,
mar 1935 to Ellen Sullivan [born 11 May 1916],
he was a businessman,
military tailor, Marlow White Uniforms,
she died 18 Nov 1968, Plainfield, New Jersey, age 52 yrs,
bur Pensacola, Florida,
he died 28 July 1987, Leavenworth, Kansas, age 71 yrs,
bur in Missouri,
had issue:

Lillian White, mar Robert Shagrin.
James White, mar Jeanne Reid and had issue:

Marlow White.
Marko White.

Maureen White, mar Pete Enderlin and had issue:

Erin Enderlin, mar John Bloys and had issue:

Charlotte Bloys.
Elizabeth Bloys.
Kathryn Bloys.

Jonathan Enderlin.
Jennifer Enderlin, mar Art Blougouras and had issue:

Nicholas Blougouras.
June Blougouras.

Sarah Enderlin, mar Dennis Healy and had issue:

Noah Healy.
Max Healy.

Matthew Enderlin.

Sheila White,
close DNA match to me,
mar 1stly to Charles Michael McLarty,
mar 2ndly to Ralph Moore and had adopted issue:

Stephen Moore.
Ellen Moore.

Marlow White, mar Dawn --- and had issue:

Maura White.

Thomas White, mar ---- and had issue:

James Marlow White.
Thomas Patrick White.