Sheehan of Maulykeavane, Co.Kerry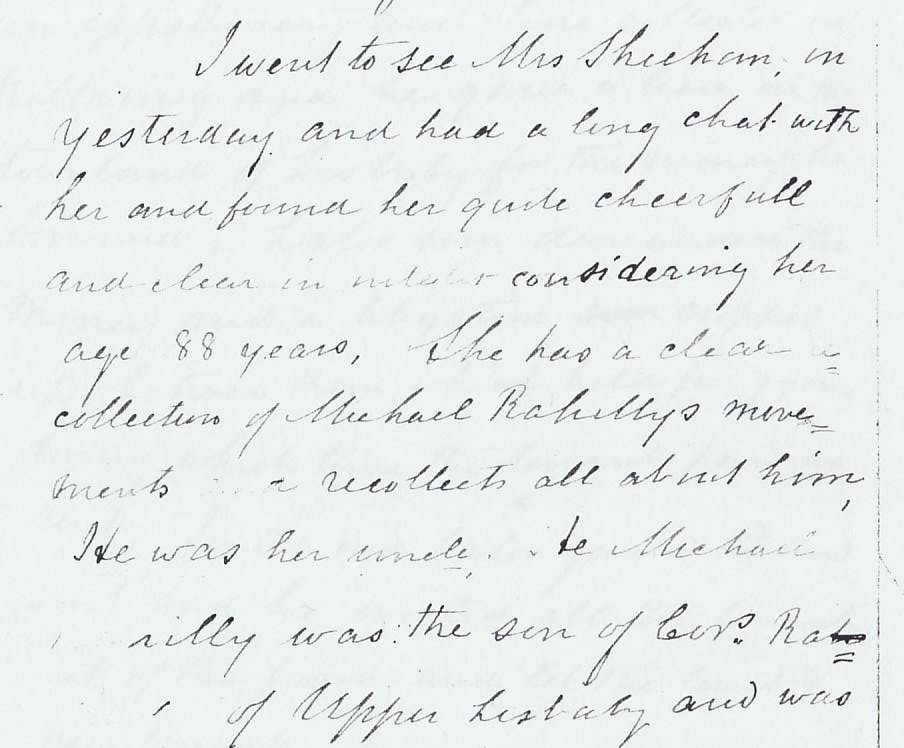 Extract from Michael Warren's letter of 1906
[P102/207(4)]
.
He meets Julia Sheehan and she recalls her uncle
Michael Rahilly
, son of Conn.
Michael Sheehan.
He is listed as of "Knockacappuil" at mar (would be
Knockacappul
, Kilcummin par, see
map
).
He mar 10 July 1852 to
Julia Rahilly
[bapt 5 Apr 1826].
They were NOT 1st cousins. This was a misreading of
[P102/207(6)]
, which says he is a cousin of
Michael Warren
.
He was farmer at
Maulykeavane
, Kilcummin par (see
map
and
map
).
They are listed as of Maulykeavane at children's bapts 1853-64.
She must be Julia Sheehan who is listed at Maulykeavane in 1901 census, widow, age 77 (born 1824), with an unmarried dau Bridget, age 40 (born 1861).
The census lists Julia as illiterate ("cannot read"), while Bridget is listed as "read" only (not write). This would be surprising if this is her, given the family tree information she had (see below), but it could be an entirely oral tradition. Also note she did not write to The O'Rahilly herself. Rather Michael Warren interviewed her and wrote to The O'Rahilly.
Julia was alive in 1906.
She provided Michael Warren with core information on family tree for The O'Rahilly's research.
Warren visited her in 1906 to get information. See [P102/207(4)] and [P102/207(6)].
She must be Julia Sheehan who died Maulykeavane, 10 Dec 1910, age 84 (born 1826) [GROI], "widow of a farmer", death reported by grandson Dan Carroll.
Michael and Julia had issue: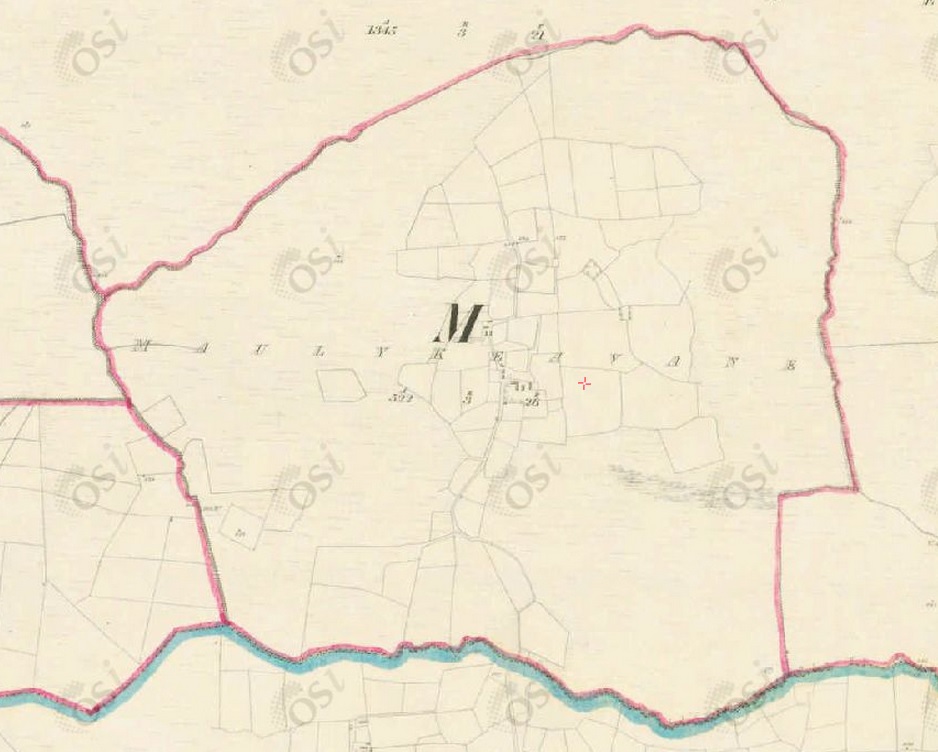 Maulykeavane on
1829 to 1842 map
.
---
The other Julia Sheehan at Maulykeavane
Confusingly, there is another Mrs. Julia Sheehan of similar age at Maulykeavane:
John Sheehan,
mar Julia Roache [or Roche],
they are listed as of Maulykeavane at children's bapts,

she must be the Julia Sheehan who is listed at Maulykeavane in 1901 census, widow, farmer, age 70 (born 1831), with two unmarried sons Jerry (age 31, born 1870) and John (age 28, born 1873),
Michael Warren in [P102/207(2)] says that "Jerry Sheehan" of Maulykeavane is nephew (not son) of Julia Rahilly, i.e. it seems John Sheehan is brother of Michael Sheehan,
Warren also says Jerry Sheehan is brother of Patt Sheehan,

she must be Julia Sheehan who died Maulykeavane, 10 May 1910, age 84 (born 1826) [GROI], death reported by son John,
though listed as "married", "wife of farmer", not widow,
John and Julia had issue:
---