Henry I (Beauclerc)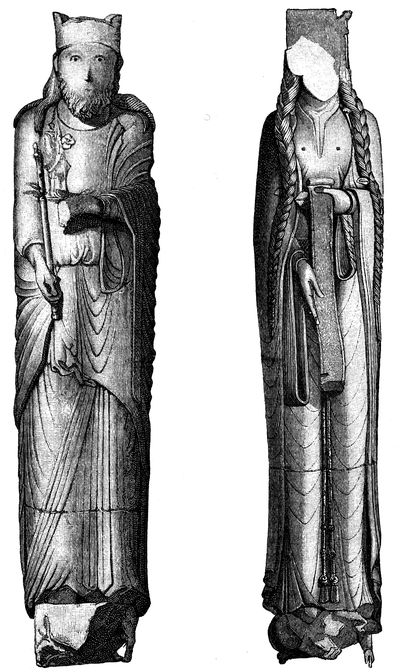 Henry I and his queen Matilda.
From the W front of
Rochester Cathedral
.
From
A Student's History of England
by Samuel Rawson Gardiner (1916). See
here
.
Originally from Hollis's
Monumental Effigies
.
Henry I (Beauclerc)
(see
here
and
here
),
had affair with
Edith
and had illegitimate issue:
Maud, born 1086, mar Rotrou the Great, Count of Perche and had issue [according to [Weis, 1992, Ancestral], but the Web genealogy disagrees]:

Matilda de La Perche, born 1105, had issue:

Marguerite de Turenne, mar William IV Taillefer, Count of Angouleme and had issue.

had affair and had illegitimate issue:
Robert de Caen, Earl of Gloucester, born c.1090, had issue:

Maud FitzRobert, had issue:

Hugh, Earl of Chester,
mar and had issue:

Matilda de Keveliock, mar David, Earl of Huntingdon and had issue.
Agnes de Keveliock, mar 1192 to William de Ferrers, Earl of Derby and had issue.

reigned 1100-35,
mar 1100 to Matilda of Scotland [descendant of Edmund II (Ironside) and of Charlemagne],
she died 1118, bur Chapel of Edward the Confessor, Westminster Abbey (grave not marked),
he died 1135, bur Reading Abbey (now a ruin, no trace of his tomb),
there is an ongoing search for his grave at Reading,
had issue by his wife:
Matilda the Empress (see here),
mar Geoffrey Plantagenet, Count of Anjou and had issue.