Berwick of East Dereham, Norfolk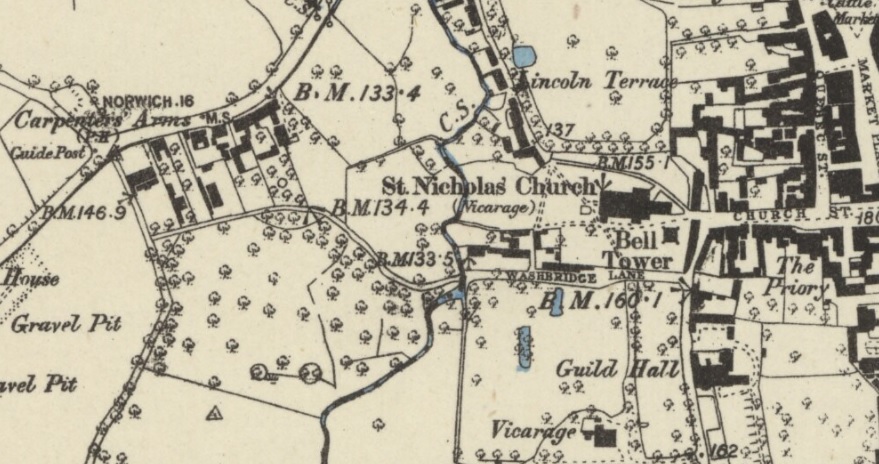 Washbridge Lane, beside the church, East Dereham.
From
1884 map
.
See modern
satellite view
.
William Berwick,
born 1796,
mar pre-1820 to
Susan ---
[born 1796],
lived
East Dereham
, Norfolk (see
map
),
see them
listed
(and
p.2
) at Wash Bridge Lane, East Dereham, in 1841 census, he is bricklayer,
had issue:
Ann Berwick,
born 1820-21, maybe twin.




William Berwick,
born 1820, East Dereham,
at home in 1841 census.




Ellen Berwick,
born 1826.

William Berwick and family listed at East Dereham in 1841 census.
See
full size
.
---
Postcards
A number of old postcards survive, with, on the envelope: "From Cousin Helen, Norfolk". There are some blank ones of East Dereham, and written ones showing people living at the following addresses:
Mr. W. Wright,
at Packthorpe (think should be "Pockthorpe"), Great Melton, Norfolk (see map), in 1905.
Mrs. Wright at this address in 1914.

--- Wright (possibly the couple above), had issue:

Liza Wright [Elizabeth],
at 13 Thorpe Rd, Norwich, Norfolk, in 1906-7, then unmarried.

Sophia Wright,
at Hethersett, Norfolk, in 1907.