Fitzgerald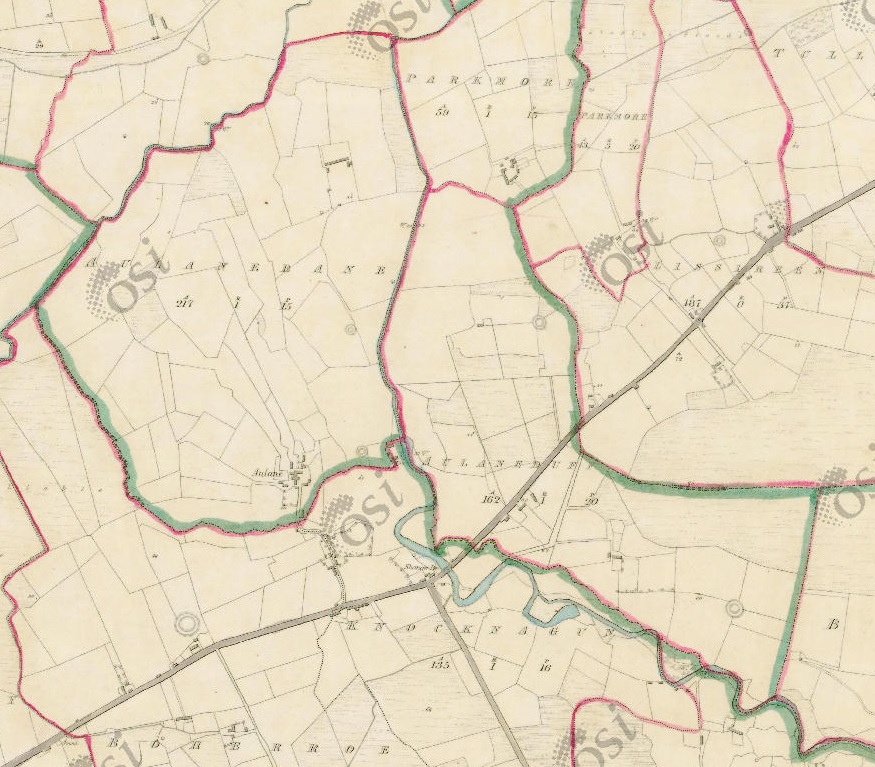 Aulanebane and Aulaneduff townlands on
1829 to 1842 map
.
Shows "Aulane" in Aulanebane.
Another Fitzgerald family (probably relations) is at Aulanebane in
1901 census
and
1911 census
.
Garrett Fitzgerald,
born 1821 (census) or 1823 (death cert), Co.Kerry.
He was farmer, of
Aulaneduff
, Killahan par, NE side of
Abbeydorney
, N of Tralee, Co.Kerry (see
map
).
This was sometimes just written "Aulane". There is an Aulaneduff and Aulanebane beside each other in Killahan par.
Census shows this family was at Aulaneduff.
Garrett is farmer at "Aulane" at mar 1871.
He mar 2ndly, 20 April 1871, Abbeydorney, to Johanna Leehy [born 1841, Co.Kerry, dau of Timothy Leehy].
See mar cert from here. He is widower. They are both illiterate.
He is farmer at "Aulane" at son's birth 1875.
See them listed at Aulaneduff in 1901 census.
Garrett died 30 Jan 1905, Aulaneduff, age 82 or 84 yrs. See death cert from here.
He had issue by 2nd wife:
Timothy Fitzgerald,
born 6 Aug 1875, "Aulane",
see birth cert from here.
At mar he is farmer at Aulaneduff.
He mar 27 February 1908 to Hanoria Carmody [born 19 May 1877].
They lived at Aulaneduff.
Timothy is farmer at Aulaneduff at children's births 1908-1912.
They are listed at Aulaneduff in 1911 census. He is farmer. They have 2 farm servants and 2 domestic servants.
He is listed at death as farmer, of "Aulane".
He died 25 Oct 1943, Bon Secours Home, Tralee, age 68 yrs. See death cert from here.
Hanoria died 25 June 1965, "Aulane", age 88 yrs. See death cert from here. Death registered by John Shanahan of Abbeydorney.
Timothy and Hanoria had issue: