McGlashan
NOT McGlasham.
Alexander McGlashan.
He mar
Mary Ann Ross
.
They are
listed
in 1891 Scotland census at
Liberton
, Edinburgh.
They are
listed
in 1901 Scotland census at Burnside House, 5 St. Duthus St,
Tain
, Ross, Scotland. The house is still called "Burnside" today. See
street view
.
The family emigrated to Canada.
Alexander died 1901-1916.
Mary Ann and the family lived 118 6th Ave W,
Calgary
, Alberta.
They are
listed
in Canadian census,
1 June 1916
, on 118 6th Ave W, Calgary, Alberta.
They were Presbyterian.
Alexander and Mary Ann had issue:
Maggie McGlashan,
Cecilia Margaret McGlashan,
born 26 Sept 1877, Govanhill, Glasgow, Scotland. See birth cert.
In Jan 1916 George Cashel made a will leaving his property to her if he was killed in the war.
At home in June 1916 census. Listed as "Margarite", age 31 (not true).
She mar 1919, Calgary [Alberta Marriages Index] to George Cashel [born 12 July 1880].




Frances Mary McGlashan.

Ellen McGlashan,
or Helen.

Alexander McGlashen,
Alexander Stewart McGlashen.




Harry McGlashan,
Henry Dundas McGlashan, Harry Dundas McGlashan,
born 31 Aug 1892, Edinburgh.
Fought in WWI.
He was in the 12th Regiment, Canadian Mounted Rifles, with George Cashel.
George fell for his sister, and made a will in Jan 1916 leaving his property to her if he was killed in the war.
Harry is listed with family in 1 June 1916 Canadian census with a line saying he is serving in France with the 12th Regiment, C.M.R.
He was killed in action days later, between 2 and 5 June 1916, in an attack E of Zillebeke, Belgium (near Ypres, near French border). Amazing they do not know the exact day, in the chaos of battle.
See Canada, War Graves Registers.
See his personnel file.
His name is on the Menin Gate Memorial to those with unknown graves. See findagrave. See street view.
After the war, George married his sister.




Norman McGlashan,
Norman McDonald McGlashan.
He must be identical with:

Norman M. McGlashan, born 1894.
See entry in tree by Donald Alexander Barnett. (Research by Linda Barnett.)
Lived Calgary.
He died Edmonton, Alberta, 1978.
See death notice from here.
He was bur Calgary. See grave.
He had issue:

Norma McGlashan, born 1926,
mar 1954 to Campbell Devere Barnett,
she died 2014.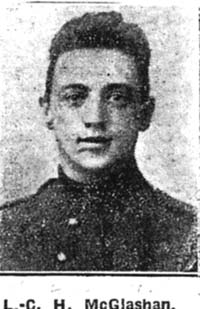 Harry McGlashan.
From
here
in
WWI page
at Ross and Cromarty Heritage.
Photo is from Ross-shire Journal, 7 July 1916.
See
more pictures
.