Cashel of Co.Kerry
The "Blennerhassett problem"
The "Holy Grail" of my family tree research has always been the
Blennerhassett problem
, the problem of how we connect through
George Cashel
(born 1807) to the Blennerhassett family.
In 2020, I finally proved that we connect to the Blennerhassett Baronets branch. See Proof of our descent from Blennerhassett. Some connection to that branch is now proved, but the details of exactly what the connection is remain a mystery.
Nothing is known about Cashel outside of George Cashel
On the Cashel side, almost nothing is known. Our ancestor George Cashel has no known Cashel relations. If a Mr. Cashel ran away with a Miss Blennerhassett, they seem to have had no other children. We are not even sure Mr. Cashel exists. George Cashel might be the natural son of a Blennerhassett man. We are not even sure if "Cashel" is a real surname, or a surname made up for a natural child.
Spelling
The proper spelling of our family seems to be "Cashel" not "Cashell".
Following the family story:
Edward Cashel,
or Edward George Cashel [PAT/13, no.2-3],
or George Edward Cashel [PAT/13, no.6],
or George Philip Cashel [PAT/10, p.3].
He was said to be Catholic.
He married pre-1807 to Letitia Blennerhassett.
She was said by my family to be "Letitia", but there is no record of such a Blennerhassett daughter.
She was Protestant. Said to be a runaway marriage.
According to the family story, Edward and Letitia had issue:




George Cashel,
born 1807, Co.Kerry.
Since he retired 1 Feb 1867, maybe this was at age 60 and maybe he was born around 1 Feb 1807.
Also written "George Blennerhassett Cashel" and "George S. Cashel".
See George Cashel's middle name.
He was Catholic. (Though this may only have been through his marriage in 1838.)
As stated, we are not actually sure about his father or mother.
However, DNA and documents prove that either through his father or his mother he descends from Robert Blennerhassett and Frances Yielding.
Hence he is descendant of Edward III and Aoife MacMurrough and Brian Boru.



The notes of Pat Lavelle show the mother of George Cashel as a Letitia Blennerhassett.
---
George Cashel
is normally written with no middle name.
He is "George Cashel" or sometimes "George Cashell".
But he does appear during his life as "George Blennerhassett Cashel" and "George S. Cashel".
[PAT/13, no.6]
also lists him as "George Edward Cashel", but this is long after his death.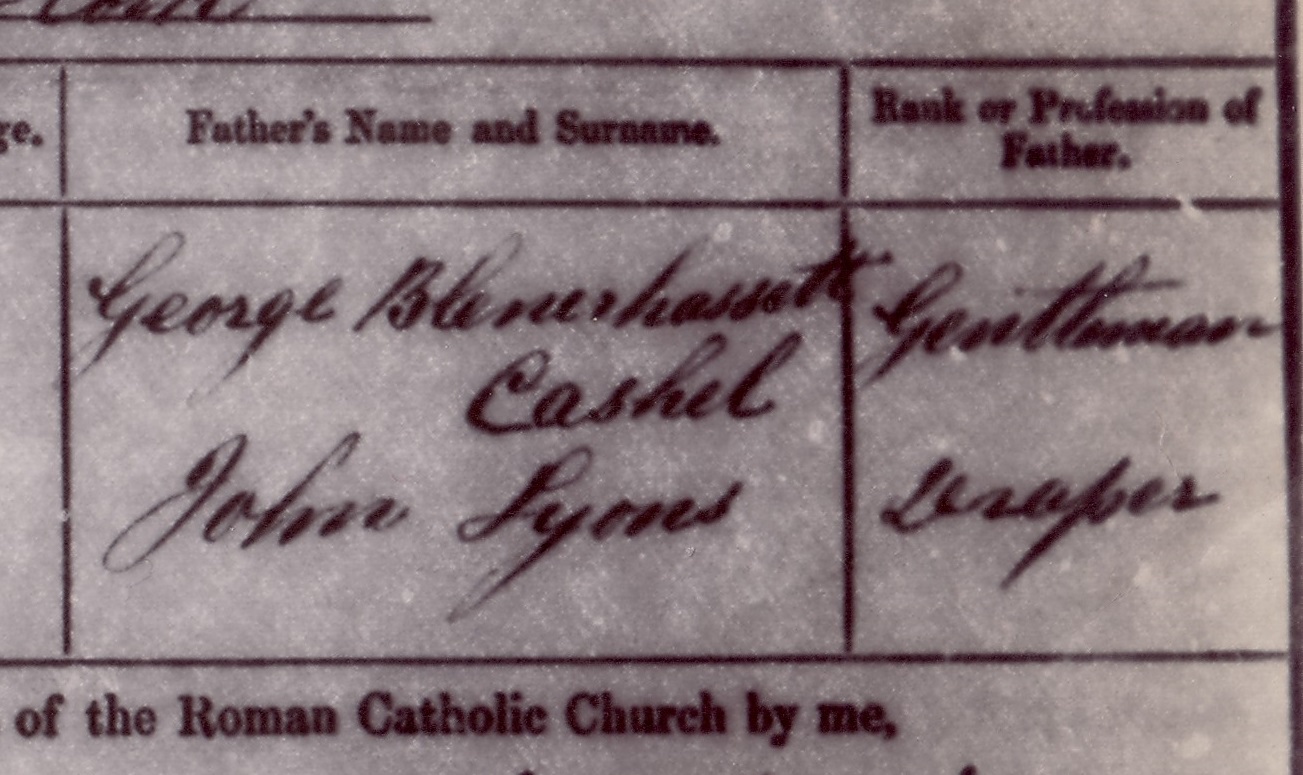 "George Blennerhassett Cashel" on marriage cert of his son
Blennerhassett Cashel
in 1869.
See
full size
.


"George S. Cashel" sponsors the baptism of (his grandson) Willie Cashel in 1875.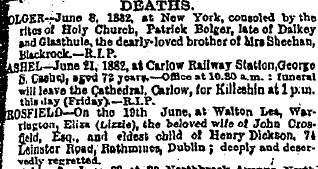 Death notice of "George S. Cashel" in Irish Times, Fri 23 June 1882.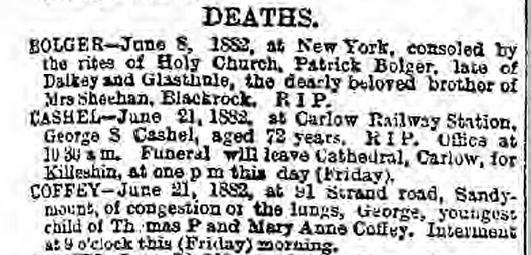 Death notice of "George S. Cashel" in Freeman's Journal, 23 June 1882.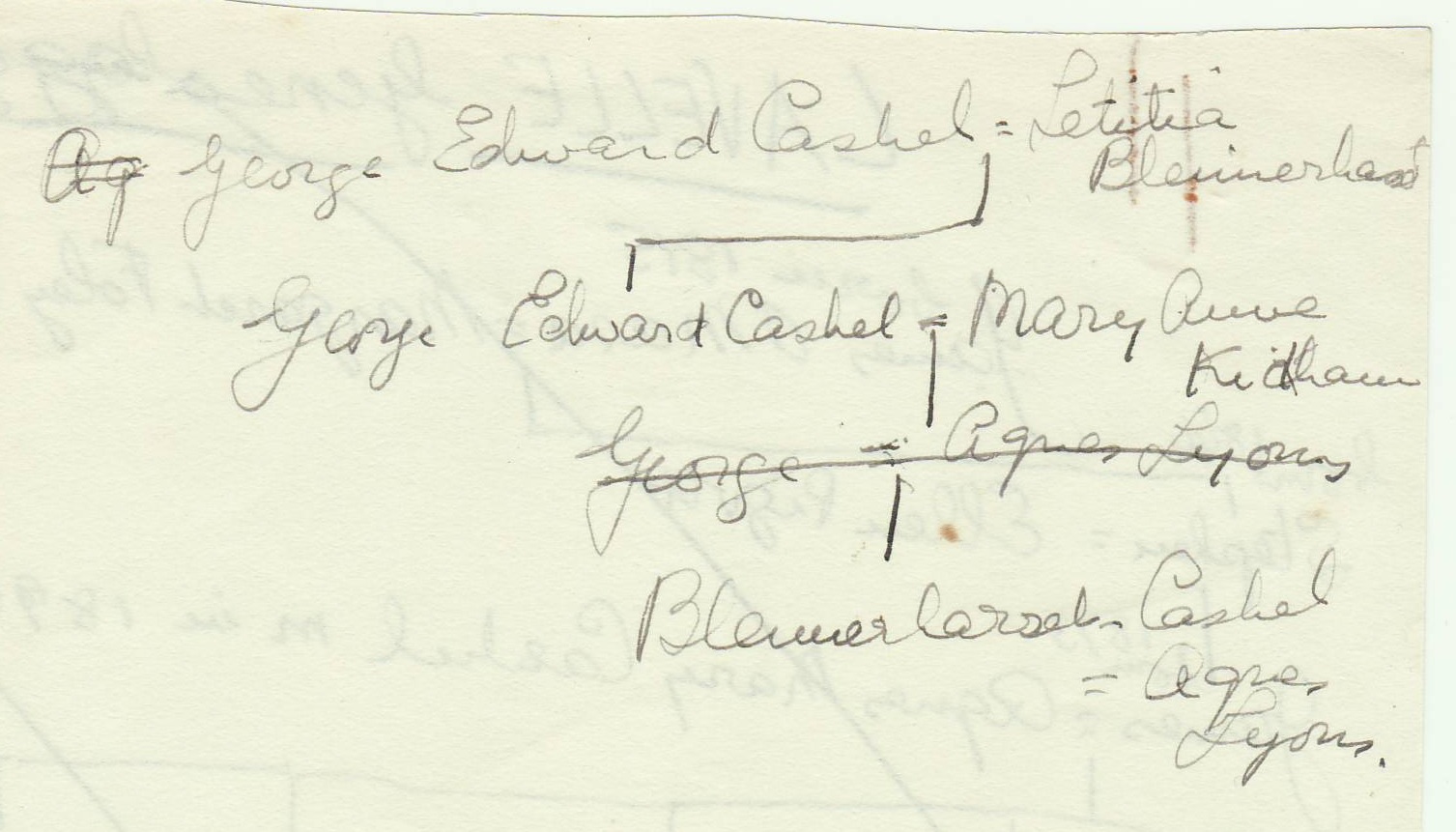 [PAT/13, no.6] lists him as "George Edward Cashel", but this is written long after his death.
---
Real Gaelic descents v. Imaginary Gaelic descents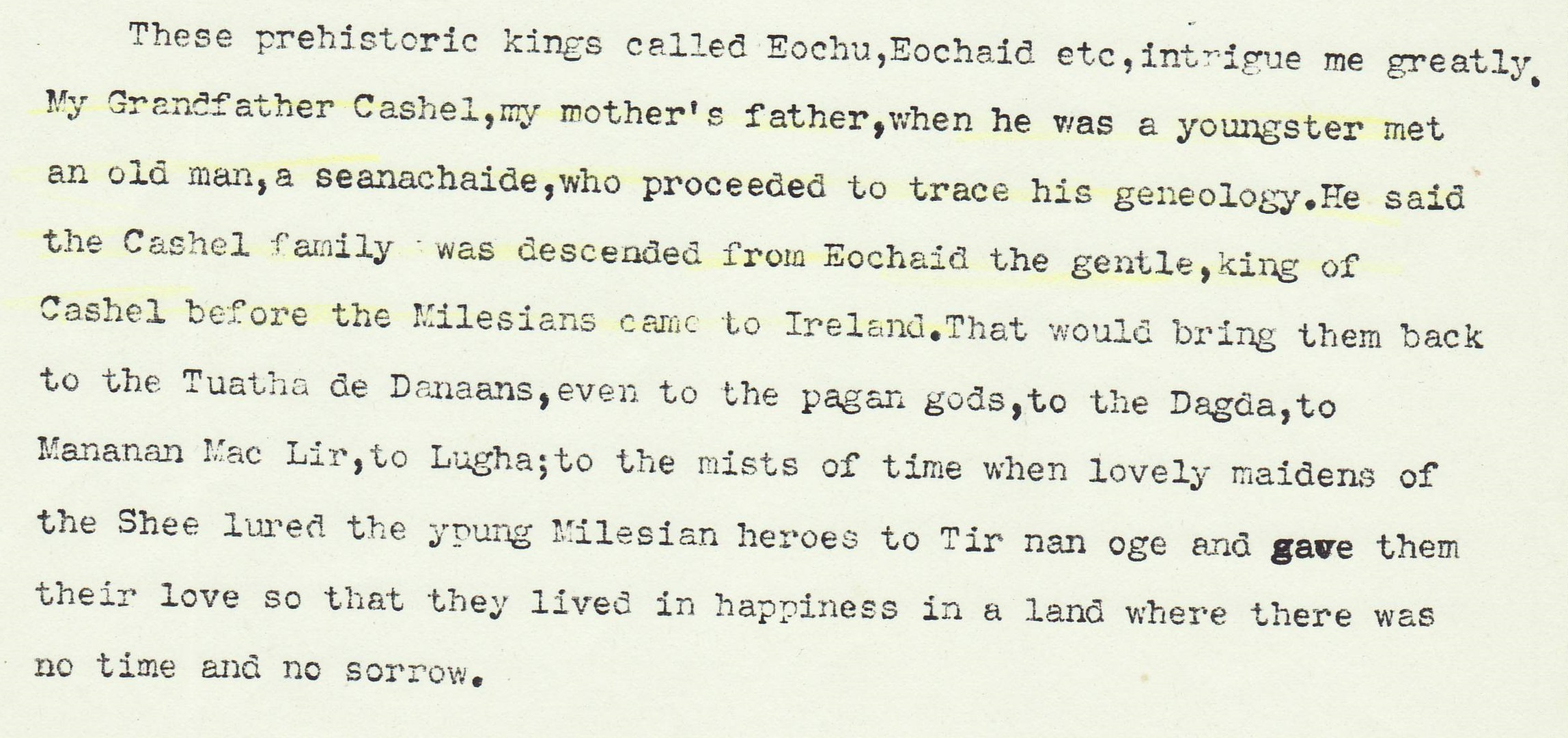 Some fictional Gaelic genealogy about Cashel from
Pat Lavelle
in
[PAT/4]
.
She refers to her grandfather
Blennerhassett Cashel
.
Pat was fascinated by old Gaelic Ireland, but ironically, she could not see that
Blennerhassett
, not Cashel, or O'Mara, or any other family, was the only line that would give her a
real
descent from medieval and Gaelic Ireland.
The claimed descent of Blennerhassett Cashel from the Kings of Cashel is imaginary.
However, Blennerhassett Cashel descends for real from the Blennerhassett family of Co.Kerry.
In 2020, after 35 years of research, I proved that he descends from Henry Blennerhassett of Annaghgarry, Co.Kerry (died before 1728).
Henry Blennerhassett's mother and grandmother and great-grandmother all have proven descents from Aoife MacMurrough (who married Strongbow in 1171) and Brian Boru, High King of Ireland (died 1014). Every step in the descents is proven.
It took me 35 years to prove our descent from Brian Boru. But if Pat's grandfather had only ignored that old man and written down who his own grandparents were, I could have had a descent from Brian Boru my whole life.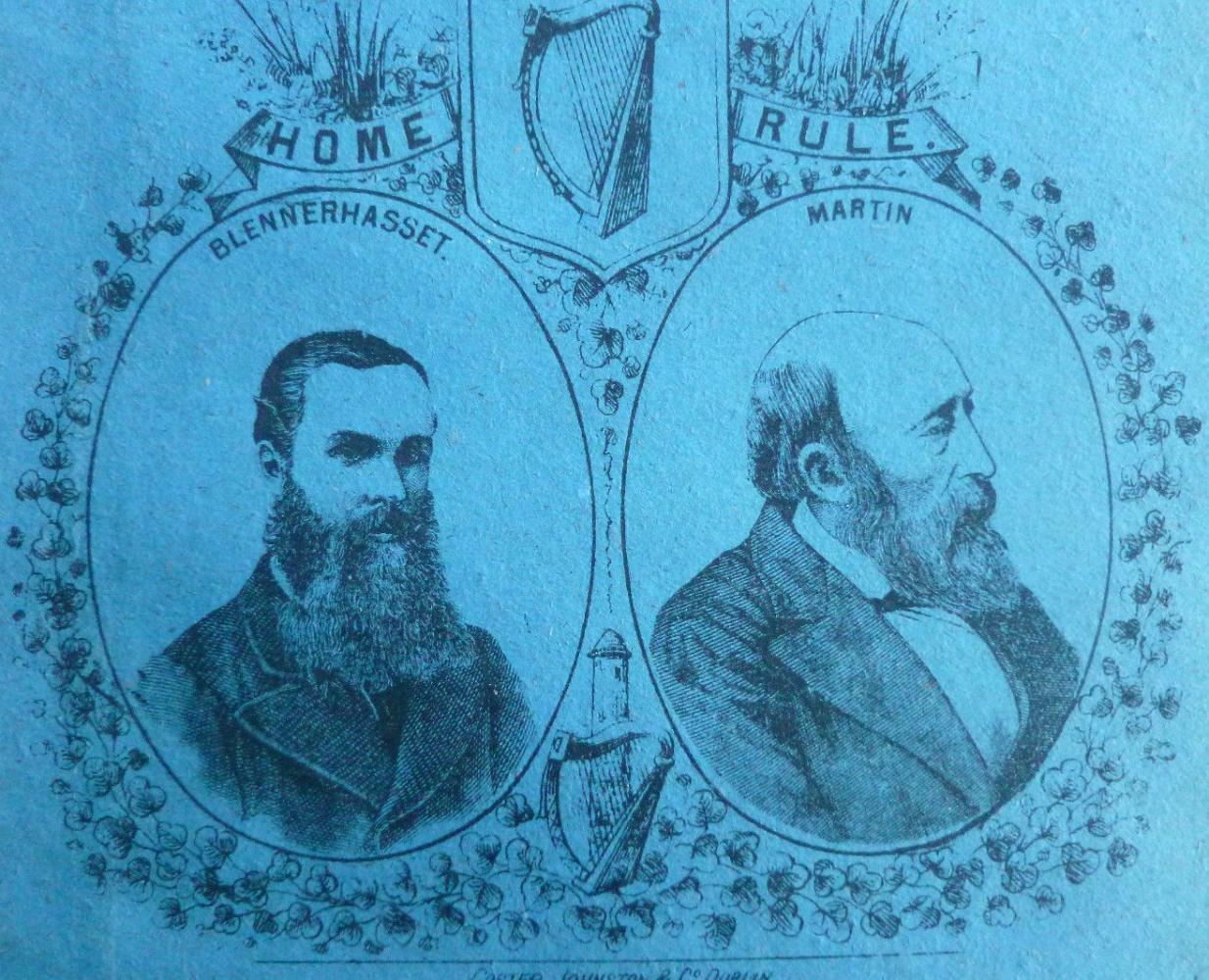 There is another link to Irish nationalism:
Rowland Ponsonby Blennerhassett, MP
, the famous Home Rule MP elected in 1872.
According to my
theory
of our descent, Blennerhassett Cashel was probably his 2nd cousin.
Pat Lavelle was aware of Rowland Ponsonby Blennerhassett, MP, and talks about his famous victory for Home Rule in
[PAT/12, p.14-15]
. But she does not write down our link to him.
---
---
---
Connection to Stack:

Eithne O'Mara thought our Cashels were somehow related to Stack of Listowel, Co.Kerry. No evidence for this has been found.

Connection to Ledwidge:

There was a story that the poet Francis Ledwidge is somehow related to our Cashels. No evidence for this has been found.
See Francis Ledwidge: A Life of the Poet, by Alice Curtayne, 1972.
Francis Ledwidge was born 1887, Slane, Co.Meath, the son of Patrick Ledwidge [born 1840], a migrant labourer, and his wife Anne Lynch [born 1850, dau of Nicholas Lynch, of Slane].