George Cashel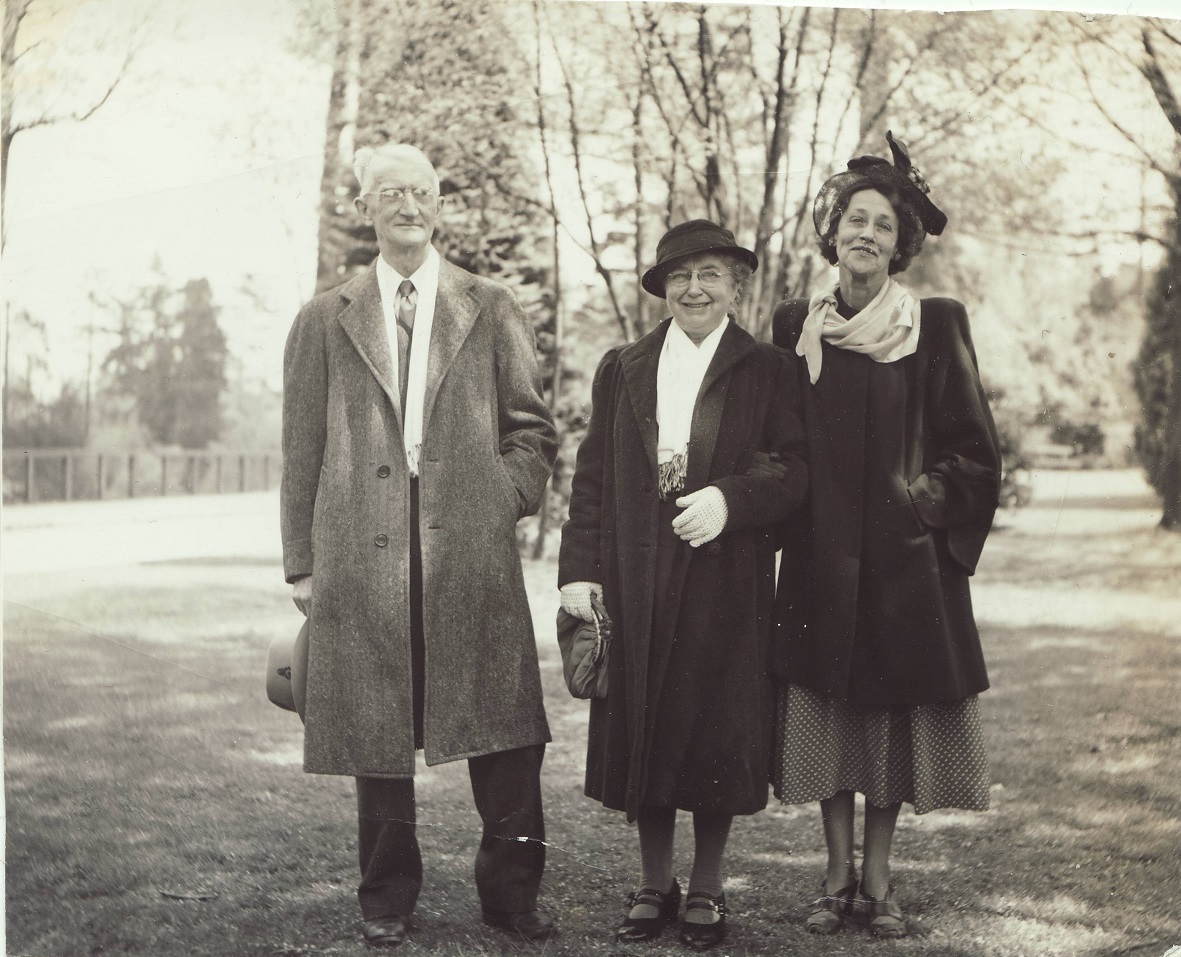 (Left to Right): George Cashel, his wife Maggie, and a Mrs. Stevens.
Lulu Island
, Vancouver, 1956.
See
full size
.
George Cashel
,
George Edward Cashel, born 12 July 1880.
He followed his
father
into the
Great Southern and Western Railway
(GSWR).
He worked for a time at
Cork station
, where his father was head of goods.
Appointed 1 May 1899 to Cork Coaching
[GSWR record]
, age 18. Moved 17 May 1899 to Cork Goods.
[GSWR record]
says he resigned from the railway 9 Aug 1901.
However, earlier than this, in
[UK census, 31 Mar 1901]
, he is found staying with his sister
Agnes O'Mara's family
in Paddington, London. In census he is listed as single, working as "Bacon Salesman". (Agnes' husband
James O'Mara
was the London agent for his family company,
O'Mara's Bacon Co.
.)
Letter of
5 Nov 1902
says that "George Cashel" is with Agnes.
He settled in Canada. He immigrated in 1902, according to 1911 census.
Death cert says he is in Canada 49 years (since 1907).
He would be "George Cashell", born July 1880, Ireland, who is listed in 1911 Canadian census as a lodger in a house in Edmonton, Alberta. He is a "book-keeper", Catholic, unmarried.
Lost part of thumb in 1914: One sheet of his army personnel file says he was injured working on a car, and had to have top of left thumb amputated in April 1914.
Served in Canadian army in WWI, 1915 to 1919:
George volunteered for Canadian army in
WWI
(started 1914).
His sister
Alice
(the Sinn Fein supporter) did not approve. (She took part in plans for the 1916 Rising, which used German help.) The story is she wouldn't see him off. Though that only makes sense if he was in Ireland first.
George joined up in
Calgary
, Alberta, on 4 Jan 1915. He joined the 12th Regiment,
Canadian Mounted Rifles
as a Private.
Army records
list him as "clerk", unmarried. Height 5 ft 11 in. Blue eyes. Brown hair.
His
father
died Oct 1915.
There is a will dated 31 Jan 1916 in his Personnel file. He leaves everything to Cecilia Margaret McGlashan (later his wife) of 118 6th Ave W, Calgary.
She was the older sister of Harry McGlashan who was in the 12th Regiment with George.
Harry McGlashan was killed in action in Belgium between 2 and 5 June 1916.
George served in France with the Canadian Corps Cavalry Regiment (formed May 1916).
He was promoted to acting Sergeant 27 June 1916.
Confirmed as Sergeant 27 Jan 1917.
He was admitted to hospital in England with Trench Fever 20 Feb 1917. Discharged 17 Apr 1917.
After the war ended, he was discharged 14 Feb 1919.
He was not injured in the war.
His address on discharge 1919 is 604 5th Ave W, Calgary.
He mar 1919, Calgary, to Maggie McGlashan [Cecilia Margaret McGlashan, born 26 Sept 1877].
At marriage, assuming it was early in 1919, George was age 38. Maggie was age 41. They had no issue.
They moved to Vancouver, British Columbia.
Death cert says he is in British Columbia 30 years (since 1926).
He worked Waterworks Dept, Vancouver.
In 1934 he was appointed as a "Watershed Sanitary Inspector" in Capilano, North Vancouver.
See Order in Council no.1241, 5 Oct 1934. From Orders in Council in British Columbia.
They are listed in the Voters List 1940 as living 354 15th St W, Vancouver North. He is "clerk".
They are listed in the Voters List 1945 as living 4053 32nd Ave W, Vancouver South. He is "water board official".
Death cert says he was formerly "Watchman", Greater Vancouver Water Board, retired 1946.
They are listed in the Voters List 1949 as living 3035 Baird Rd, Coast-Capilano, North Vancouver. He is retired.
They are listed in the Voters List 1953 as living 3035 Baird Rd, Coast-Capilano, North Vancouver. (Think 3025 is error.) He is retired.
They were said to have lived on Vancouver Island at one point, but not sure that is true.
George dies, 1956:
He was described as "the last of the Cashels". But we have since discovered that he was not.
Living 3035 Baird Rd, North Vancouver at death.
He died Shaughnessy Hospital, Vancouver, 7 May 1956, age 75 yrs.
See death cert from here.
Death cert says he was cremated 10 May 1956 at Vancouver Crematorium.
Findagrave thought he was bur North Vancouver Cemetery, Plot 451 - 001. See street view of entrance. Were ashes buried there?
Maggie survived him.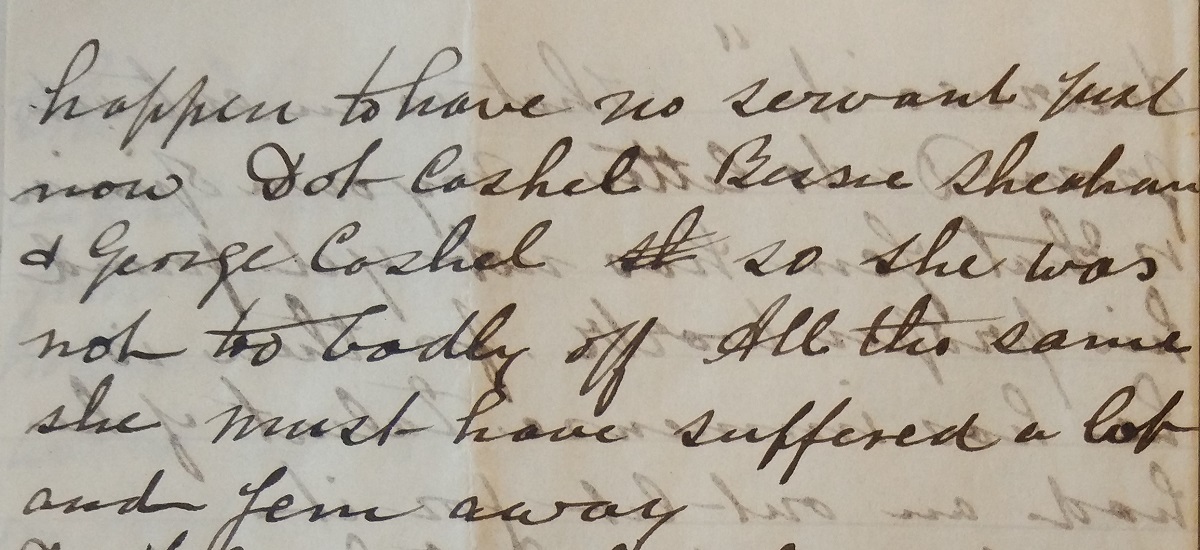 Letter of
5 Nov 1902
says that George Cashel and other relations are with Agnes Cashel while her husband James O'Mara is away.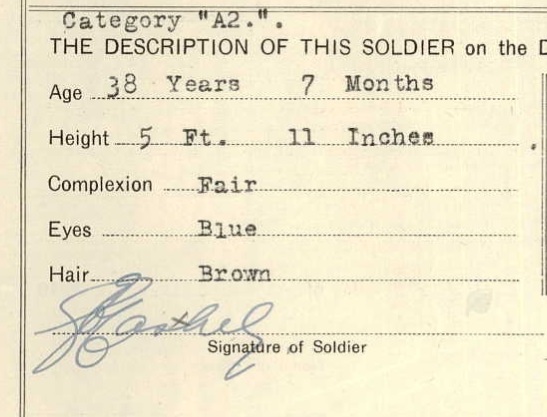 George Cashel's signature.
From his 1919 Discharge Certificate in his Personnel file.
---
References