Aldis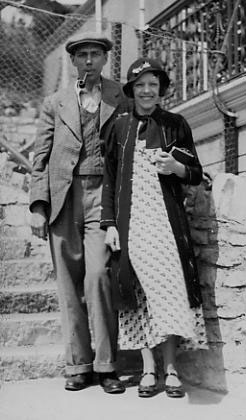 George Aldis and Mabel Day.
From
George Aldis
. Used with permission.
Ernest Aldis,
Ernest Walter Aldis, born 1868,
mar
Alice Earl
[Alice Henwood Earl, born 1871],
had issue:
George Aldis,
George Mafeking Aldis, born 16 May 1900, Mayfair, London.
His middle name comes from the fact that he was born in same week as the Relief of Mafeking, a decisive and widely-celebrated British victory in the Boer War.
He served (as teenager) in Royal Flying Corps in WWI, receiving an injury for which he was decorated.
He mar Mabel Day [born 22 July 1897].
He was railway employee, and fireman in the London fire service during WW2.
Mabel died 27 Nov 1943, Clapham, London, or Battersea, London, of pneumonia, age 46 yrs.
She was bur 2 Dec 1943, Wandsworth Cemetery, grave no. 330, H.35.
George died 25 Aug 1976, Wandsworth, London, age 76 yrs.
George and Mabel had issue:




George Aldis,
researched family tree,
mar Marion Tarbox,
had issue:

Simon Aldis, mar Sally Taylor.
Maddy Aldis, mar Alan Evans.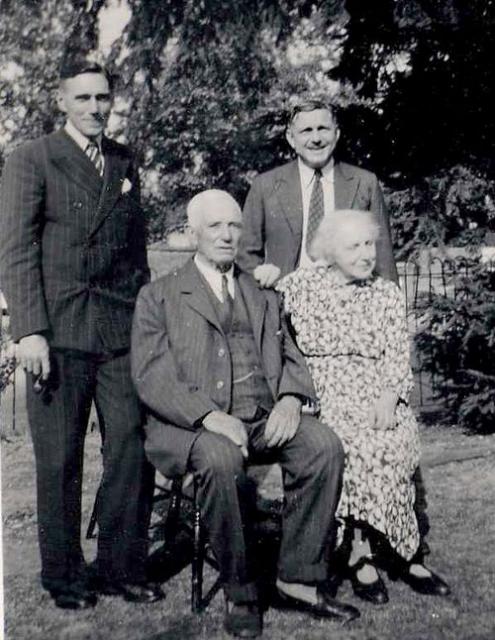 George Mafeking Aldis (standing, LHS) with his brother and parents, 1949.
From
George Aldis
. Used with permission.
---
"This account by Mabel's only child is an attempt to piece together the various strands in her background and ancestry as a small tribute to her and to get to know her through this research in a way that was impossible in the few disturbed years that mother and child had together."
- George Aldis' tribute to his mother at the end of his family history.
---