Fairchild
Sources yet to be consulted:

Original parish records (not transcripts) for Greatford.
Proof that Rowland must be father of our John
Our John Fairchild was born 1719 (by age on grave). He married 1746 at Stamford. Lived in Stamford. He named his eldest son Rowland Fairchild (a very rare name).
We find a John Fairchild, bapt 1719, close to Stamford, son of Rowland Fairchild.
This must be the same person. We call it as proven.
Rowland Fairchild,
born 1684.
He mar pre-1710 to
Mary ----
.
Lived
Greatford
, NE of
Stamford
, Lincolnshire.
In one week in April 1722, two of their children died, and one other was baptised.
Rowland was buried 28 Apr 1725, age 41 yrs.
Source is
Lincolnshire Monumental Inscriptions
record set, but seems to be burial record not grave inscription.
He was buried at St Thomas a Becket church, Greatford (see
satellite view
).
Rowland and Mary had issue:
Rowland Fairchild,
bapt 6 Aug 1710, Greatford,
died as an infant, 2 Apr 1711, Greatford.

Jasper Fairchild,
bapt 23 Sept 1711, Greatford.

Elizabeth Fairchild,
bapt 24 Feb 1713, Greatford,
died 10 Apr 1722, Greatford, age 9 yrs.




John Fairchild,
bapt 7 Apr 1719, Greatford.




Richard Fairchild,
bapt 19 Mar 1720, Greatford,
died 11 Apr 1722, Greatford, age 2 yrs (one day after sister).

Henry Fairchild,
bapt 15 Apr 1722, Greatford.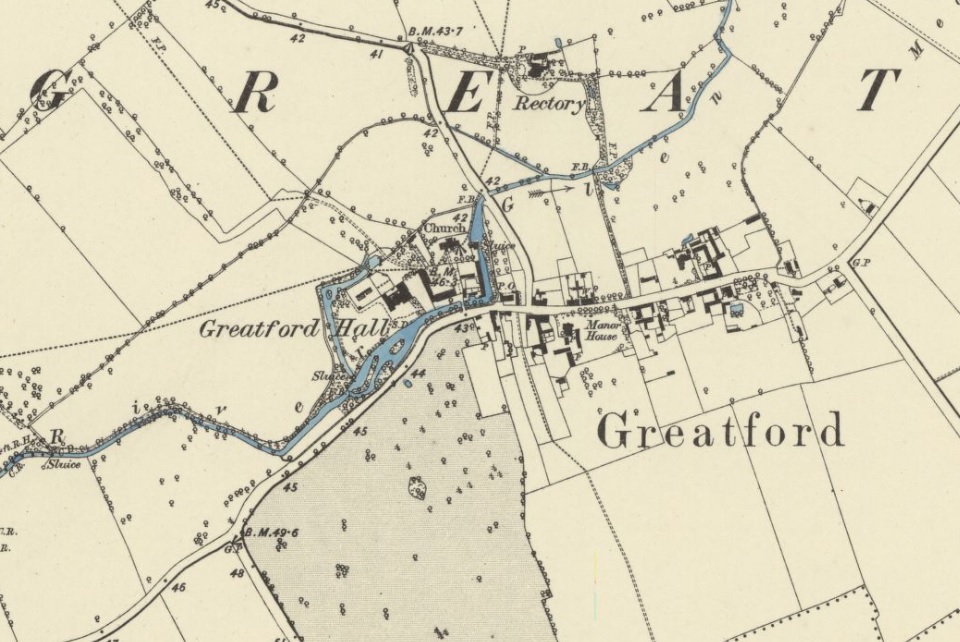 Greatford, NE of Stamford.
From
OS map
. Surveyed: 1886. Published: 1887.


There is a Mary Fairchild, of the Workhouse, who was bur 7 Oct 1762, All Saints' Church, Stamford.
Could this be Rowland's widow Mary?
From here.