William Kerr, of Kelso

Baptism of William Kerr, Jan 1738, Ancrum, Roxburghshire.
From
here
.
William Kerr
,
born 18 June 1709,
of
Kelso
, Roxburghshire, Scotland,
and of
Cleughside
(or Cleuchside) and
Bloodylaws
(or Bloody Laws), both near
Oxnam
, Roxburghshire.
Descendant of
Robert III, King of Scotland
and of
Henry I
.
He mar 1stly, 1736, to Helenor Cranstoun [dau of Rev. John Cranstoun, Minister of Ancrum, Roxburghshire, Scotland].
This must be the mar of William Kerr and "Hellener Cranstown", 30 Sept 1735, at Alwinton (also called Allenton), Northumberland, England. See transcript and transcript.
He mar 2ndly to Marianne Scott.
He died 1785-86, age 76-77 yrs.
He had issue by 1st wife:
Dr. William Kerr,
eldest son, born 12 Jan 1738, Roxburghshire.
He was bapt Jan 1738, Ancrum, Roxburghshire.
It looks like 1 Jan, but then birth date cannot be right.
It could maybe read 21 Jan, so maybe that is it.
William became a Doctor, of Northampton.




Charles Kerr,
born 4 Feb 1748,
bapt 11 Feb 1748 at Oxnam. See transcript.
Father of the famous Jane Kerr, wife of Humphry Davy.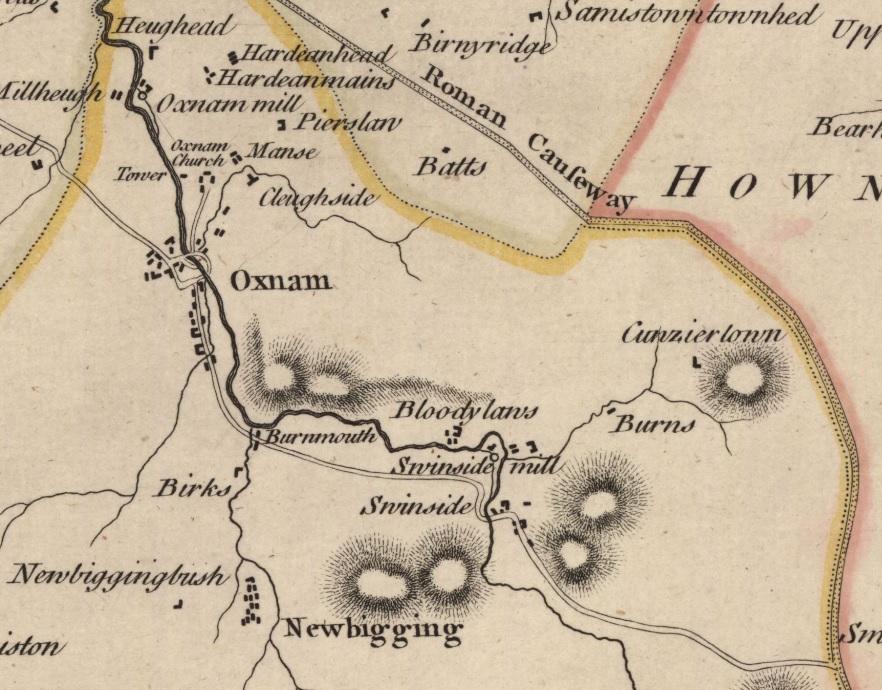 Cleughside and Bloodylaws, near Oxnam.
From
1770 map
.
Kelso is some distance to the N.
See
OS map
surveyed 1859, published 1863.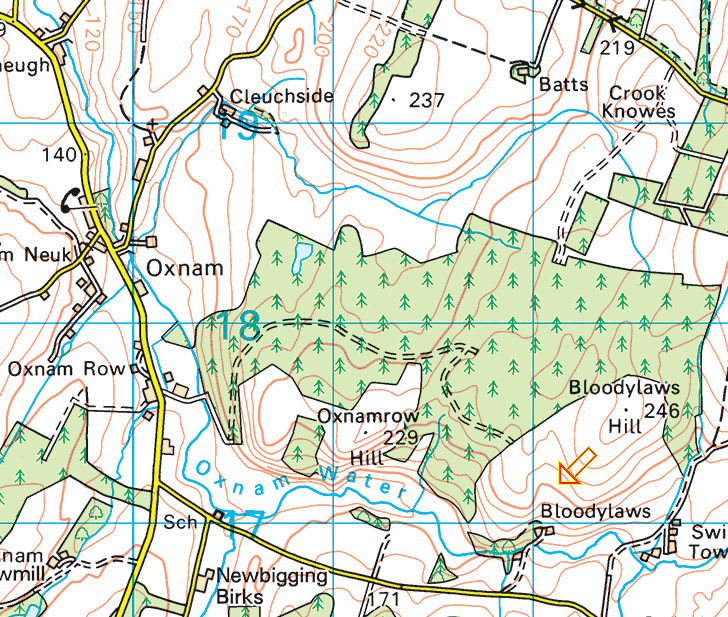 Cleuchside and Bloodylaws, near Oxnam.
From modern map.
See satellite view.
---
The Walter Scott connection
Charles Kerr
(and hence presumably
Dr. William Kerr
) is somehow a relation of
Sir Walter Scott
(see
ancestry
).
The Journal of Sir Walter Scott for 7 Feb 1826 says that Jane Kerr is "daughter and co-heiress of a wealthy Antigua merchant, has been known to me all my life. Her father was a relation of ours of a Scotch calculation. He was of a good family, Kerr of Bloodielaws, but decayed."
Can't see any obvious connection of Scott and Kerr.