Charles Kerr
Sources yet to be consulted: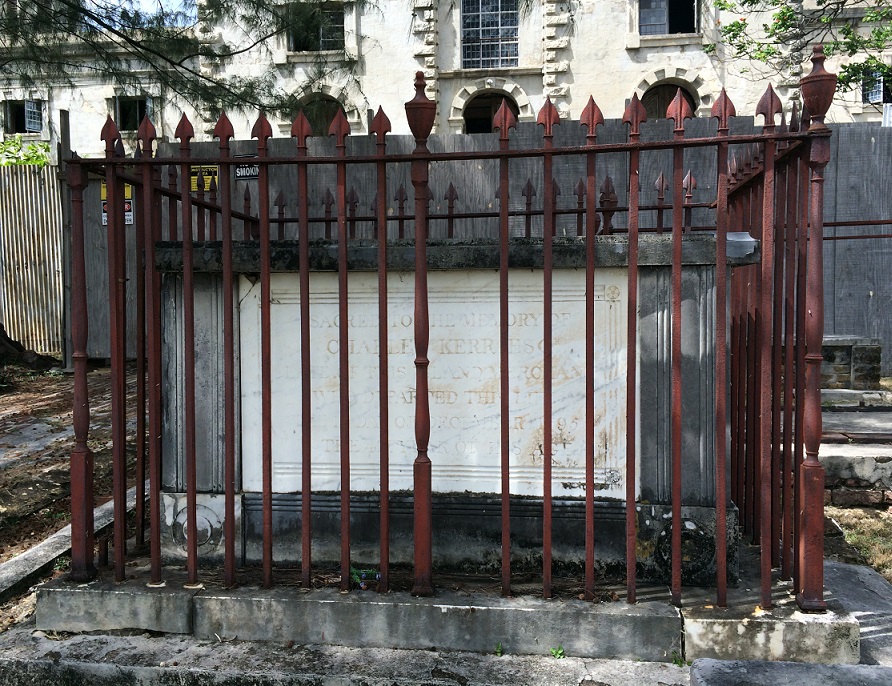 Tomb of Charles Kerr (died 1795), St. John's Cathedral Cemetery, Antigua.
From
findagrave
.
See modern
satellite view
.
Charles Kerr
,
born 4 Feb 1748,
merchant,
of
Kelso
, Roxburghshire, Scotland,
and of
Antigua
, West Indies.
He mar
Jane Tweedie
.
Living Antigua at death.
He died 11 Dec 1795, age 47 yrs.
He was bur
St. John's Cathedral
Cemetery,
St. John's
, Antigua. See
grave
.
Charles and Jane had issue:
Jane Kerr (and search and search),
known as Jane Apreece after her 1st marriage,
only child, heiress of her father's estate.
She was born 5 or 15 Feb 1780. Her birth date is given on two memorials at Church of the Holy Sepulchre, Northampton. [Cox and Serjeantson, 1897] has them giving two different dates. Need to see originals.

She mar 1stly, 3rd Oct 1799, to Shuckburgh Ashby Apreece [born 1773], no issue.
He died 6th Oct 1807, age 34 yrs.
She was left with money, no compelling need to marry, no children, and still young. She was a wealthy socialite and widow in London and Edinburgh. She became well known in social and literary circles in England and Scotland.

She mar 2ndly, 11th Apr 1812, to Sir Humphry Davy, 1st Baronet [the famous chemist, physicist and inventor, born 17th Dec 1778, often incorrectly spelled Humphrey], no issue.
Humphry was knighted 8th Apr 1812 just before the marriage.
He gave highly popular lectures.
He was cr Baronet 1818.
President of the Royal Society 1820-27.
He died Geneva, Switzerland, 29th May 1829, age 50 yrs. Title extinct.
He was bur at Cimetiere de Plainpalais, Geneva. Memorial tablet in Westminster Abbey.

Jane lived for many years a widow.
[Cox and Serjeantson, 1897] says she lived for some time (must be 1841-55) in the house in Sheep St, Northampton that formerly belonged to her uncle Dr. William Kerr.
Her grave says she lived for many years in Park St, Mayfair, London (see map).
She died Park St, London, 8th May 1855, age 75 yrs.
She was bur with her uncle at Church of the Holy Sepulchre, Northampton.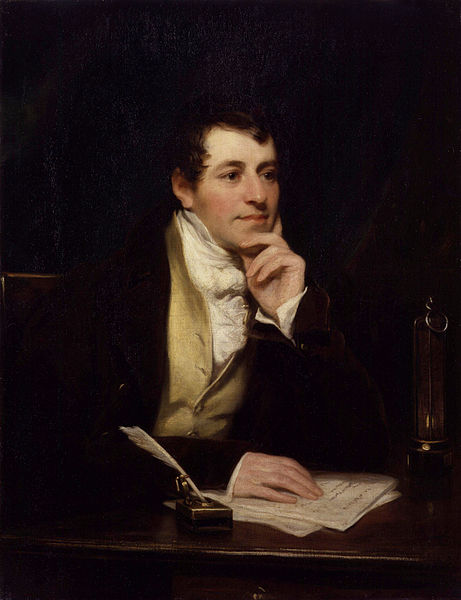 Sir Humphry Davy, 1821.
From
here
.
See
images
at
[NPG]
.
---
Sir Walter Scott
writes about Jane Kerr in his journal, and says he is related to her father.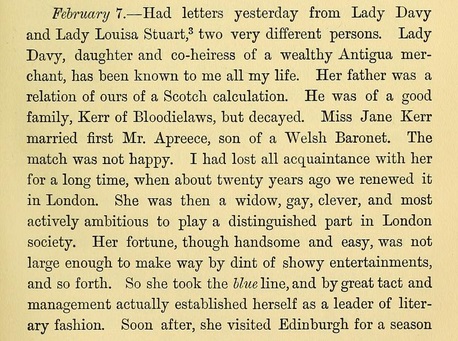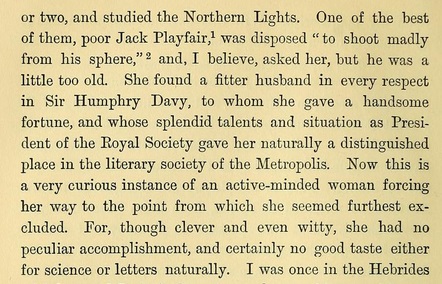 The Journal Of Sir Walter Scott
, 7 Feb 1826.
From
pp.107-108
of
vol.1
of 1891 edn.
See transcript: "Had letters yesterday from Lady Davy" [Jane Kerr] "and Lady Louisa Stuart, two very different persons. Lady Davy, daughter and co-heiress of a wealthy Antigua merchant, has been known to me all my life. Her father was a relation of ours of a Scotch calculation. He was of a good family, Kerr of Bloodielaws, but decayed. Miss Jane Kerr married first Mr. Apreece, son of a Welsh Baronet. The match was not happy. I had lost all acquaintance with her for a long time, when about 20 years ago" [her husband died 1807] "we renewed it in London. She was then a widow, gay, clever, and most actively ambitious to play a distinguished part in London society. Her fortune, though handsome and easy, was not large enough to make way by dint of showy entertainments, and so forth. So she took the blue line, and by great tact and management actually established herself as a leader of literary fashion. Soon after, she visited Edinburgh for a season or two, and studied the Northern Lights. One of the best of them, poor Jack Playfair, was disposed "to shoot madly from his sphere," and, I believe, asked her, but he was a little too old." [He was born 1748. She was born 1780.] "She found a fitter husband in every respect in Sir Humphry Davy, to whom she gave a handsome fortune, and whose splendid talents and situation as President of the Royal Society gave her naturally a distinguished place in the literary society of the Metropolis."
---
There is a verse of 1811, printed on p.108 of The Journal Of Sir Walter Scott above, about the impact Jane Kerr made on the scientist John Playfair, and on other intellectuals:
"Have you seen the famed Bas bleu, the gentle dame Apreece,
Who at a glance shot through and through the Scots Review,
And changed its swans to geese?
Playfair forgot his mathematics, astronomy, and hydrostatics,
And in her presence often swore, he knew not two and two made four."
---