Naughton
Sources yet to be consulted:

Family of Martin Naughten, M.D.:
Richard Naughton,
NOT Maughton,
listed as "gentleman" at son's mar,
had issue:

Thomas Naughton,
Thomas Richard Naughton.
He is listed at mar as gentleman farmer, of Killaghy Castle, near Mullinahone, Co.Tipperary.
He mar 1882 to Anna Crean [born 10 June 1853].
They lived Killaghy, Mullinahone.
She erected parents' grave at Fethard.
James Cusack names her as a source for his Crean family tree.
At death she is wife of a "gentleman farmer". They are living Killaghy, Mullinahone.
She died at Killaghy, 7 Apr 1930, age 76 yrs, bur Fethard church.
See death cert from here.
He died 26 Dec 1936, bur Fethard church. Not found in inscriptions.
Thomas and Anna had issue:
Eva Naughton,
mar Patrick J. Walsh,
he was civil servant,
[Cusack] says he was Secretary of "A.C.C." (must be the Agricultural Credit Corporation),
lived Riversdale, a big house S of Stillorgan, Co.Dublin (see old map).
They had issue:

Nora Walsh,
mar 1932 to Martin Naughten [son of Patrick Naughten of Woodbrook, or Woodpark House, Co.Roscommon].
He was M.D., of Innislonaught, or Innis Lonnaught, Clonmel, Co.Tipperary.

Evelynn Walsh.




Mary Naughton, died young.
Julia Naughton.
Eileen Naughton.
Richard Naughton, died as a baby.
William Naughton.




Anna Naughton,
Anne Mary Naughton, Nancy.

She mar 1 June 1921 [him age 54] to

J. J. O'Shee

[James John O'Shee, born James John Shee, 3 November 1866, Newtown, Co.Tipperary].

He was son of John Shee, farmer, of Newtown, N of

Carrick-on-Suir

, Co.Tipperary (see

map

).

He was solicitor in Carrick-on-Suir and

Clonmel

, Co.Tipperary. Set up company 1890. Still exists.

He was an

Irish nationalist MP

. Anti-Parnellite member of the

Irish Parliamentary Party

(after the split of 1891).

MP for

West Waterford

1895 to 1918.

He changed his surname in 1900 to O'Shee. Not all of his family changed.

As at 1911 he was living Bellevue Place, Clonmel.

He stood in

1918 election

but was defeated by

Cathal Brugha

of Sinn Fein.

Lived Oak Ville, big house on N side of Clonmel. This was close to Brighton Place, Upper Gladstone St, where Dr. Thomas Crean and family (Anna's uncle and cousins) lived.
Retired 1935.
Moved to Pembroke Park, Ballsbridge, Dublin.
He died at Pembroke Park, 1 January 1946, age 79 yrs.
They had issue:

Maureen O'Shee.
Fergus O'Shee.
Sheila O'Shee.
Isobel O'Shee, born 1926.
Vincent O'Shee.
Theresa O'Shee, born 1930.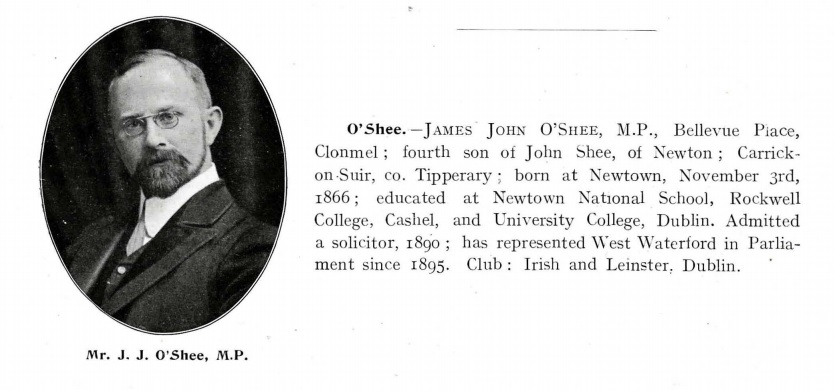 Biography of J.J. O'Shee, MP.
From
p.266
of
Pike's Contemporary Biographies
(1911).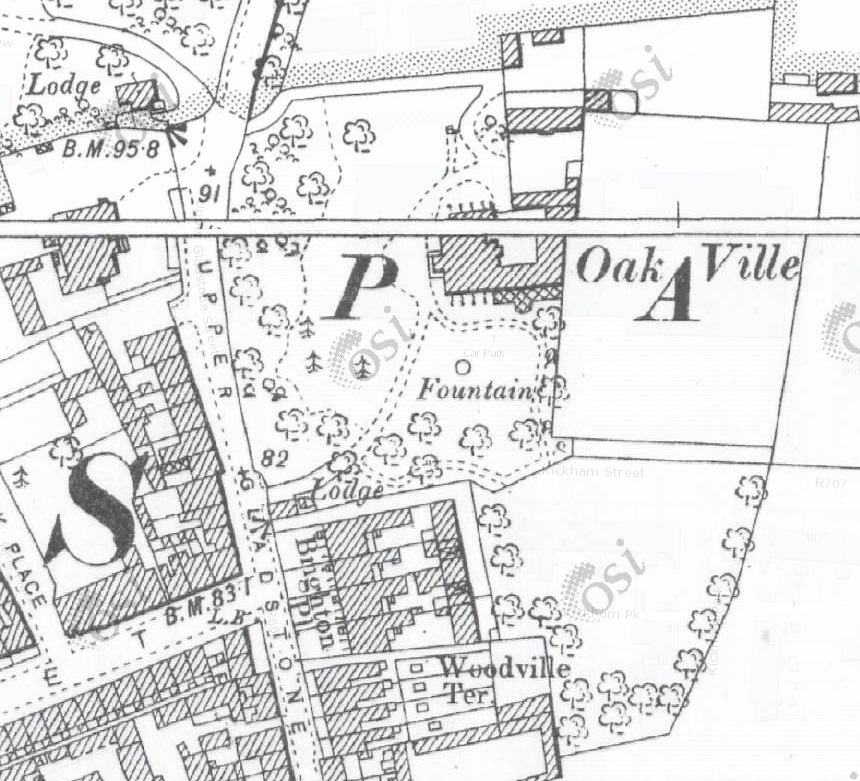 Oak Ville, Clonmel (house of J.J. O'Shee, MP).
Note Brighton Place just to the SW of Oak Ville, where Dr. Thomas Crean lived.
From 1887 to 1913 map.
Oak Ville is vanished today. The site is Dunnes Stores. See satellite view.
---
John Shee & Co, solicitors, Clonmel.

This is the J.J. O'Shee company, founded 1890. He was joined by his brother and the company was later run by his nephew. Offices in Carrick-on-Suir and Clonmel. Now just Clonmel.
See history.