Thomas Crean, V.C.
Sources yet to be consulted:

More Champagne, Darling, the autobiography of Paddy Crean, Toronto, 1981.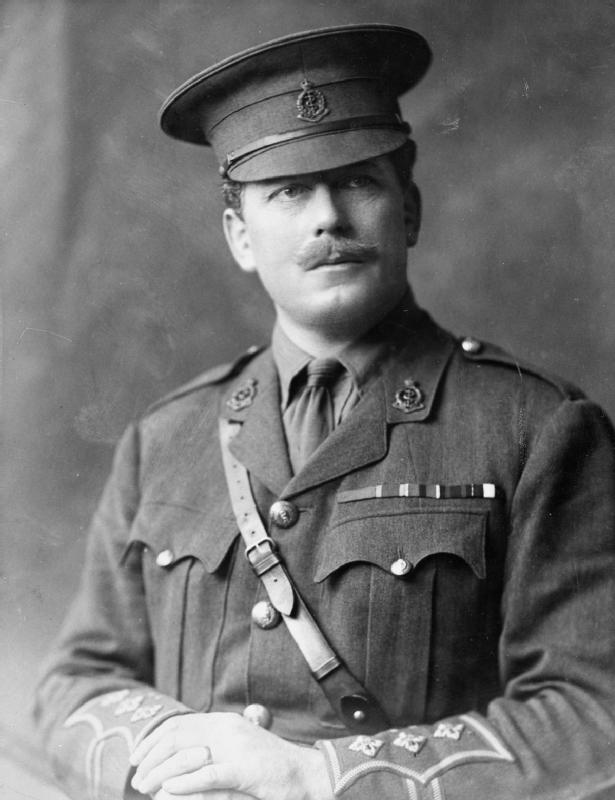 Thomas Crean, VC.
From
here
.
Thomas Crean, V.C.
(see
here
),
Major Dr. Thomas Joseph Crean,
born 19 April 1873, Dublin.
Irish rugby union player, British Army soldier and doctor. Irish winner of the Victoria Cross.
Played rugby for Leinster, Ireland and the British Isles.
He played on the
1896 British Isles rugby tour of South Africa
.
Graduated as a doctor in 1896.
Served in the Second Boer War 1899-1902. Served in Imperial Light Horse. Became a Surgeon Captain.
Was in combat 18 Dec 1901 at Tygerskloof, Zululand (see map). Attended to the wounded under heavy fire.
Awarded the Victoria Cross (V.C.) on 12 March 1902 for his actions at Tygerskloof.
He mar 1905 to Victoria Heredia [dau of Senor Don Thomas Heredia, of Malaga, Spain].
Retired from the army 1906.
Was doctor with private practice in Harley Street, London.
Joined the army again in WWI. Joined the Royal Army Medical Corps 1914.
Awarded the Distinguished Service Order (D.S.O.) 1915.
Promoted to Major 1916.
Returned to civilian life after WWI ended 1918.
He died 25 March 1923, at his residence, 13 Queen Street, Mayfair, London, age 49 yrs.
He is buried in St Mary's Catholic Cemetery, Kensal Green, London.
Victoria died 29 Jan 1929 in Paris.
Thomas and Victoria had issue:
Gerard Crean,
died as a baby.




Paddy Crean,
Patrick Crean,
Thomas Victoria Patrick Crean,
born 27 June 1911, St George Hanover Square, London.
Actor and theatrical fight director. One of the most influential modern figures in the art of stage combat.
Ran the Sophy School of Fencing in London. Used it to teach sword work for stage and films. He himself performed as stunt double in films.
He mar Helen Christie [Helen Mary Christie, born 22 October 1914, British India].
She was a film and television actress.
They divorced early. No issue.
He moved to Stratford, Ontario, after 1963.
Helen died 17 March 1995, Worthing, Sussex, age 80 yrs.
Paddy died 22 December 2003, Stratford, Ontario, age 92 yrs.
He was bur Avondale Cemetery, Stratford, Ontario. See grave.
The grave says: "We all came home from Paddy's wars".




Carmen Crean,
Alice Carmen Crean,
lived London.
British Pathe piece on Paddy Crean, 1946.


"The Fight Master".
A Documentary about Paddy Crean.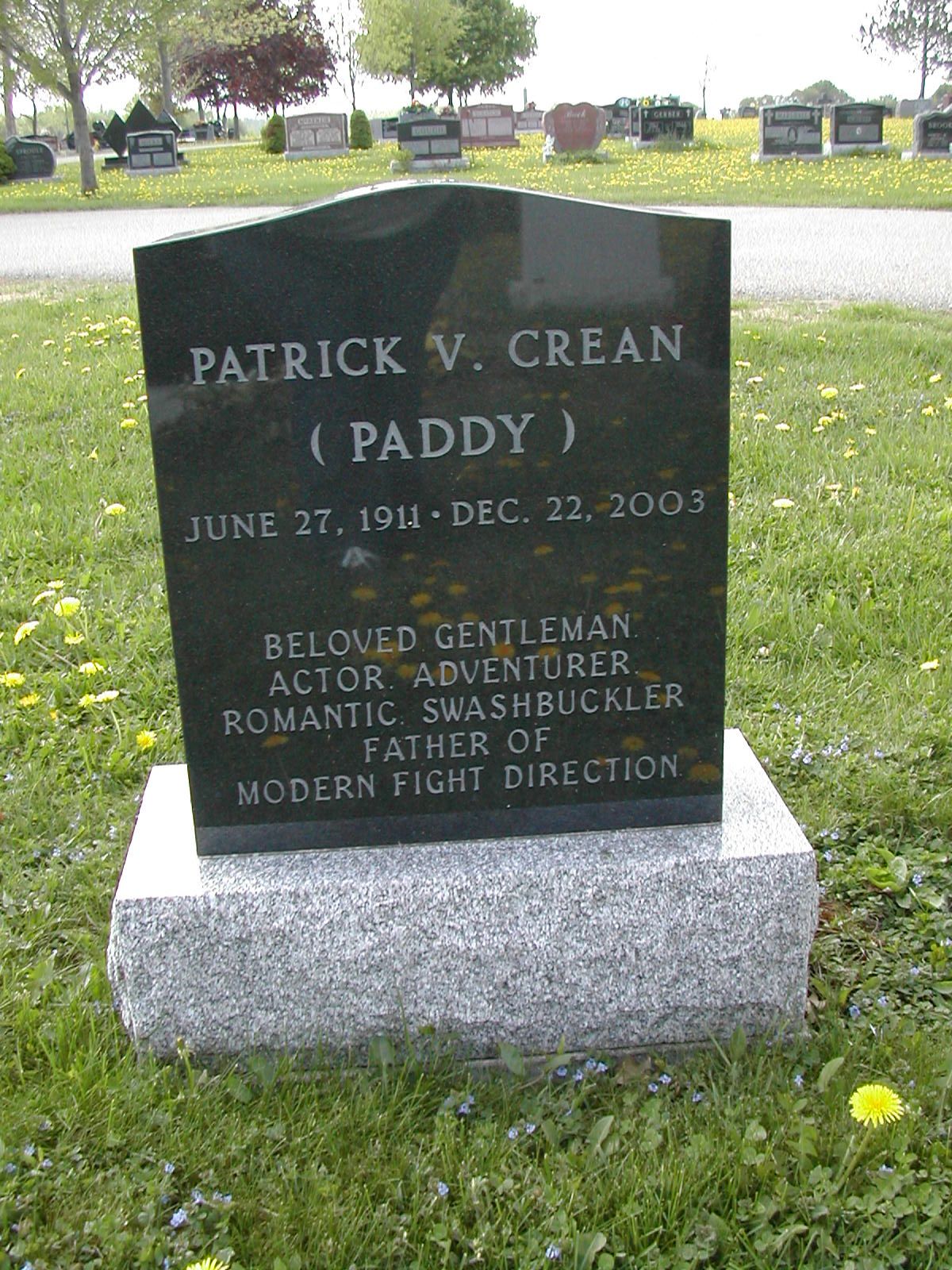 Grave of Paddy Crean, Stratford, Ontario.
See full size.
From findagrave.com.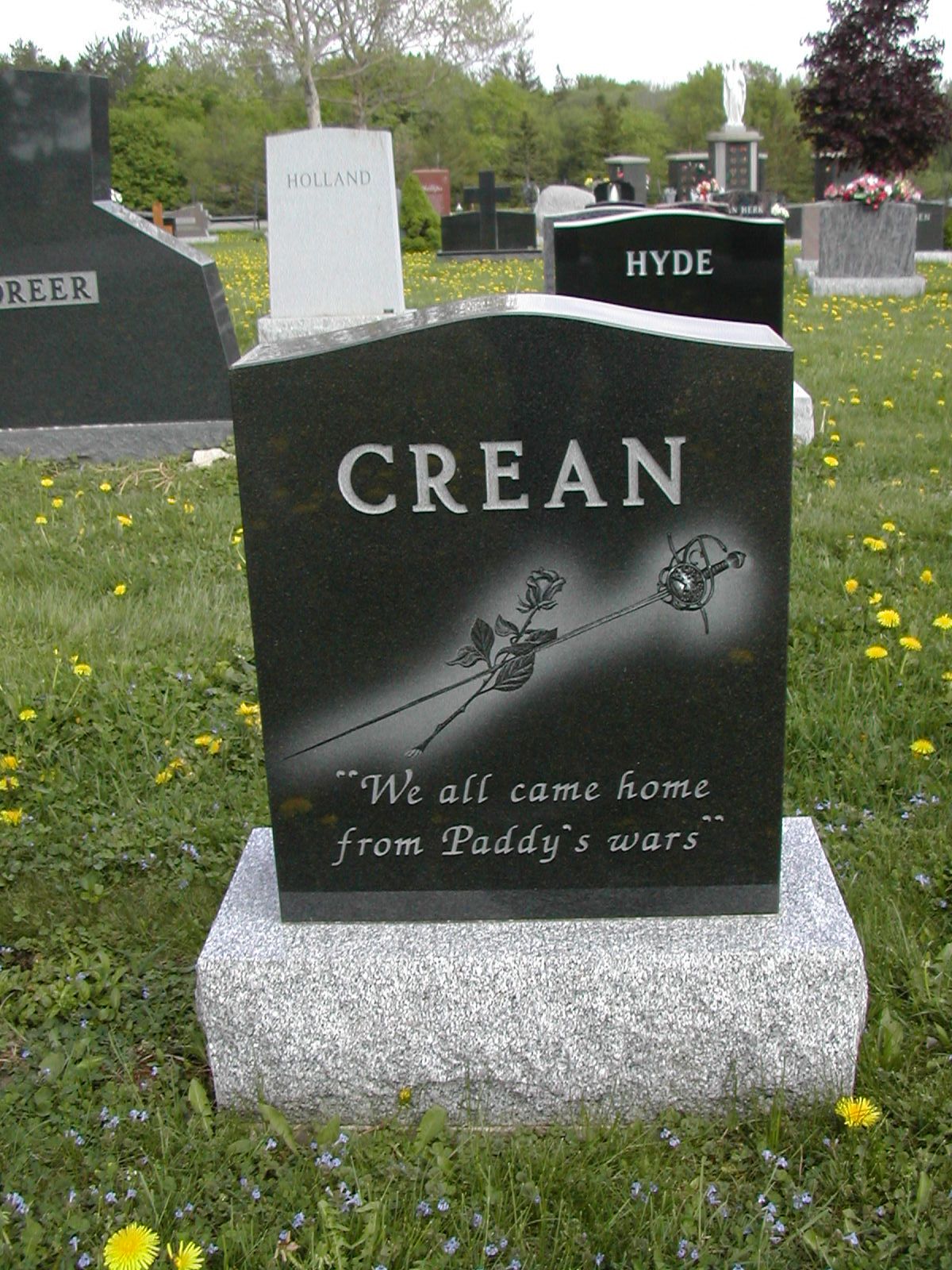 Grave of Paddy Crean, Stratford, Ontario.
See full size.
From findagrave.com.
---