Browne, Viscount Kenmare
The Viscounts Kenmare are included here as background, because they were patrons of the Gaelic poet
Aodhagán Ó Rathaille
.
References:

Sources yet to be consulted: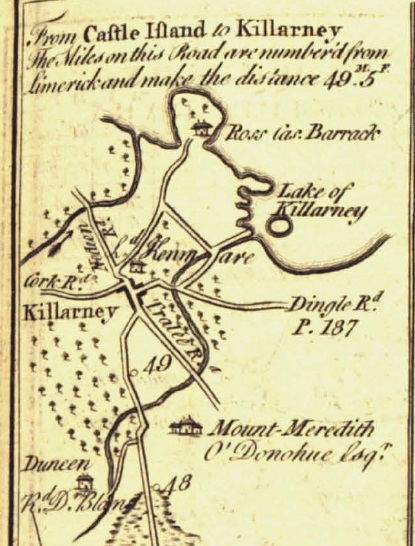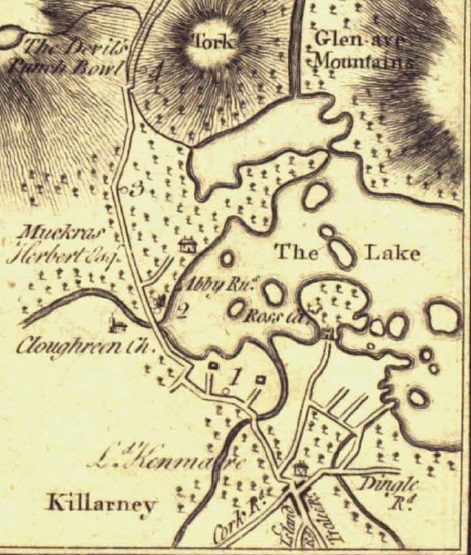 Ross Castle and Kenmare House in
[Taylor and Skinner, 1777]
.
Two maps on
p.109
. In both, N is approximately down.
More maps on
p.186
and
p.187
.
The Brownes came originally from
Totteridge
, Hertfordshire, and
Croft
, Lincolnshire, and
Hoxton
, Middlesex.
They came to Ireland in 1555
[Smith, 1756]
.
They were a Catholic family, of in and around
Killarney
, Co.Kerry, who eventually succeeded to the estates of
MacCarthy Mor
.
The main branch in fact ended up descended from the MacCarthys.

We start with:
Sir Valentine Browne, 2nd Baronet,
mar
Mary McCarty
[dau of
Charles McCarty, 1st Viscount Muskerry
, or MacCarthy],
died 1640,
had issue:

Valentine Browne, 1st Viscount Kenmare, born 1638.
He was for most of his life Sir Valentine Browne, 3rd Baronet. He succ as Baronet as a child in 1640.
His seat was at Ross Castle, SW of Killarney, on the lake (see map).
He added a new house (a wing) at Ross Castle in 1688.
He was a Jacobite supporter.
He was cr 1st Viscount Kenmare by exiled James II 1689.
The name comes from Kenmare Castle, Hospital, Co.Limerick. NOT from Kenmare, Co.Kerry.
He was attainted after final defeat of James 1691, estates forfeit 1691.
He died 1694, age 56 yrs.
He had issue:

Nicholas Browne, 2nd Viscount Kenmare,
born est c.1670.
He was also a Jacobite supporter. His estates were forfeit. He was exiled from Killarney.
He succ his father 1694, but was in exile.
It seems that when exiled from Killarney (in 1691 to 1720 period) the Brownes (or some of them) lived at Molahiffe, between Killarney and Tralee, Co.Kerry (see map).
He was patron of the Gaelic poet Aodhagán Ó Rathaille.
Rathaille bemoaned the exile of the Catholic Brownes from their Killarney estates, where he lived.
In his elegy to the 2nd Viscount's uncle John Browne (1706), Rathaille says: "Alas! the land is wearied at thy loss! Its people without a lord ... Sliabh Luachra is in trouble because of thy fall".
2nd Viscount died in exile in Belgium, Apr 1720, age est c.50 yrs.
Page 55 of [Dineen and O'Donoghue, 1911] says died in Brussels.
Some other source said died in Ghent.
He had issue:
Frances Browne [Fanny],
mar Edward Herbert, of Muckross [a Protestant, born 1693] and had issue.
Edward became the agent for the Browne estates during the minority of the 4th Viscount 1736-47.




Valentine Browne, 3rd Viscount Kenmare,
of Molahiffe, Co.Kerry, born 1695.
He succ 1720, recovered the family estates 1720, but could not recover Ross Castle.


He mar Nov 1720 to

Honora Butler

[or Honoria, Catholic, dau of

Col. Thomas Butler

, of the family of

Butler of Kilcash

, Co.Tipperary].

She was sister of

John Butler, 15th Earl of Ormonde

.

The 3rd Viscount Kenmare was patron of the Gaelic poet

Aodhagán Ó Rathaille

.

Rathaille wrote a

poem for the 1720 wedding

, dedicated to "Thighearna Chinn Mara" (Lord Kenmare). The poem expresses the local Catholic Irish delight at the recovery by the Catholic Brownes of their estates after years of uncertainty about new and more hostile owners. In the poem, Browne is:

"the Prince of Killarney, our champion"

.


3rd Viscount built a new seat in (or around) 1726, Kenmare House, on the S side of Killarney town.
Rathaille was paid in 1727 for writing "songs" to amuse the 3rd Viscount's children.
However at some point Rathaille became angry with the 3rd Viscount about some issue and wrote angry verses about him.
3rd Viscount died 1736, age 41 yrs.
He had issue:

Thomas Browne, 4th Viscount Kenmare,
born 1726, succ 1736,
the Brownes remained Catholic right through the Penal Times and still managed to hold on to their property,
had issue:

Valentine Browne, 1st Earl of Kenmare, born 1754,
cr Earl 1801.
---
The Gaelic poet
Aodhagán Ó Rathaille
had a mixed relationship with his patrons the Viscounts Kenmare.
Ó Rathaille can't decide whether he loves them or hates them.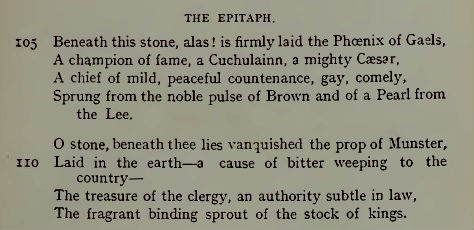 In his
elegy
to John Browne (1706), Ó Rathaille pays tribute to the Browne family.
He describes them as
"the noble pulse of Brown"
.
He celebrates their MacCarthy ancestry.
"A Pearl from the Lee"
here is John Browne's mother Mary MacCarthy, of the MacCarthy seat,
Blarney Castle
, a bit N of the River Lee.
From
page 59
of
[Dineen and O'Donoghue, 1911]
.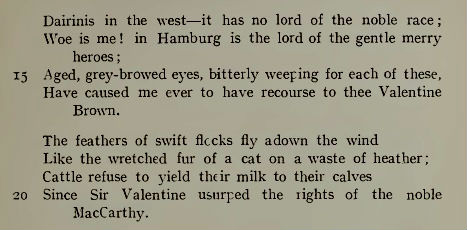 The previous, and other works in praise of the Brownes, entirely conflict with this later angry poem about the 3rd Viscount by Ó Rathaille, where he describes him now as an usurper of the rightful lord, Donough MacCarthy, 4th Earl of Clancarty, who is in exile in Hamburg.
"Since Sir Valentine usurped the rights of the noble MacCarthy."
No mention of Browne's MacCarthy ancestry here. In fact, Browne is Clancarty's cousin.
From page 33 of [Dineen and O'Donoghue, 1911].
---
Browne seats (Ross Castle, Molahiffe, Kenmare House)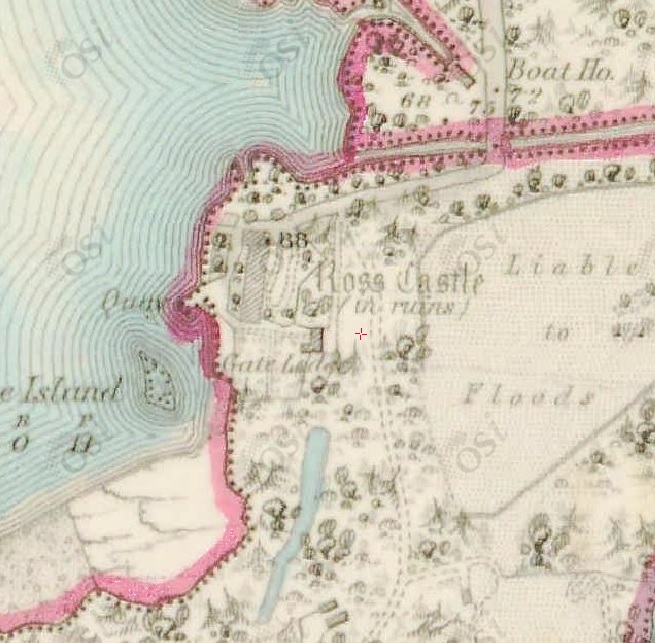 Ross Castle on
1829 to 1842 map
.
Ross Castle
survives today.
See
Wikimedia Commons
.
See modern
street view
.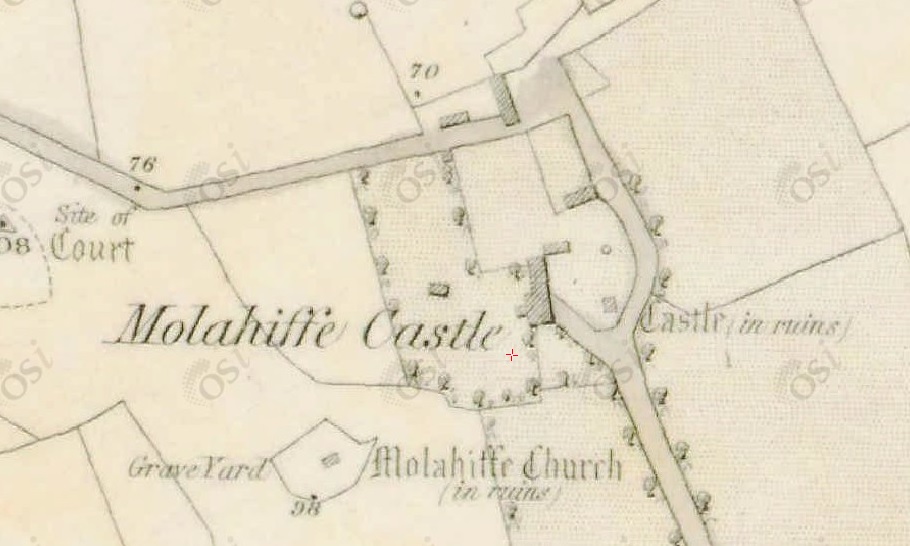 Molahiffe on 1829 to 1842 map.
The Brownes in exile from Killarney in 1691 to 1720 period are believed to have lived here, at the house built beside the old ruined castle.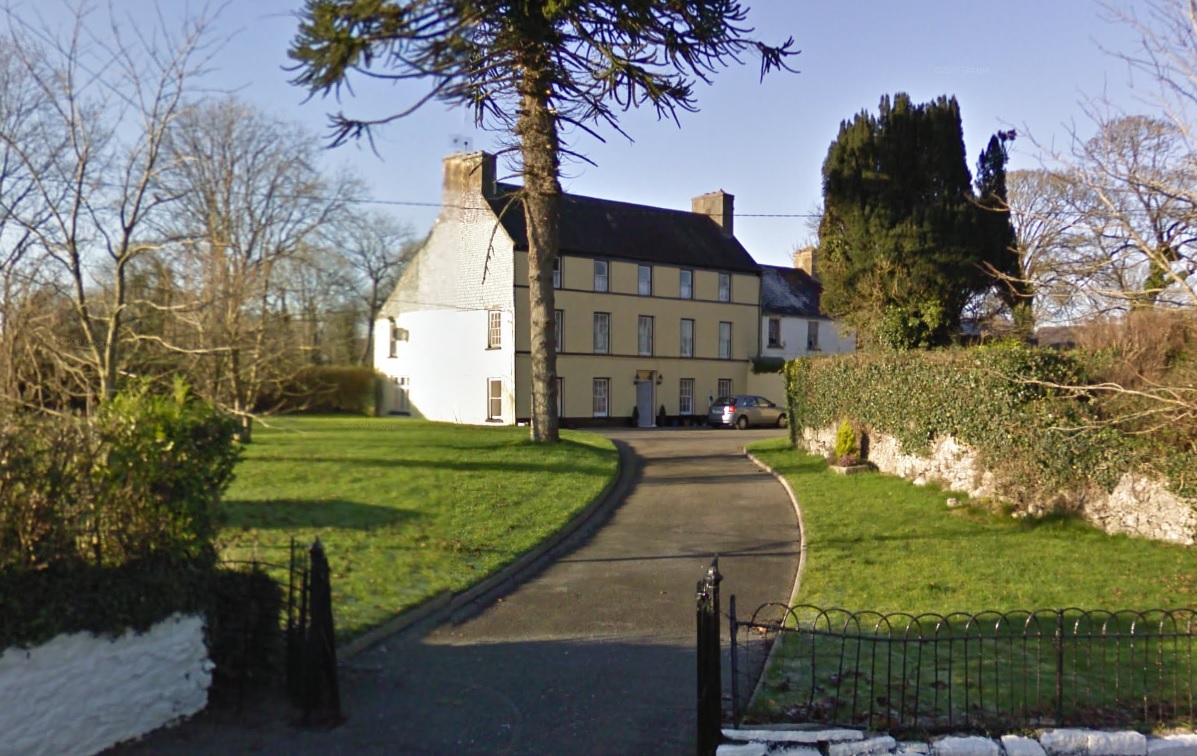 The beautiful old house at Molahiffe today.
From street view.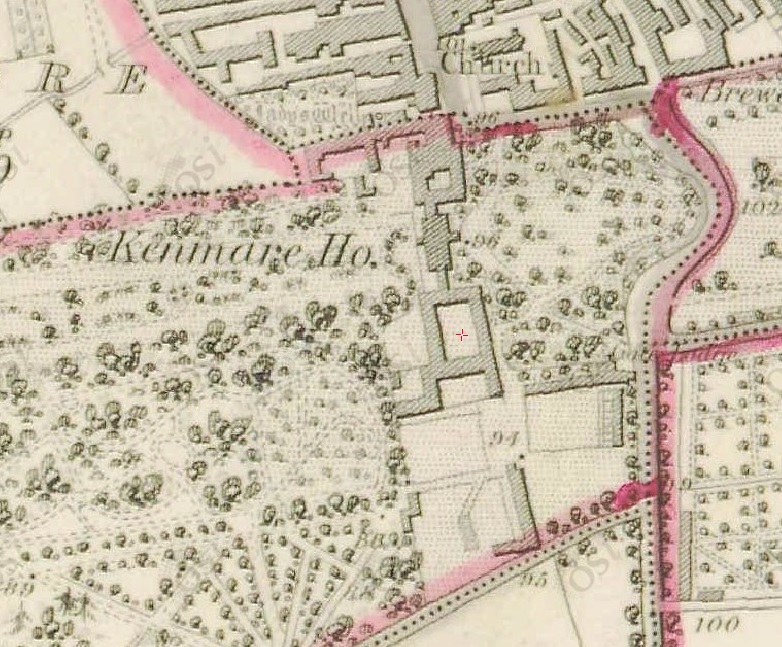 Kenmare House on 1829 to 1842 map.
Kenmare House is now vanished. The 4th Earl of Kenmare demolished it in 1872 when he built Killarney House not far away, to the W side of Killarney. See 1887 to 1913 map (which shows Kenmare House entirely gone).
Killarney House was destroyed in a fire in 1913.
The names Kenmare House and Killarney House have been applied to further houses in the estate, but the old houses are both gone.
---