Smirk of Durham
Sources yet to be consulted:
---
Possibly our family
The following may be the same family, and may also be our family:
---
Our family
The above may be our family, which starts with:
John Smirk,
had issue:

Margaret Smirk,
think NOT Margret,
born 27 Dec 1729.
[Hopper genealogy] says she was of Sunderland, Durham, and was born Sunderland.
[Noltie memoir] though says she was born "at Shiels" (perhaps this is North Shields or South Shields, both of which are a bit N of Sunderland).
She mar 16 Jan 1751 at St Margaret's church, Durham, to Thomas Hopper [born 11 Oct 1724] and had issue.
At the time this was regarded as the end of 1750. Transcript says 16 Jan 1750, which is probably what was written (old style year). [Hopper genealogy] says 16 Jan 1751, which presumably is new style year.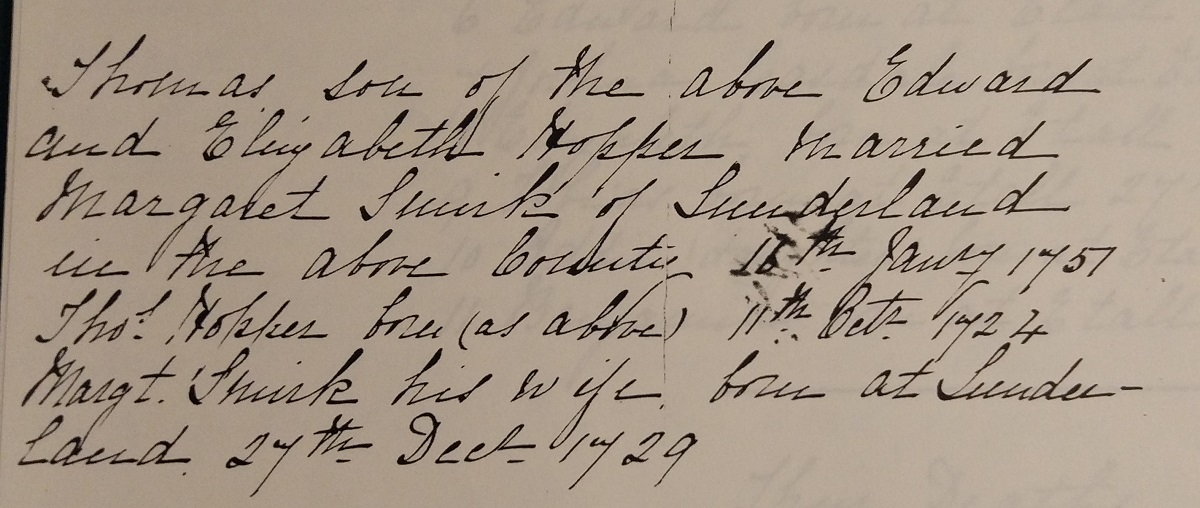 From
p.3
of
Hopper genealogy
(before 1852).