Coughton Court, Coughton, Warwickshire
Coughton Court
, at
Coughton
, S of Birmingham, S of Redditch, N of Alcester.
See
Google Maps
and
streetmap.co.uk
.
Pronounced "Coat-un".
Sources yet to be consulted:
Coughton Court. The W side (the front).
Photo 2008. See
larger
and
full size
.
From
here
. See
terms of use
.
Coughton, Warwickshire, was seat of
de Spineto
family in 1300s.
Inherited through marriage by
Throckmorton
1409.
The Tudor gatehouse in the centre of the present house was constructed c.1530, in the time of
Sir George Throckmorton, Kt.
Seat of
the Catholic Throckmortons
.
Seat of
Throckmortons, Baronets
(cr 1642).
Sir Robert Throckmorton, 8th Baronet, of Coughton, was one of the first Catholic MPs after Catholic Emancipation, being elected MP in 1831.
See entry for Coughton in 1871 UK census. Living there are Emily Throckmorton (dau of 8th Baronet) and her husband Gerald Dease.
Baronetcy extinct 1994.
Descendants of Throckmorton still live at Coughton today.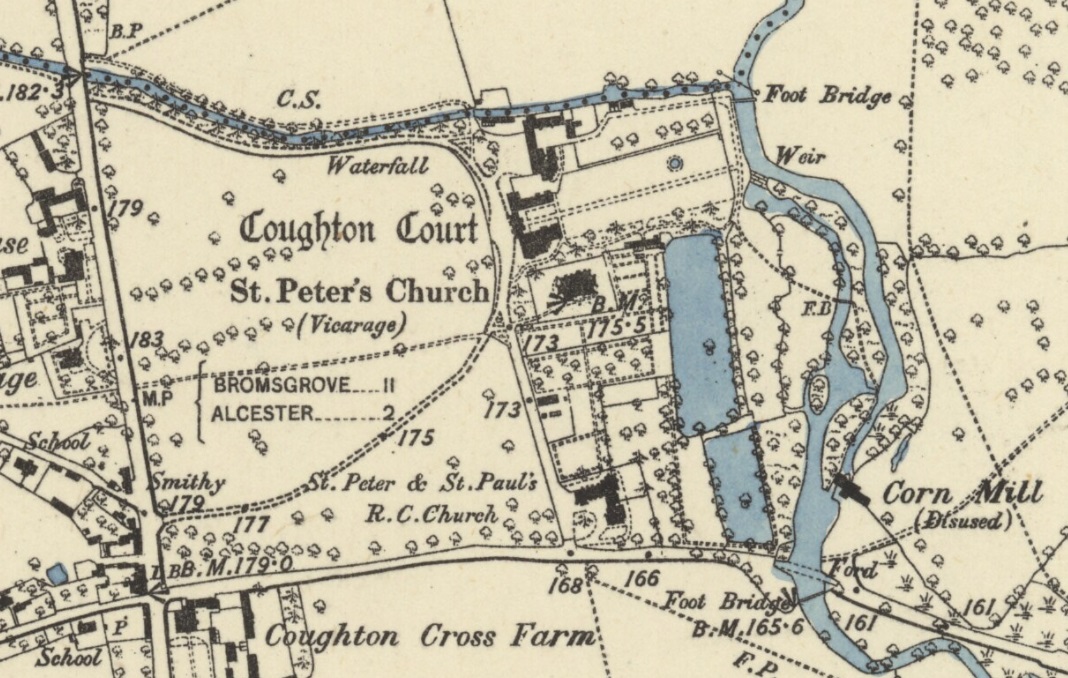 Coughton Court.
From
old map
. Surveyed: 1885. Published: 1886.


Coughton Court.
Click to toggle map/satellite view. Click to zoom in/out. Drag to move.
From Google Maps.
---
---
---
---