Throckmorton of Coughton Court, Coughton, Warwickshire
Sometimes Throgmorton.
References:

Sources yet to be consulted:

Throckmorton and Throgmorton in Visitation of Warwickshire of 1619.

Throckmorton Family History, Frances Grimes Sitherwood, 1929.
A Genealogical and Historical Account of the Throckmorton Family, Charles Wickliffe Throckmorton, 1930.

See Blennerhassett on p.275.

Ralegh and the Throckmortons, A.L. Rowse, London, The Reprint Society, 1964.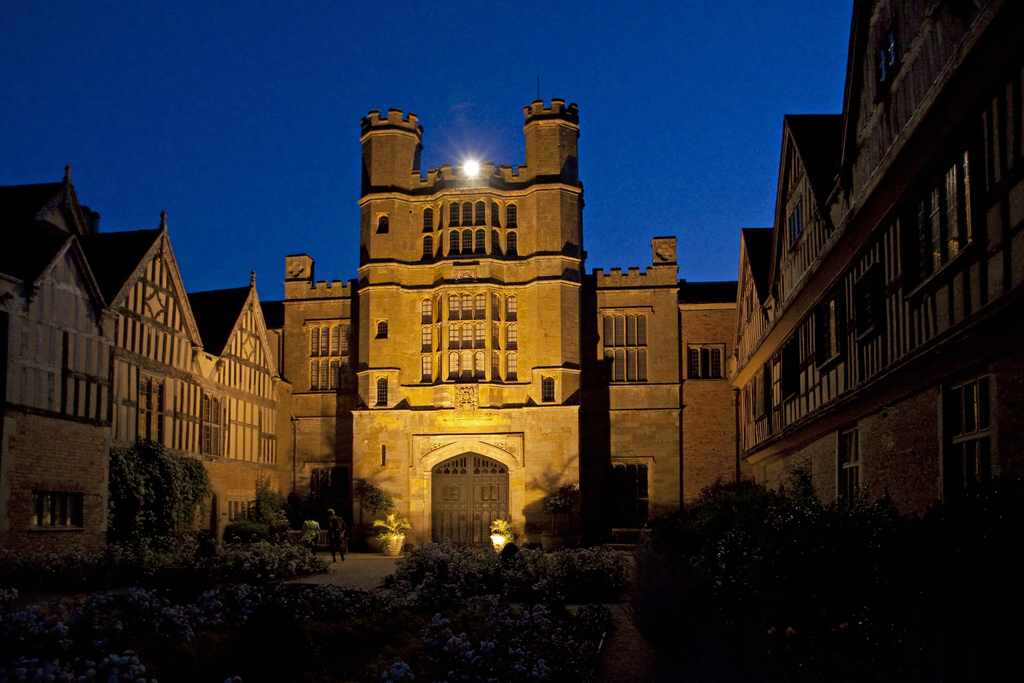 Coughton Court
. The E side. At night.
Photo 2010. See
larger
and
full size
.
From
Tony Hisgett
. See
terms of use
.
John Throckmorton,
of
Throckmorton
, NE of Pershore, Worcestershire,
mar Agnes or Anne Abberbury [dau of Sir Richard de Abberbury, of Abberbury],
had issue:

Thomas Throckmorton,
mar Agnes Besford and had issue:

Sir John Throckmorton,
born c.1382, Throckmorton,
mar (poss. 1409) to Eleanor de Spineto [dau and heiress of Sir Guy de Spineto, lord of Coughton, Warwickshire],
Sir Guy de Spineto is a descendant (and here) of Louis IV, King of France and of Charlemagne and of Edward the Elder,
see THROCKMORTON in [Roberts, 2008],
Throckmorton acquired Coughton, Warwickshire 1409,
died 12 April 1445, age c.63 yrs,
had issue:
Thomas Throckmorton,
born c.1412, Throckmorton, Worcestershire,
mar Margaret Olney [dau of Sir Robert Olney, of Weston],
High Sheriff of Warwick and Leicester, [Burkes Peerage] says 1404 (5th Henry IV) but this makes no sense,
died 1472, age c.60 yrs,
had issue:

Sir Robert Throckmorton, Kt., of Coughton, born est c.1455.




Maud Throckmorton,
or Matilda,
mar Sir Thomas Greene and had issue.
---