Throckmorton of Coughton Court, Coughton, Warwickshire
Sometimes Throgmorton.
References:

Sources yet to be consulted:

Throckmorton and Throgmorton in Visitation of Warwickshire of 1619.

Throckmorton Family History, Frances Grimes Sitherwood, 1929.
A Genealogical and Historical Account of the Throckmorton Family, Charles Wickliffe Throckmorton, 1930.

See Blennerhassett on p.275.

Ralegh and the Throckmortons, A.L. Rowse, London, The Reprint Society, 1964.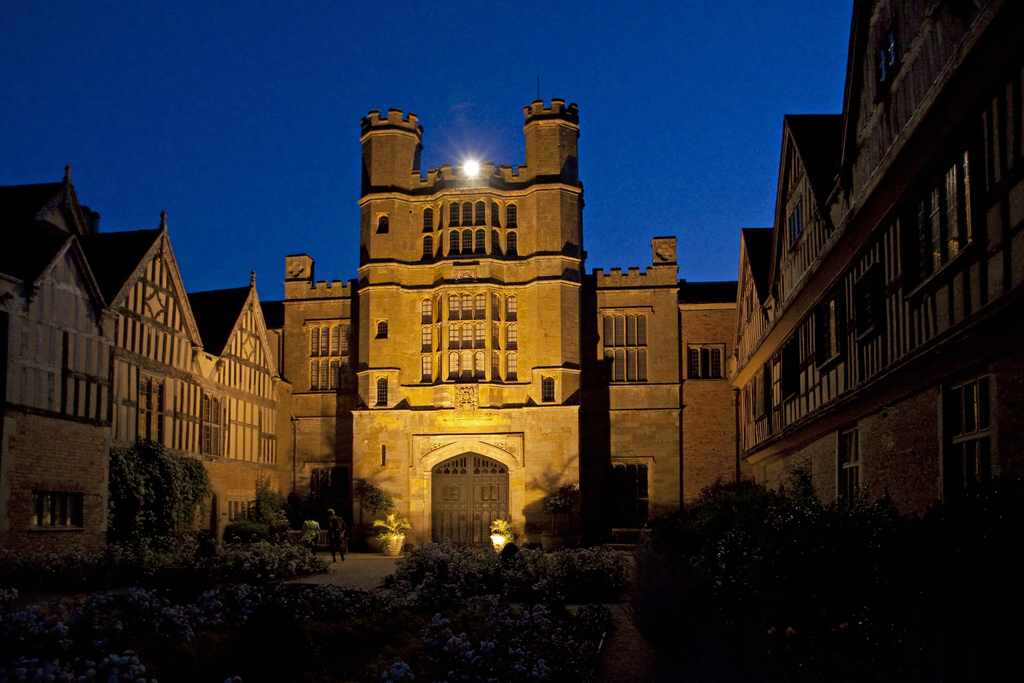 Coughton Court
. The E side. At night.
Photo 2010. See
larger
and
full size
.
From
Tony Hisgett
. See
terms of use
.
John Throckmorton,
of
Throckmorton
, NE of Pershore, Worcestershire,
mar Agnes or Anne Abberbury [dau of Sir Richard de Abberbury, of Abberbury],
had issue:

Thomas Throckmorton,
mar Agnes Besford
and had issue:

Sir John Throckmorton,
born c.1382, Throckmorton.
He mar (poss. 1409) to Eleanor de Spineto.
She was dau and heiress of Sir Guy de Spineto, lord of Coughton, Warwickshire.
Sir Guy de Spineto is a descendant (also here) of Louis IV, King of France and of Charlemagne and of Edward the Elder.
See THROCKMORTON in [Roberts, 2008].
Throckmorton acquired Coughton, Warwickshire 1409.
Sir John died 12 April 1445, age c.63 yrs.
Sir John and Eleanor had issue:
Thomas Throckmorton,
born c.1412, Throckmorton, Worcestershire,
mar Margaret Olney [dau of Sir Robert Olney, of Weston],
High Sheriff of Warwick and Leicester, [Burkes Peerage] says 1404 (5th Henry IV) but this makes no sense,
died 1472, age c.60 yrs,
had issue:

Sir Robert Throckmorton, Kt.,
of Coughton, born est c.1455.




Maud Throckmorton,
or Matilda,
mar Sir Thomas Greene and had issue.
---