Helps
Stop! Special page! Contact me now!
Stop! This is one of the most important pages on this site.
If you know anything about the people on this page, please contact me now. You may solve a problem I have been working on for years. I will give €1,000 to anyone who solves this problem. If you know anything about the people on this page, contact me now!
References:

Sources yet to be consulted:

HELPS in Visitation of England and Wales, ed. Frederick Arthur Crisp, vol.14, 1906, pp.153-155.

Correspondence of Sir Arthur Helps, edited by his son Edmund Arthur Helps, 1917.

Sir Arthur Helps on p.372 (see transcript) and p.373 (see transcript) of [DNB, 1885-1900 edn, vol.25].
Papers of Sir Arthur Helps. Royal Archives, Windsor Castle.
There are Arthur Helps letters in the Monteagle Papers.

Sir Arthur Helps and the Making of Victorianism, Stephen L. Keck, 2014.

"Sir Arthur Helps and the Royal Connection", John R. DeBruyn, Bulletin of the John Rylands University Library, Manchester.
Sir Arthur Helps.
1874 caricature. From
here
.
Sir Arthur Helps
(and
here
),
born 10 July 1813,
Balham Hill
, London
[Helps, 1917]
,
bapt 9 Aug 1813, St.Leonard's,
Streatham
, London, see
baptism
,
writer, and senior civil servant.
He was educ Trinity College, Cambridge. BA 1835.
Became a friend at Cambridge of Stephen Spring Rice (Anglo-Irish, born 1814).
Arthur became private secretary to his friend Stephen's father, Thomas Spring Rice, who was Chancellor of the Exchequer 1835-39 (and created 1st Baron Monteagle 1839). Presumably this is how he met an Irish wife.
Arthur is listed as of "London" at mar.
He mar 1836 to Elizabeth Fuller [Bessie, descendant of Edward III].
He went to Ireland in 1839 or 1840 as private secretary to George Howard, later the 7th Earl of Carlisle, who was then (1825-48) styled "Viscount Morpeth", and who was Chief Secretary for Ireland 1835-41.
Arthur served as Morpeth's private secretary until 1841. In 1840-41 he and his wife lived in quarters in Dublin Castle.
They may have been in contact with Elizabeth's 1st cousin Blennerhassett Lindsay in Dublin.
Came back to England 1841.
He was Clerk of the Privy Council 1860-75.
He was close to Queen Victoria and the Royal family.
He died 1875. See probate (revoked). See new probate.
See his works.
Elizabeth died 12 May 1892. See probate.
Arthur and Elizabeth had issue:
Rev. Charles Leonard Helps, born 1841,
mar Emily Theobald,
had issue:

Rev. Arthur Leonard Helps, born 1872,
mar Kathleen Belgrave,
he died 1960,
probate suggests he had a son Arthur Charles Belgrave Helps.




Edmund Helps,
Edmund Arthur Helps, born 1843,
mar Mary Alice Tapson [Molly],
edited his father's letters 1917,
he died 1938, age 95 yrs,
had issue:

William Helps.

Arthur Helps,
Edmund Arthur Helps, born 1888.




Melicent Helps,
born 1845,
mar 1864 to William Henry Stone, MP [born 1834],
had issue:

Arthur William Stone,
born 1866,
mar Evelyn Le Mottée,
had issue:

Edmund Austin Arthur Stone,
born 1904,
had issue:

Ed Stone.
DNA match to Peter Helps.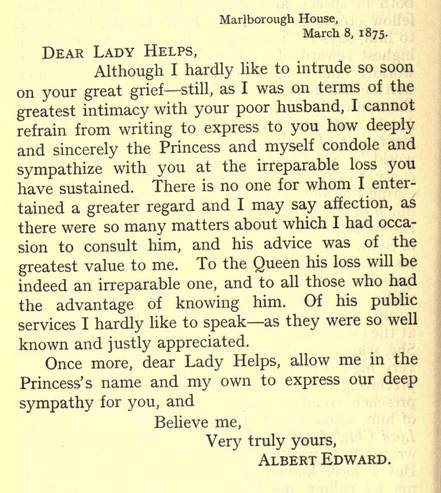 Sympathy letter to Elizabeth Fuller from the
Prince of Wales
(later Edward VII) on the death of her husband in 1875.
From
p.18
of
[Helps, 1917]
.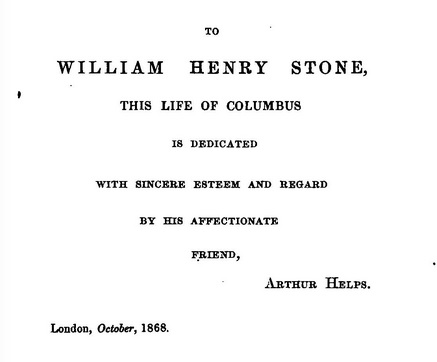 Dedication page of The Life of Columbus (1869) by Sir Arthur Helps.
He dedicated it to his son-in-law William Henry Stone.
---