James Davis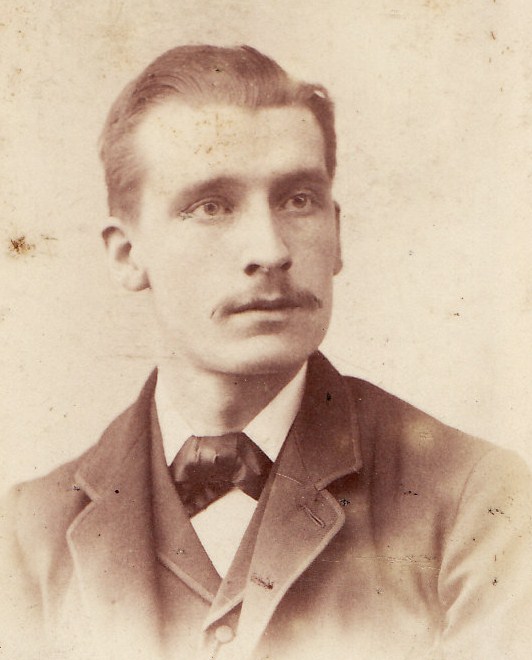 James Davis.
James Davis
,
born 1862,
Westminster
, London,
wool merchant.
He mar 1stly to ----.
She died, probably 1889-91.
James had issue by 1st wife:
Florence Davis,
born 1889, Wandsworth, London,
(todo) try birth of Florence Elizabeth Davis, [GRO.UK], 3rd qr 1888, Wandsworth, 1d 698,
(todo) try birth of Florence Edith Davis, [GRO.UK], 2nd qr 1889, Wandsworth, 1d 596,
age 7 when father re-married,
listed as possibly Florence L. or Florence E. (illegible), age 12, in [UK census, 1901],
living Seaford, East Sussex, c. late 1940s.

He must be "James Davis", "wool buyer", widower, age 29 (born 1862), born Westminster, London, who is listed in [UK census, 1891] as living 97 Cambridge Terrace, near Regent's Park, London (see map). Baby Florence not with him (must be being minded elsewhere).
He is listed as "Wool Valuer" at 2nd mar 1896, living 111 Page St, Westminster, London (see map).
They both died c.1920s-30s.
Have searched [GRO.UK] for her death 1930-31.
(todo) Try death of Alice M. Davis, [GRO.UK], 1st qr 1930, Romford, age 53 (born 1877), vol 4a p.563.
James seems to have died between 1931 and 1935. In [Ilford Directory] he is listed at 31 Wellwood Rd, Seven Kings up to 1931. The 31 Wellwood Rd entry is missing in 1933, and his son is listed there from 1935.
It was thought they might be bur at Seven Kings, but there does not seem to be a graveyard there.
They might be bur at nearby Ilford cemetery.
No Davis found in [Essex FHS survey of St.Mary's cemetery, Ilford, [ICL]] but this is only partial survey of St.Mary's, and also doesn't cover municipal cemetery.
James had issue by 2nd wife:
William Davis,
Will, William J., born 1898, Wandsworth, London,
age 3 in 1901 census,
rejected for army in WWI, on health grounds,
(unfairly) given white feather (sign of cowardice) by someone,
died unmarried perhaps c.1920, age early 20s.




Robert Davis,
Robert Edgar Hallandal Davis, Uncle Bob,
born Nov 1900, Islington, London (family would be living 58 Tollington Rd),
listed as age 4 months in [UK census, 31st Mar 1901],
mar ---- [poss. Winifred, or poss. confusion with Hugh Noltie's 1st wife],
they had a child who died at birth, she kept its ashes on the mantelpiece,
she was weakened by the birth and died soon after,
"Robert Davis" is listed at 31 Wellwood Rd, Seven Kings in [Ilford Directory] 1935 to at least 1939,
he was accountant, London,
he also did stage props,
lived 31 Wellwood Rd until death,
died c.1975, age c.75 yrs.




Hilda Davis,
Hilda Irene, born 7th June 1905, 31 Wellwood Rd [GRO.UK],
she was a Methodist,
she was personal secretary 1930s to Ernest Bevin, the Labour politician, and general secretary of Britain's largest trade union, the Transport and General Workers Union (TGWU), Transport House, London,
Bevin was a leading opponent of Nazism and the appeasement policy in 1930s,
her parents and brother died, parents left the house at 31 Wellwood Rd to Bob,
Hilda gave up her job when married, even though it was much better-paying than Hugh's,
at mar she is listed as "shorthand typist", living 12 Cromer Rd, Hornchurch, Essex (see map),
unusually, her father is not listed on mar cert,
mar 1937 to Hugh Noltie and had issue.
James Davis and family. See
full size
.
Perhaps at 2nd marriage, to Alice Maud Hallandal, 1896.
unknown

James Davis

unknown
unknown

possibly
Alice Maud Hallandal

think
Florence Davis (born 1889)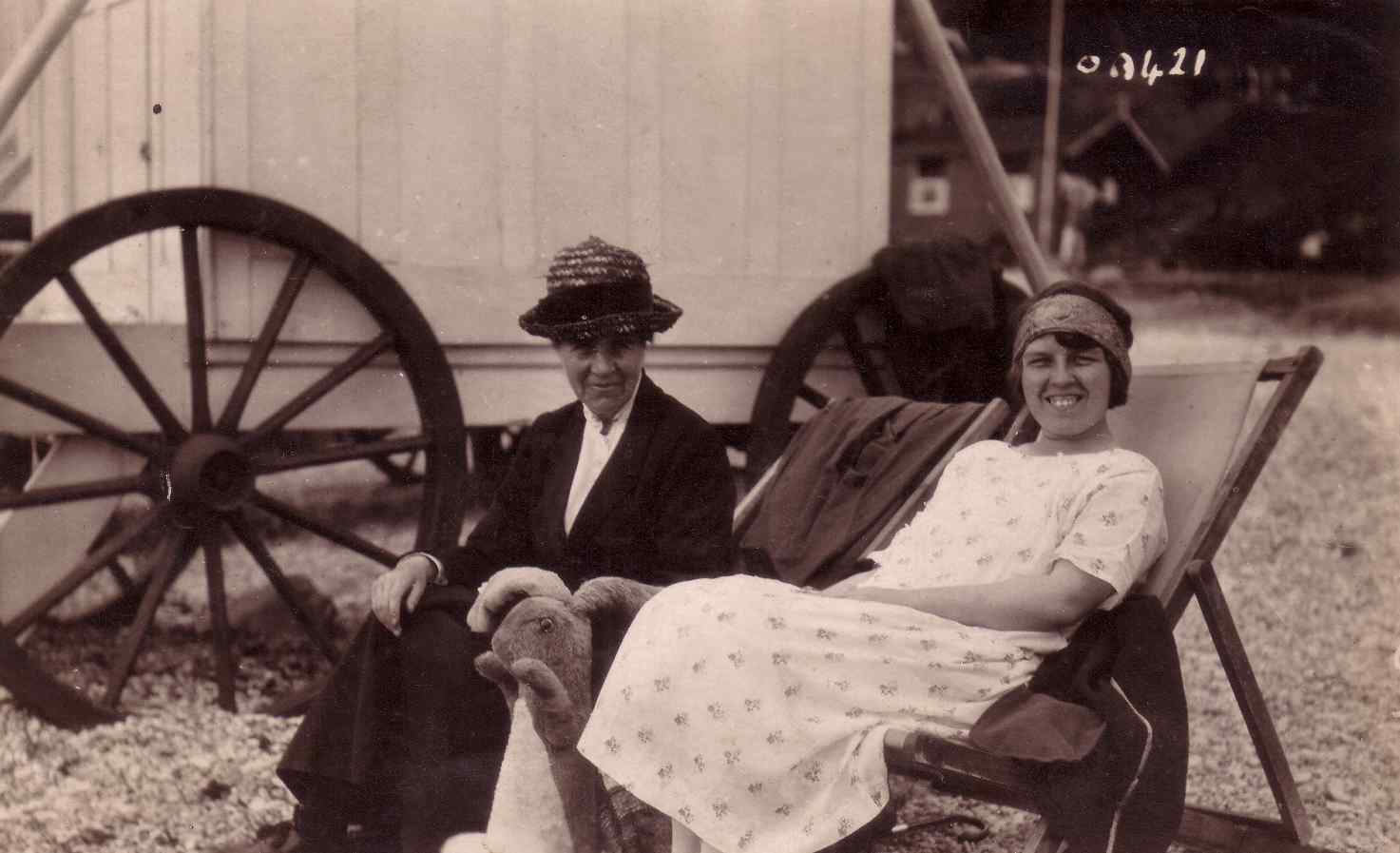 Alice Maud Hallandal and her dau Hilda Davis.
See
larger
and
full size
.
See
other scan
.
---
58 Tollington Rd, Highbury, Islington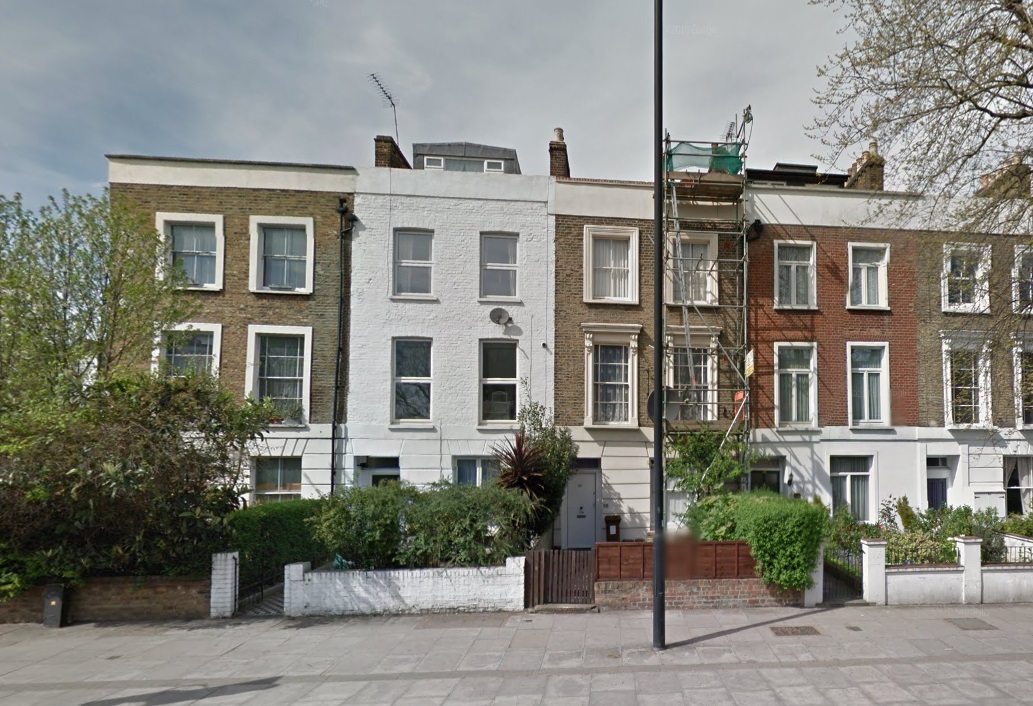 In the modern numbering, 58 Tollington Rd is 3rd house from LHS of block here (white door, brown bricks, yellow paintwork).
2015 image from
Google street view
.