Sir Maurice Fitzgerald, of Carrigaline
Sources yet to be consulted: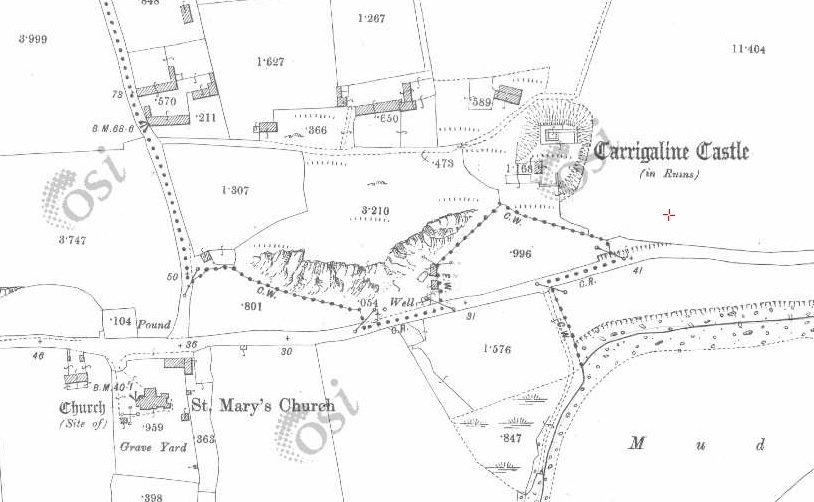 Carrigaline Castle, Co.Cork, on
1887 to 1913 map
.
See modern
satellite view
.
Sir Maurice Fitzgerald
(see
here
and
here
),
of
Carrigaline
, Co.Cork,
mar
Julia O'Mulryan
[dau of Dermot O'Mulryan, of Sulloghode, or Sulloghade, Co.Tipperary],
died 1560,
had issue:
James FitzMaurice Fitzgerald (see here and here),
of Carrigaline, Co.Cork.
Leading Catholic rebel against the Protestant Tudor conquest of Ireland. The man who started the Desmond Rebellion.
One of the first Irish leaders to use the Catholic cause as an explicit justification for rebellion against the crown.
He mar Katherine Burke [dau of W. Burke, of Muskerry].
For discussion of the wife of James see p.524 in [JRSAI, 1869].
In 1568 Carrigaline was given to Warham St.Leger.
James FitzMaurice led the first of the Desmond Rebellions in 1569.
Lord Deputy Sidney had largely crushed the rebellion by end of 1569.
James FitzMaurice was finally forced to submit at Kilmallock, Co.Limerick, on 23 Feb 1573.
He lost Carrigaline Castle.
He went into exile in continental Europe 1575. Sought help of France, Spain and Rome.
Returned with an invasion force in June 1579, starting the Second Desmond Rebellion.
He was killed in battle, 18 Aug 1579.
His invasion force was massacred at Smerwick in 1580.
James FitzMaurice and Katherine had issue:




Honora FitzMaurice Fitzgerald, or Honor, or Honoria,
mar 1stly to John Fitzedmund Fitzgerald,
he was a leading rebel in the Desmond Rebellions, an ally of her father,
he died 1589,
she mar 2ndly, post-1589, to Sir Edmund Fitzgerald [born 1569] and had issue.
Honora and Edmund are ancestors of Duke of Wellington and of Elizabeth II.

Signature of James FitzMaurice Fitzgerald.
From his submission at
Kilmallock
, Co.Limerick, on 23 Feb 1573.
From opposite
p.496
in
[JRSAI, 1869]
.