Baron Georg von Trapp
References:

Sources yet to be consulted: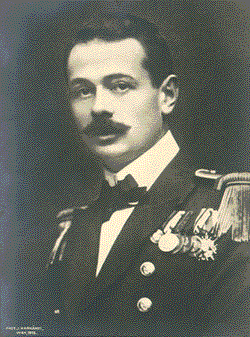 Georg von Trapp.
From
here
.
Baron Georg von Trapp
(see
Wikipedia
and
German Wikipedia
), born 1880,
of the famous singing family,
submarine commander in
Austro-Hungarian Navy
,
mar 1stly, 10 Jan 1911, to Agathe Whitehead [born 1890, dau of Sir James Whitehead, British Ambassador to Austria, by his wife Marian Cecilia Brodrick, dau of William Brodrick, 8th Viscount Midleton],
see multiple descents

of Agathe Whitehead from Edward III, by Ed Mann,
Sir James Whitehead was son of Robert Whitehead, inventor of the torpedo,
the Whitehead family were wealthy arms manufacturers of torpedoes and submarines on the continent, they had a factory at Fiume, Georg visited 1908 and met Agathe,
Agathe christened Georg's U-boat in 1909,
they lived Pula, Croatia (then in Austro-Hungarian Empire),
family moved to Zell am See, Austria, when WWI started 1914,
he was Austria's leading U-boat submarine ace in WWI 1914-18,
he sank many ships during the war, including the French ship Léon Gambetta in 1915 (when he killed 700),
Austria lost the war 1918, and lost its entire sea coast and navy,
they moved to Klosterneuburg, Austria, 1921,
Agathe died 1922, age 32 yrs,
had issue by 1st wife:

Georg moved with the children to what is now known as the "Villa Trapp" or "Villa von Trapp", Salzburg, Austria, 1924,
note their house was NOT Schloss Leopoldskron,
mar 2ndly, 26 Nov 1927 [him age 47, her age 22] to Maria Kutschera [born 1905, his daughter's tutor],
they became famous singing family, 1935 onwards, performed across Europe,
fled Austria when the Nazis came 1938,
went to US 1938,
their house in Salzburg, the Villa Trapp, was taken for a headquarters in 1939 by the Nazi leader Himmler, one of the greatest mass murderers in history, he used the house until 1945, as he carried out the genocide of the Jews and others across Europe,
the family settled in Stowe, Vermont, 1942, at the Trapp Family Lodge (see site),
Georg died 1947, age 67 yrs, bur cemetery, Trapp Family Lodge, Stowe, Vermont.
Maria wrote about their story 1949,
inspired the German film Die Trapp Familie (1956), think this was shown in English as The Trapp Family,
the sequel Die Trapp Familie in Amerika (1958),
the Broadway show The Sound of Music (1959),
the Hollywood movie The Sound of Music (1965),


Maria was played by Julie Andrews, it was for a time the 3rd highest grossing film ever,
Maria died 1987, age 82 yrs, bur cemetery, Trapp Family Lodge, Stowe, Vermont,
Georg had issue by 2nd wife:
Rosmarie von Trapp,
[U.S. government records] say born 8 Feb 1928, which would mean Maria was pregnant at mar,
family though say born 8 Feb 1929.

Eleonore von Trapp, born 1931.
Johannes von Trapp, born 1939.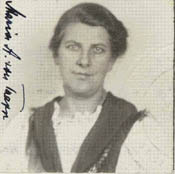 Maria Kutschera, 1944.
From
U.S. government records
.


Trailer for the movie The Sound of Music (1965).
This trailer is for the 45th Anniversary release (2010).
---