Ryan (Tim) of Newross, Co.Tipperary
Ryan "Cadea" of Newross, Co.Tipperary
References:

Sources yet to be consulted:
Things to do:

Search Kilnarath graveyard (graveyard for Newross)

Baptism of Margaret Ryan, 19 Sept 1819
[Newport RC par records]
.
Tim Ryan.
Timothy.
His family was called the Ryan "Tim" family. There are so many Ryans in Co.Tipperary that they often have an additional "family name" to identify them.
He was a farmer in
Newross
(also called "Ross"), Kilnarath par, NE of Newport, Co.Tipperary (near
Doonane, Co.Tipperary
, see
map
).
He was NOT of Mount Prospect, NOT of Killoscully.
He mar pre-1814 to Margaret Hourigan [also written as "Peggy" in Newport RC par records].
She was possibly of near Doonane, Co.Tipperary. She was meant to be related to Hourigan of near Doonane who married Lane and Humphreys.
Note the forest at Doonane is called Ballyhourigan Wood, in Ballyhourigan townland, N of Doonane townland, both in Killoscully par, Co.Tipperary.
This is NOT the mar of Margaret Hourigan in 1816 at Newport.
Tim and Margaret were in Newross since at least 1814, all children born Newross, bapt Catholic in [Newport RC par records].
He is listed as farmer, Newross, at childrens' bapts 1814 to 1823.
He is listed at Newross at dau's bapt 1828.
He prob. died pre-1835, since [Census, 1835] apparently shows only "William Ryan (Timothy)" (prob. his brother-in-law) in Newross.
[Griffiths Valuation, 1850] shows "William Ryan (Tim)" and "Michael Ryan (Tim)" (prob. his brother-in-law and son) in Newross.
Tim and Margaret had issue: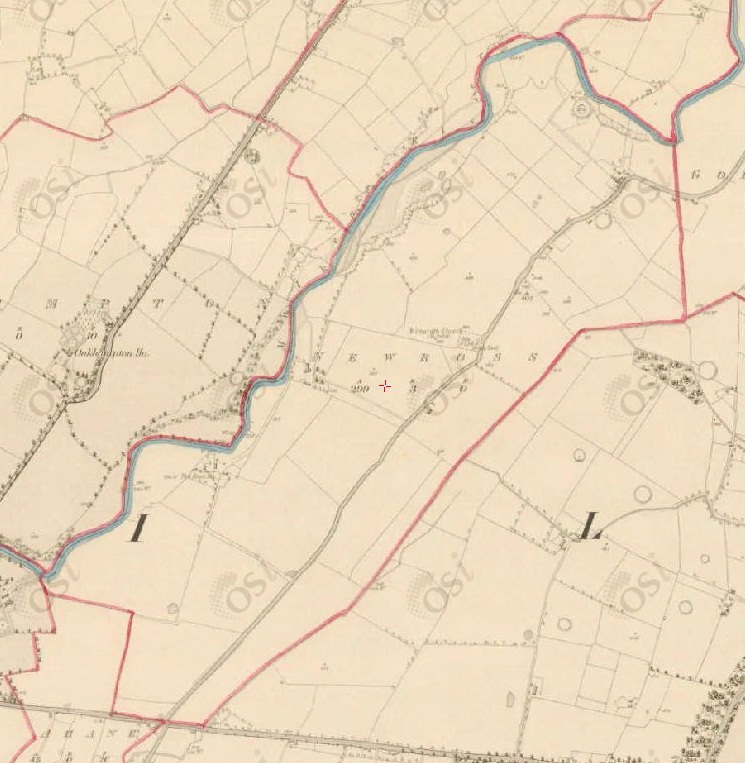 Newross on
1829 to 1842 map
.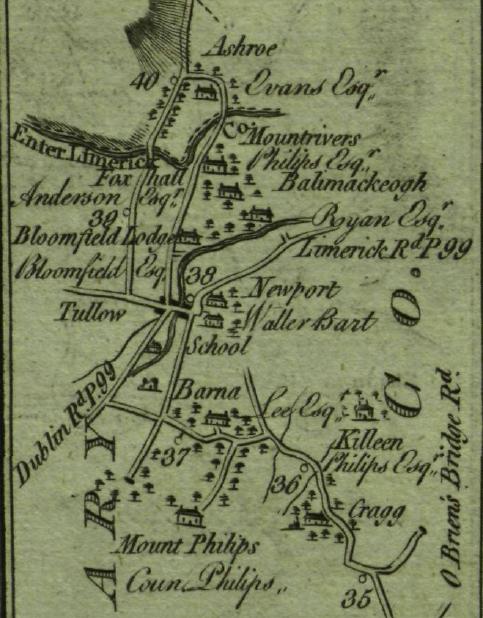 Newport area in [Taylor and Skinner, 1777].
---
A family tree exists offline as:
Ryan (Tim) of Newross, Co.Tipperary
Ryan "Cadea" of Newross, Co.Tipperary
2nd edition, May 1992
---