Sir John Shelley, 3rd Baronet, of Michelgrove
Sir John Shelley, 3rd Baronet
(see
here
),
of
Michelgrove
, Sussex,
born after 1662,
succ 1681,
mar 1stly to his step-sister (no blood relation)
Winifred Neville
[born est c.1660, descendant of
Edward III
],
Winifred bur 24 May 1687 at
Clapham
(near Michelgrove), Sussex, age est c.27 yrs,
Sir John had issue by 1st wife:
Frances Shelley,
eldest dau, Roman Catholic, born 15 June 1685, about 4 am.
She was NOT age 99 yrs at death in 1771. (Birthdate of 1672 would be far too early for both father and mother.)
Her mother died 1687. Her father re-married.
Her father died 1703.
Both herself (in 1704) and her stepmother (shortly after 1703) married Irishmen.
She mar (settlement 26th Feb 1704) to Richard Fitzwilliam, 5th Viscount Fitzwilliam and had issue.

Sir John mar 2ndly, 1687-89, to Mary Gage [dau of Sir John Gage, 4th Baronet, descendant of Sir John Gage],
his will dated 2 June 1702,
he died 25 Apr 1703,
bur 28 Apr 1703 at Clapham,
will pr 1703,
Mary re-married to George Mathew [of Thurles Castle, Thurles, Co.Tipperary]. It was George's 2nd marriage.
See MATHEW in [Burkes Irish, 1976, p.793].
Mary's will dated 1722.
George died 5 Dec 1734.
Sir John had issue by 2nd wife:
Sir John Shelley, 4th Baronet, MP, born 1692,
conformed to the Established religion 1716 (like his brother-in-law the 5th Viscount Fitzwilliam in 1710).
Ancestor of Shelley, Baronets of Michelgrove.


From
SHELLEY
in
[Complete Baronetage]
.


The birth of Frances Shelley in 1685.
Recorded with other Shelley births in an old church book. Courtesy of Michael McHugh.
See wider and top of page.
See more of page and bottom.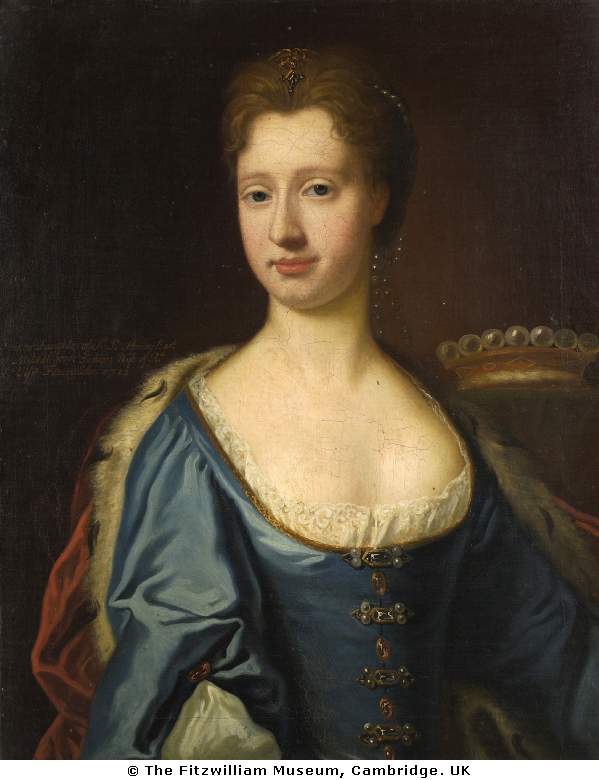 Frances Shelley, wife of 5th Viscount Fitzwilliam.
Portrait 1723.
Used here with the kind permission of the Fitzwilliam Museum, Cambridge.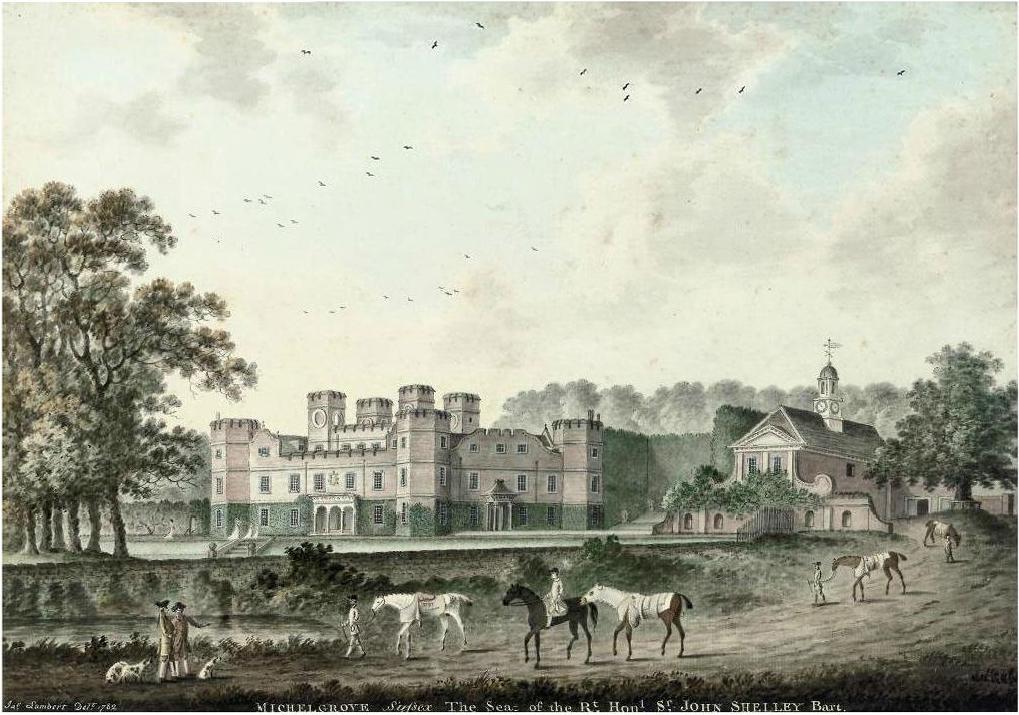 Michelgrove House, 1782 (during time of 5th Baronet).
Sold at Christie's in 2010.