Capt. Thomas Spring
Sources yet to be consulted:

SPRING on p.57 of [Smith, 1756].
James Carmody, "The Abbey of Killagha, Parish of Kilcoleman, County Kerry", The Journal of the Royal Society of Antiquaries of Ireland, Fifth Series, Vol. 36, No. 3, 290.
J. Carmody, Story of Castle Mayne ..., Kerry Archaeological Magazine, I (1908) 17–37, 49–79; 119–41.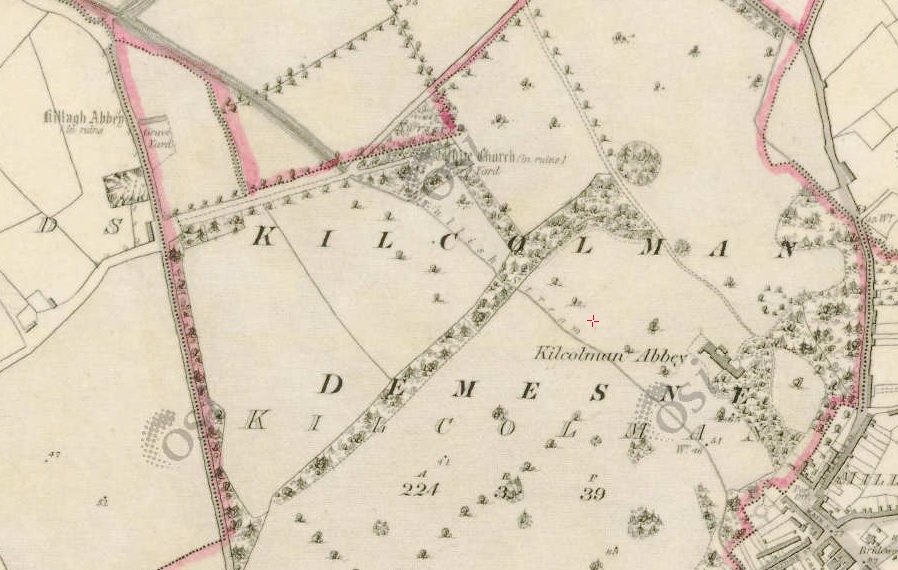 Killagha Abbey ruin (to NW) and the new Kilcolman Abbey (to SE) on
1829 to 1842 map
.
See modern
satellite view
.
Capt. Thomas Spring
(see
here
).
His family were from
Lavenham
, Suffolk.
He served as Captain in army of
Elizabeth I
in Ireland.
He was granted land in Co.Kerry. Settled in Ireland.
He served with distinction for the Crown against the rebels during the
Desmond Rebellions
.
He mar post-1580 to Annabel Browne [or Annabella, a widow, of Co.Limerick].
Her father (killed 1580) was an ally of the rebel 14th Earl of Desmond.
Constable of Castlemaine: Spring was made Constable of Castlemaine (stronghold between Killorglin and Tralee), Co.Kerry. Castlemaine was an Earl of Desmond castle, seized by the crown.
[King, 1931] says that Spring was Constable of Castlemaine in 1586.
Granted Killagha: On 12 Dec 1588 he was granted the estates of Killagha Abbey (or Killagh Abbey or Kilcolman Abbey), near Milltown, Co.Kerry.
He was High Sheriff of Kerry in 1592.
[King, 1931] says he had a grant in 1596 of church lands at Killagha and in Iveragh.
He died 1597.
[Visitation of Suffolk] says he was "slain in Ireland".
Capt. Thomas and Annabel had issue:
Thomas Spring, mar Margaret Fen and had issue:

Thomas Spring, mar Avice Blennerhassett [descendant of Edward III] and had issue:

Thomas Spring, had issue:

Thomas Spring, born 1735, had issue:

Katherine Spring, mar 1785 to Stephen Edward Rice and had issue.

Francis Spring, had issue:

John Spring, mar Mary Collis.

Walter Spring, mar Alice Blennerhassett and had issue:

Avice Spring, mar Thomas Blennerhassett and had issue.




Alice Spring [or Alison],
mar Col. James Ryeves and had issue.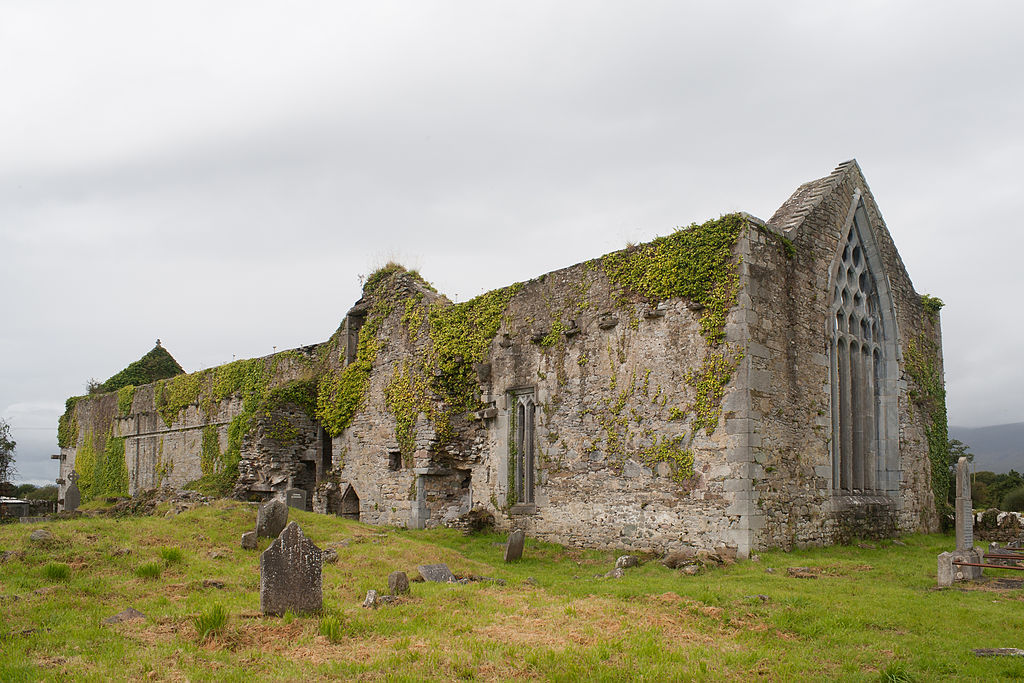 Killagha Abbey.
Photo 2012. See
full size
. From
here
.
See
more photos
.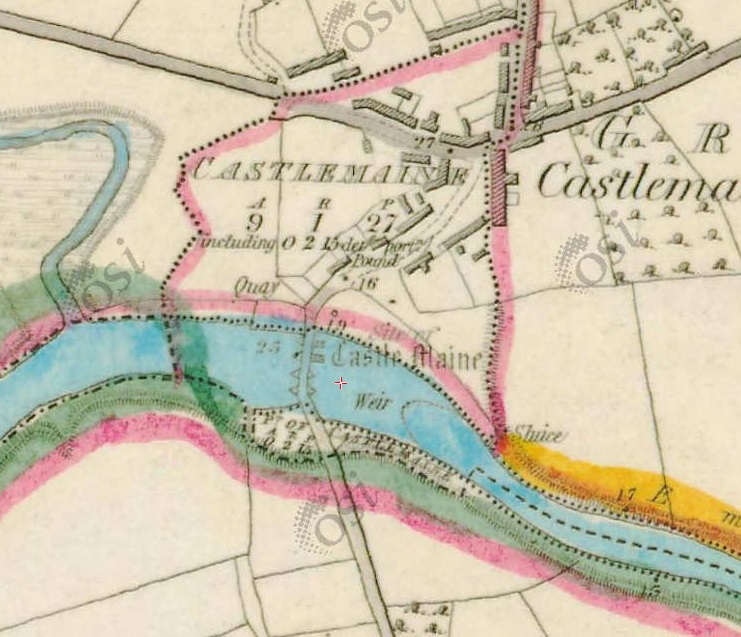 Castlemaine, Co.Kerry, on 1829 to 1842 map.
The castle once stood on the bridge. It was destroyed in 1652.
Nothing remains today. See street view.
---
Spring in Landed Estates Database.

Wikipedia here and here had Annabel Browne's parentage wrong. I fixed it. See history here and here.

Spring estate confiscated:

The Spring estate of Kilcolman Abbey was confiscated by Cromwell during the Irish Confederate Wars (1641-53 period).
It was granted 1668 to Godfrey. They built a new seat called Kilcolman Abbey (or Bushfield) a short distance away.

Castlemaine in 1788:

From entry of 21 Aug 1788 in [Rev. Daniel A. Beaufort's Tour of Kerry, 1788]: "Castlemain is now a most wretched village, only a few cabins at each end of a very long bridge over the Maing. On the East side of this bridge are large ruins of a Castle, & on the West some also, with several marks in the battlements where the gate that defended this pass anciently stood. A singular situation for a Castle, in the midst of a river in which the tide might bring large vessels. Yet there is a Constable of this Castle with a Salary of 10 shillings per day besides a considerable piece of land near it: Capt Botet, who lives at Kinsale, is the present Constable & Sir William Godfrey says it is altogether worth £300 a year."

Dick Spring (born Tralee, 1950), leader of the Labour Party 1982-1997, is meant to be from this Spring family.