Finn

Baptism of Louisa Finn, 1807
[Dingle CoI par records]
.
This is a copy of the original.
The original survives in the register in
[RCB]
.
Thomas Finn,
of Cork.
Listed as of
Dingle
, Co.Kerry, at mar 1806.
He mar 1806 to
Catherine Blennerhassett
[bapt 9 June 1780].
Living Dingle at dau's bapt 1807.
Will of John Blennerhassett, 1855
refers to his nephews and nieces,
"the children of my sister Catherine Finn"
.
Thomas and Catherine had issue:
Louisa Finn,
would be after grandmother, bapt 15 March 1807 [Dingle CoI par records].




Patrick Finn, of Cork.

Katherine Finn, mar John Saunders.




Christina Finn,
Christina L. Finn, born Co.Cork.
She mar William H. Cotter [born Co.Cork].
See entry in tree by Elizabeth Wighton-Talens.
See entry in tree by Colin Perry.
They emigrated to US 1849.
They had issue:

Blennerhassett Cotter, born 1839 or 1840, Ireland,
listed as age 9 at emigration 1849,
fought for Union Army in American Civil War, enlisted 1862, listed as age 23,
was in the 71st New York State Militia Infantry in 1862,
was in the 11th Regiment New York Volunteer Cavalry 1862-65,
mar Margaret ---- [born New York, Irish-American],
living Loda, Illinois, as at 1880,
see US army pension record, filed 12 Dec 1890, [NA.US] T289,
had issue:

Marion Cotter, born c.1873, New Jersey.

Barry Cotter,
he is listed in [Foster's Royal Descents, vol.4, 1886] but this may be just error for Blennerhassett (they do not list Blennerhassett).

Catherine Cotter,
Catherine Blennerhassett Cotter, would be after grandmother, born 9 Jan 1841, Co.Cork,
lived Saratoga Springs, New York,
religion listed as Episcopalian at death,
died unmarried, 6 Jan 1925, Saratoga Springs, age 83 yrs, see Funeral Home Records,
bur Greenridge Cemetery, Saratoga Springs (see map and street view).

Joseph Cotter.
Louisa Cotter, family name comes from great-grandmother.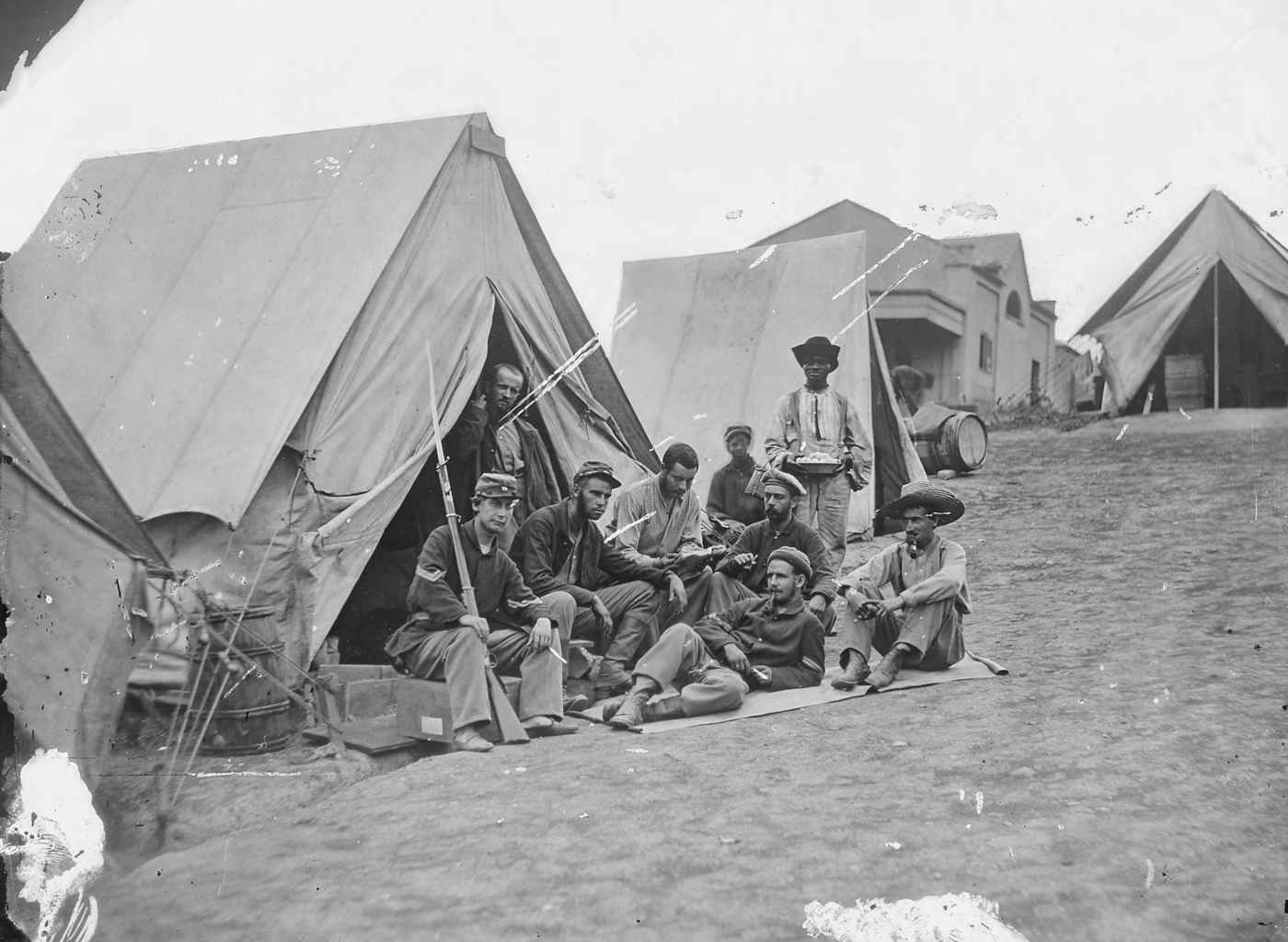 71st New York Infantry at Camp Douglas, 1861.
Photo Number B-90 in
Matthew Brady Collection of Civil War Photographs
,
[NA.US]
T252.
See
larger
and
full size
. From
here
.