Browne of Awney, Co.Limerick
No reason to believe these are related to
Browne, Viscount Kenmare
or
Browne of Betchworth Castle, Surrey
.
Sources yet to be consulted:
Ulick Brown,
of Camus and Knockmunihy, Co.Limerick,
mar Margery Madden,
had issue:

John Browne, or Brown,
of Awney, Co.Limerick.
"Awney" (or Any, Anye) is the old name for the area of Knockainy and Hospital, E Co.Limerick (see map and map).
He was an ally of the rebel Earl of Desmond.
He was "Master of Awney" as at 1568, when the imprisoned Earl of Desmond wrote to him.
He mar Catharine O'Ryan [or Katherine, dau of Dermod O'Ryan, or Dermot, of Sullaghode, Co.Tipperary].
He was killed 1580 by Sir Thomas Norris.
A letter of 17 Aug 1580 describes him as the "wisest of all Desmond's councillors".
John and Catharine had issue:
Annabel Browne,
or Annabella.
She mar 1stly to Capt. William Apsley [of Limerick] and had issue:

Joan Apsley, born 1578,
mar 1595 to Richard Boyle, 1st Earl of Cork.

Capt. William died post-1580.
Annabel mar 2ndly, post-1580, to Capt. Thomas Spring and had issue.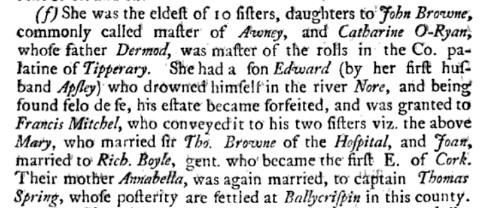 BROWNE on
p.41
of
[Smith, 1756]
.