Dicey of Basingstoke and Northampton
References:

Sources yet to be consulted:

Dicey and Claybrooke papers, now in Claybrooke Hall.

Will of Thomas Dicey, 17 Oct 1703.
Thomas Dicey.
He was a tailor, of
Basingstoke
, Hampshire,
[Simmons, 2000] says that Thomas Dicey was apparently involved in selling patent medicines.
From the 1670s he seems to have been involved in selling one of the earliest British patent medicines, "Daffy's Elixir" (or "Daffey's Elixir", said to be invented by Thomas Daffy in 1647).
Daffy's Elixir was advertised as a cure-all. In reality it was a laxative made mostly from alcohol.
He was said to have married
Elizabeth Cluer
[bapt 6 Dec 1671].
But this seems wrong. See discussion on
that page
of problems with this.
He definitely married to
Margaret ----
[according to his will].
It may be that his wife should be
Margaret Cluer
and she was born before 1671.
Or maybe there is no Cluer ancestry. They are just in-laws. See his daughter's husband John Cluer.
Thomas' will is dated 17 Oct 1703. He is Thomas Dicey, tailor, of Basingstoke, in County of Southampton. His wife Margaret is alive.
Note this is definitely him: It shows his daughter as wife of John Cluer. Also when William becomes an apprentice, his father is Thomas Dicey, tailor, of Basingstoke, deceased. Also it fits the date of burial in [Burkes LG].
Thomas was bur at Basingstoke, 31 Oct 1705.
Will proved 22 January 1706 at Prerogative Court of Canterbury.
Thomas had issue:
Elizabeth Dicey,
born est c.1685 (married by 1703 and yet young enough to later marry a man born in 1696).
She mar 1stly, 1702 or 1703, to John Cluer [born est c.1675] and had issue.
John ran a printing business in Bow Church Yard, London.
He died Oct 1728.
Elizabeth kept the business running.

Elizabeth mar 2ndly, 31 May 1729, to Thomas Cobb [born 1696].
Thomas had worked as John Cluer's foreman.
He is described at marriage as "engraver", single, age "upwards of 33 years". She is "widow". She is age est c.44.
Both of them listed at mar as of parish of St Mary-le-Bow, London.
See marriage bond. From here in London Marriage Bonds and Allegations.
They married at church of St Anne and St Agnes, City of London. See entry from here. See copy from here.

They continued running the business in Bow Church Yard.
In Nov 1736 Elizabeth's brother William took over the business from her and Thomas.
The date is according to [Stoker, 2014] which cites the Daily Journal, 22 Nov 1736.
British Museum thinks this was after she had just died.




Margaret Dicey.
She mar pre-1703 to Nathaniel Ward.
Named as married in father's will 1703.

Thomas Dicey.
Named in father's will 1703. Then unmarried.

Mary Dicey.
Named in father's will 1703. Then unmarried.

Ann Dicey.
Named in father's will 1703. Then unmarried.




William Dicey,
born 25 Dec 1690,
printer and newspaper owner.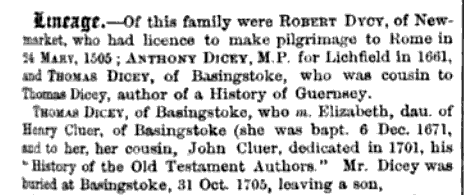 Extract from DICEY in
[Burkes LG, 1862]
.
The 1701 book referred to is unidentified.
"John Cluer" here must be the printer
John Cluer
and the dedication may be to
Miss Elizabeth Dicey (Mrs. Elizabeth Cluer)
his wife, not a
Miss Elizabeth Cluer (Mrs. Elizabeth Dicey)
his alleged mother-in-law.


Extract from DICEY in [Burkes LG, 1875].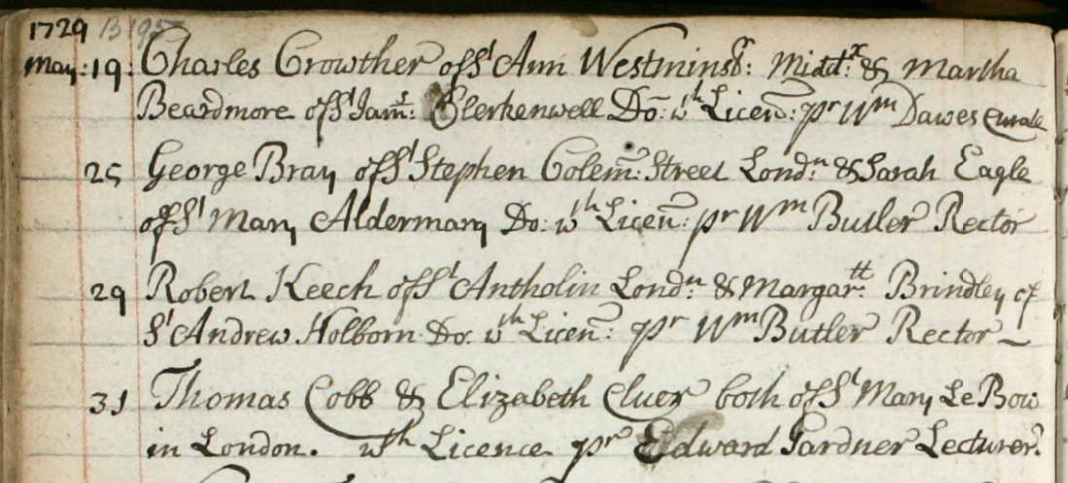 Marriage of Elizabeth Dicey and Thomas Cobb, 31 May 1729.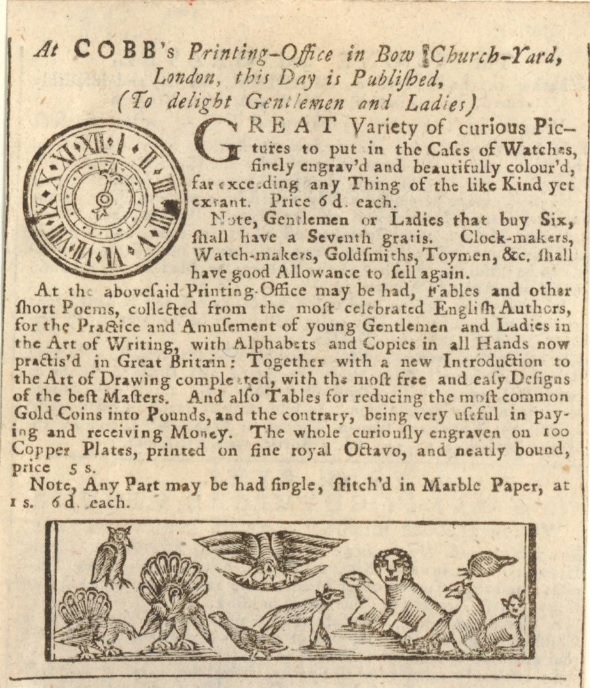 Trade card from the period in between John Cluer and William Dicey when the Bow Church Yard business was called "Cobb's Printing Office".
This must be 1729-1736.
From British Museum.


William Dicey becomes an apprentice in London on 17 April 1711.
Shows his father as Thomas Dicey, tailor, of Basingstoke, deceased.
See full size.
---
Thomas Dicey in tree by Jenny Poll.

This tree links to an apprenticeship document about a William Dicey, son of Thomas Dicey of Kensington, London, who starts as an apprentice in 1734 to Thomas Cobb, clothworker. Document from here. This is not our William, since he is a wealthy middle aged businessman. But could it be a nephew, a son of his brother Thomas? And it is interesting that the Master is a Thomas Cobb, though he is a clothworker not a printer.
This tree also links to a Dicey family of Farnham, Surrey. This is not far from Basingstoke, but we need evidence they are the same family.