Dicey of Claybrooke Hall, Leicestershire
Also spelt "Claybrook Hall".
References:

Sources yet to be consulted:
Thomas Dicey,
of
Basingstoke
, Hampshire,
born est c.1650.
He was apparently involved in selling
patent medicines
.
From the 1670s he seems to have been involved in selling one of the earliest British patent medicines,
"Daffy's elixir"
(invented by Thomas Daffy). See
[Simmons, 2000]
.
He mar
Elizabeth Cluer
[bapt 6 Dec 1671, dau of Henry Cluer, of Basingstoke].
He was bur at Basingstoke, 31 Oct 1705
[Burkes LG]
.
Thomas and Elizabeth had issue:
Elizabeth Dicey.
She mar 1stly, pre-1713, to John Cluer [must be her cousin].
He ran a printing business in Bow Church Yard, London. Later his business would be taken over by the Diceys.
John Cluer was there by 1718.
The family press is described on a visit to Bow Church-yard in 1763 as being run for 80 years (est 1683).
Cluer became a major publisher of music in London. He also did a lot of prints (pictures).
He died 1728.
His will pr 5 October 1728, Prerogative Court of Canterbury. He is Printer, of Saint Mary Le Bow parish, London.
Elizabeth mar 2ndly, 1731, to Thomas Cobb [who had worked for Cluer].
She had issue by 1st husband:

Dicey Cluer [son],
died young, bur 6 November 1713.




William Dicey,
born 25 Dec 1690,
printer and newspaper owner.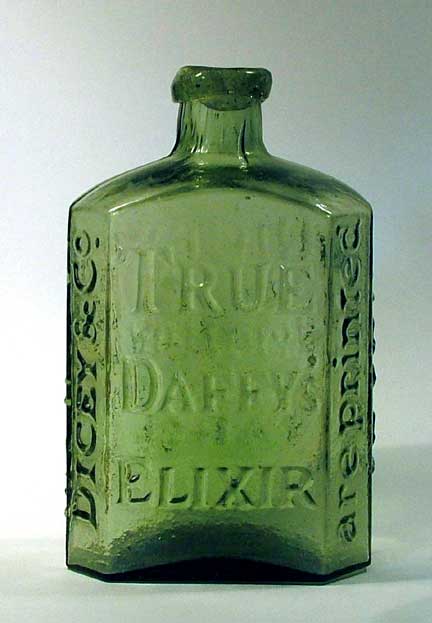 Bottle of the patent medicine, "Daffy's elixir", sold by Dicey and Co.
This bottle probably from
1820s-40s
.
From
Diggersdiary.co.uk
.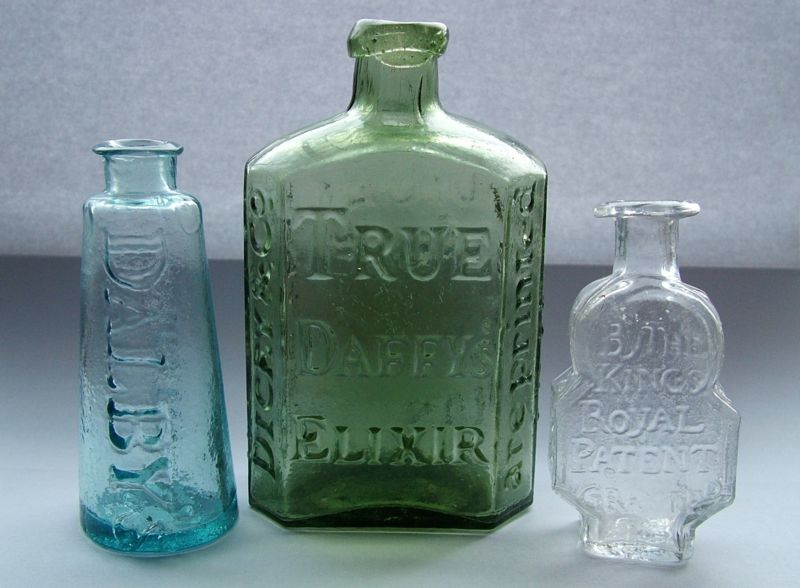 Bottle of the patent medicine, "Daffy's elixir" (centre).
From Wikimedia Commons.