Charles Flanagan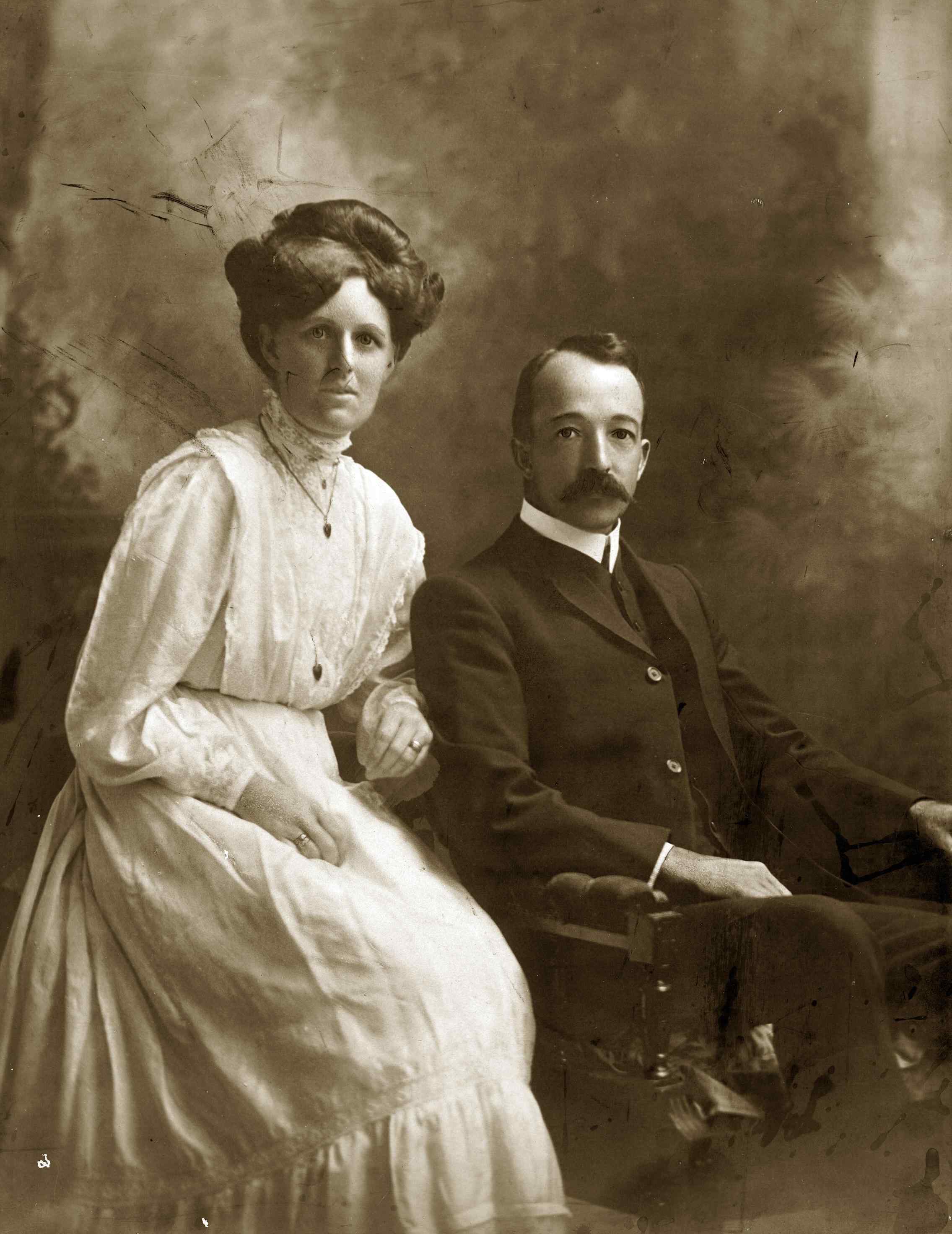 Charles Flanagan and Euphemia Darroch.
See
larger
and
full size
.
Charles Flanagan
,
born 25 June 1875, Dublin.
See
entry
in
Darroch tree
by
"kerry_g70"
.
He was educ at boarding school in
Tullow
, Co.Carlow.
He worked in
father's coal business
in Dublin.
His father died 1894.
He emigrated to
New Zealand
in Jan 1896.
His mother
died (20 Feb 1896) while he was in
Cape Town
, South Africa, on his way to New Zealand. He and his siblings were now orphans.
He moved to
Timaru
, New Zealand.
He is listed as age 26 on mar cert, must be an error for age 29.
He mar in New Zealand, July 1904, to Euphemia Darroch [born Oct 1884, Temuka, New Zealand].
She was dau of Robert Darroch, baker, of Edinburgh, later of Temuka and Wellington, New Zealand, by his wife Julia Griffin.
After her father died in 1900 her family moved to Timaru, where she met Charles.
They lived Waimataitai, Timaru.
In 1912 they were living "Portmahon", Rolleston Street, Timaru.
Note his uncle lived at Portmahon House in Dublin.
Euphemia died on or shortly before 11 May 1913 [burial record], age 28 yrs, think NOT 1914 [as grave says].
She was bur 11 May 1913, Timaru Cemetery, General Section, Block B, Plot 404, see her burial record.
He was left with 2 small children.
As at c.1927 he was living in Ashburton, New Zealand.
He died Jan 1953, age 77 yrs.
He was bur 22 Jan 1953, Timaru Cemetery, with wife. See his burial record.
Charles and Euphemia had issue:
Jim Flanagan,
Charles James Flanagan, born 1905.




Desmond Flanagan,
Des, born 1909.
Desmond Eneas Flanagan. His mother's brother was called Eneas. NOT Enaus.
He mar Rita Ibell [Rita Helen Ibell, born 1907]. No issue.
Listed as living 22 Whitcombe Street, Temuka, at her death [burial record].
Rita died 24 Apr 1975, age 68 yrs.
She was bur 26 Apr 1975, Temuka Cemetery, Section E, Block 4, Plot 128. See her burial record.
Des died 22 Jan 1985, age 75 yrs.
He was bur 22 Jan 1985, Temuka Cemetery, with his wife. See his burial record.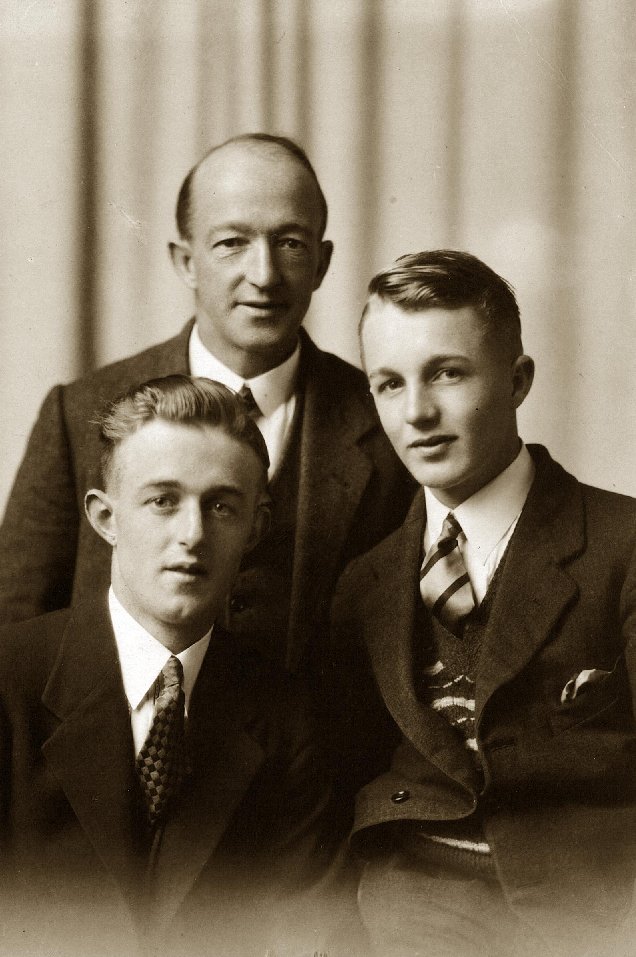 Back: Charles Flanagan.
Front: (Left)
Jim Flanagan
and (Right) Desmond Flanagan.
See
full size
.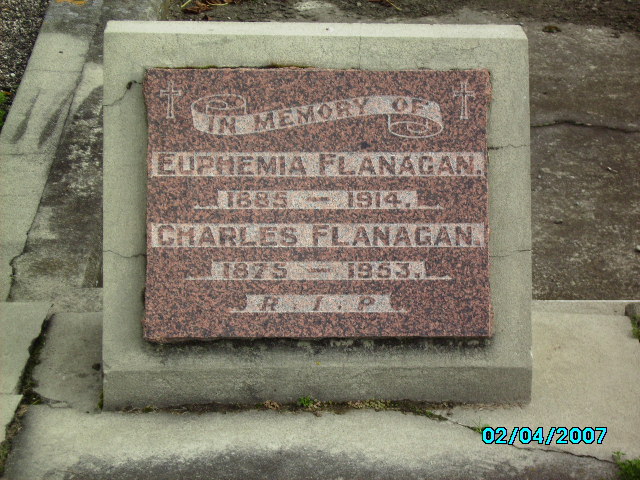 Grave of Charles Flanagan.
From Timaru District Council.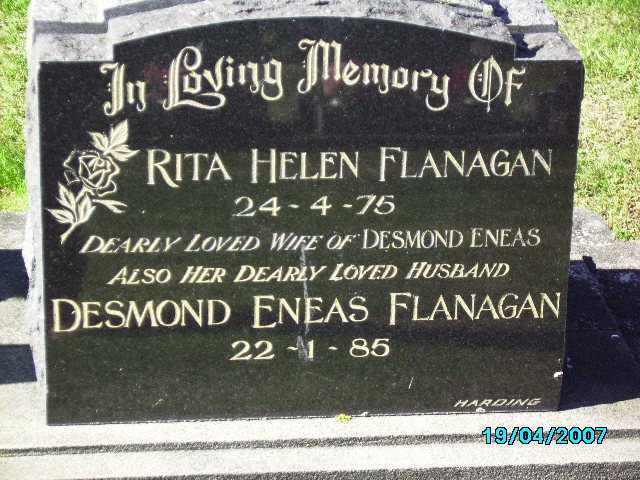 Grave of Des and Rita.
From Timaru District Council.
---
References