Alderman Michael Flanagan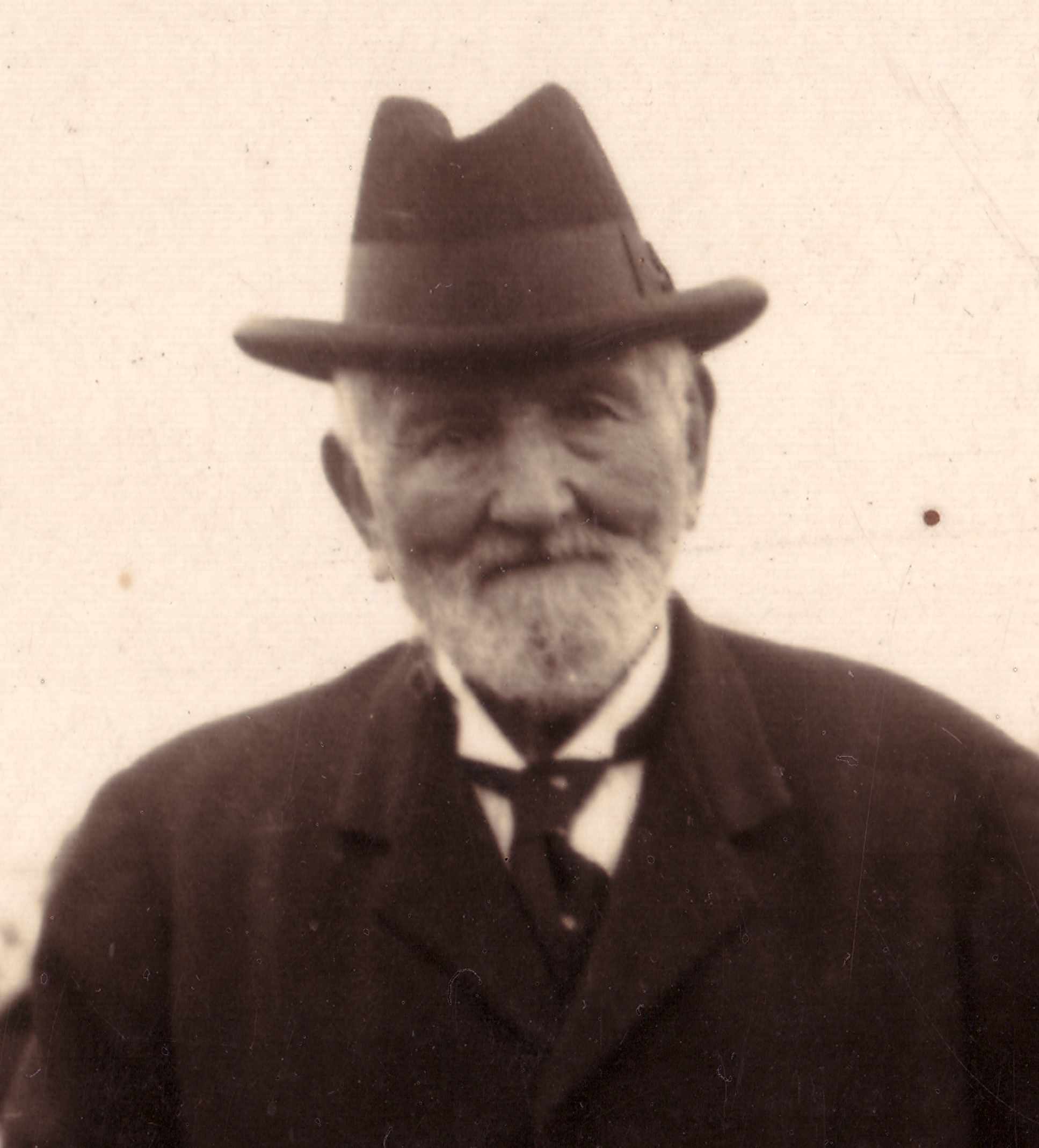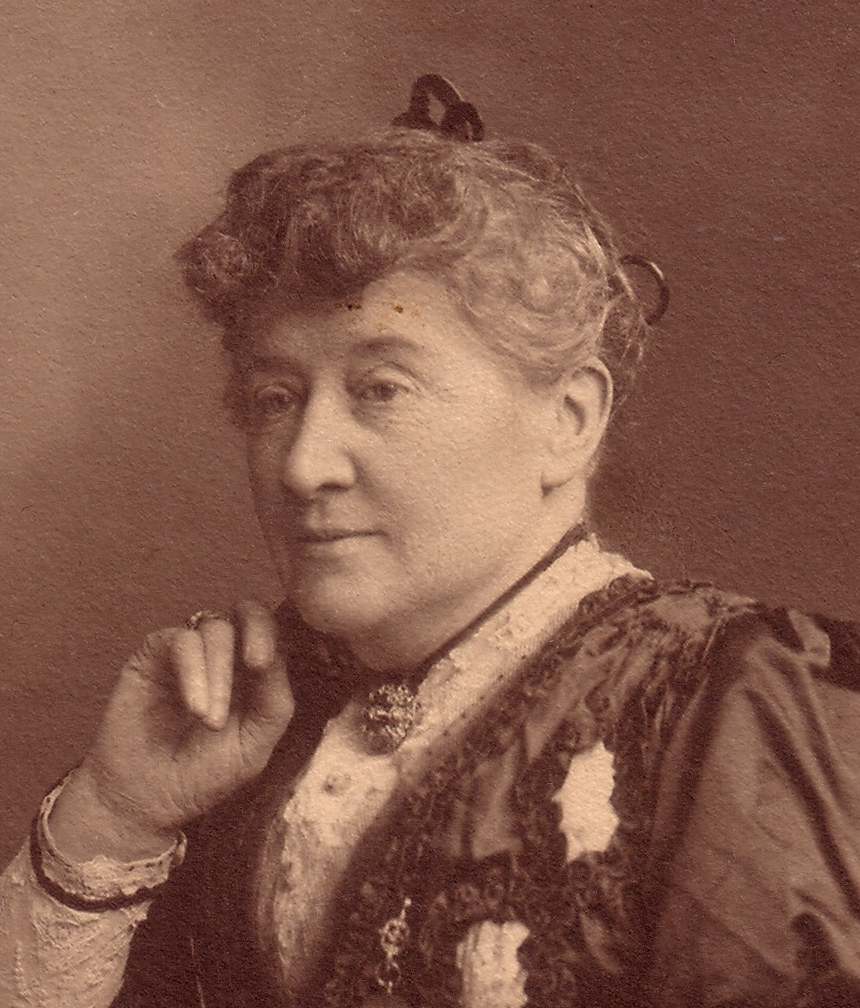 (Left) Alderman Michael Flanagan. Photo 1925 (age 92). From
this picture
. See
full size
.
(Right) Anne Collins. Photo perhaps c.1895. See
full size
.
Alderman Michael Flanagan
,
born Tallaght, Co.Dublin, bapt 29 Sept 1833.
See
Wikipedia
.
For most of his life he was just called
"Michael Flanagan"
, until he became an Alderman sometime in 1886-1894. After that, and after his death, he was always called
"The Alderman"
by the Flanagan family.
He was a hugely successful market gardener. Starting with very little he built up a business supplying the expanding Dublin city.
He eventually owned a massive
farming estate across SW Co.Dublin
, which reached 500 acres in size (was that size for all of 1895-1925 period).
Michael grew up on family farm, Greenhills, Tallaght, Co.Dublin.
He was taken by his father to see Daniel O'Connell speak c.1840.
He remembered The Famine (1845-50). [Frank Flanagan] said: "My father told me of the Famine, and the terrible times the unfortunate people went through".
He would be "Michael Flanagan" who sp bapt of his nephew Patrick Malone 1853.
He grew vegetables, starting on his father's small holding at Greenhills, Tallaght.
There is a story in the family of Marie Ryan (née Hughes) of Jamestown House, Inchicore, that she "walked out with" the Alderman when she was a widow. This story is according to her descendant James Molloy. The dates are unclear, but it seems more likely she was a young widow (around the 1860s) rather than when they were both widowed in old age.
"Michael Flanagan" sp the bapt of his niece Mary Ellen Doyle 1865.
He wit his sister's mar, 6 Aug 1866 and got married himself days later.
He is listed as "gardener" (would be market gardener) at mar 1866 [GROI].
He is living Kilmainham at mar 1866 (possibly already living Royal Hospital, Kilmainham).
Michael mar 19 Aug 1866 to Anne Collins [bapt 27 Nov 1842].
They mar at RC chapel, Crumlin, S Co.Dublin (Rathfarnham parish).
See mar cert from here.
See LHS and RHS of entry in [Rathfarnham RC par records].
Marriage wit by Laurence Warren of Porterstown, Co.Dublin, and Mary Collins of Crumlin.
Fenian Rising 1867:
He was a nationalist. "He knew all the great Irish leaders from James Stephens to John Redmond." [Frank Flanagan's memoirs].
He was a supporter of the abortive Fenian Rising, 5th Mar 1867.
[Frank Flanagan's memoirs] say Tallaght: "was the place in which the abortive 1867 Fenian rising took place. The morning of the rising my father entertained Lucas, the leader, and his men to breakfast" [presumably at Greenhills, Tallaght, rather than at Royal Hospital, Kilmainham].
However, I can't find any "Lucas" among names of leaders of the rising in Tallaght.
The rising was a disaster, as, in the "Battle of Tallaght", a tiny force of around 15 armed Irish Constabulary at Tallaght village police barracks held off hundreds of poorly-led rebels advancing on incoming roads. The police force was renamed the "Royal Irish Constabulary" in Sept 1867 in tribute to its success against the Fenians.
Michael and Anne lived for a short time in the Garden Lodge at the Royal Hospital, Kilmainham, Dublin.
Liam Cosgrave says Michael just rented the Garden Lodge for a time after marriage, that he wasn't actually the gardener of the Royal Hospital.
They are listed there at The Bird's birth, Apr 1867. Michael is listed as a "pensioner". This could be confusion with all the actual pensioners living there. Or maybe Michael did actually serve in the military?
The Garden Lodge seems quite a good house to rent. Though of course the fact that he had money by this time is shown by the fact that he soon moves to Portmahon House.
Michael and Anne moved to Portmahon House, Rialto, Co.Dublin.
He purchased Portmahon House on 4 Apr 1867 [Deed of 1867].
Though still at Royal Hospital when dau born July 1868. He is listed as "farmer".
He is listed at Portmahon House in [Thom's] from 1870 to 1932.
Listed as "gardener", living Portmahon House, at son's births 1870 and 1872.
"Michael Flanagan" sp the bapt of his niece Elizabeth Doyle 1870.
Listed as Michael Flanagan, farmer, of Portmahon House, in [Deed, 1871].
Listed as "farmer and kitchen gardener", of Portmahon House, in [Deed, 1873].
Listed as "market gardener", living Portmahon House, as at [Deed of 1873].
Listed as "market gardener", living Portmahon House, at Larry's birth 1874 [GROI].
He built up market gardening business.
He and his brother William inherited Greenhills, Tallaght after their father's death in 1874.
The only land Michael is listed as owning in [Owners of Land, 1876] is 6 acres at Greenhills and Crumlin.
Later he had acquired so much land in the area that apparently Dublin Corporation stopped him from buying any more.
[Liam Cosgrave] said: "his farming was mainly tillage and vegetables, at which work he employed large numbers of men and women. The ploughing was, of course, done by horses and the vegetables were sown and cultivated by men and women."
There is a story about the night of the Phoenix Park murders 1882. The Alderman was driving out to Tallaght, passed a sidecar with a group of men in it. Found out later it was the assassins. He noticed them because little traffic in those days. The Alderman did not know them, and did NOT help them.
Dublin Corporation councillor, PLG, Alderman, JP:
He was a prominent member of the Irish Parliamentary Party (the Nationalist Party, re-founded 1882 under Parnell).
He was a Nationalist Party local councillor on Dublin Corporation (for Usher's Quay ward) from 1884 to 1919.
He set the record for the longest tenure as councillor on Dublin Corporation [O'Brien, 1982, p.93].
[Thom's, 1884] lists him as Councillor for Usher's Quay ward for Dublin Corporation.
[Thom's, 1884] also lists him as Poor Law Guardian for Palmerstown district for the South Dublin Union. His younger brother William Flanagan was also a guardian for South Dublin Union. Thomas Cosgrave is listed as the other guardian for Palmerstown district. Cosgrave's son would later marry Michael's daughter.
Michael is listed as a "T.C." (Town Councillor) and "P.L.G." (Poor Law Guardian) in [Thom's] from 1884 on.
Listed as "TC" (Town Councillor) at Laurence Dunne funeral, 1886.
After his brother William died 1886 he inherited Greenhills, Tallaght.
The Parnell divorce scandal broke in 1890. [Frank Flanagan's memoirs] say: "My father knew Parnell and, although a very strict practising Catholic, he never wavered in his devotion to Parnell."
He was a friend of Andrew J. Kettle (a founder of the Land League).
At dau's mar Nov 1892 he is listed as "gentleman farmer".
He became an Alderman of Dublin.
Listed as Alderman and Justice of the Peace at his brother's death 1894.
Listed as J.P. at Larry's mar 1895.
Michael Flanagan, farmer, Greenhills, is listed under Tallaght in [Thom's] at least 1896 to 1960 (obviously many later entries are stale, the estate was then owned by Frank, it seems he left his father's name on it).

Story about him declining Lord Mayoralty and Baronetcy:
He was offered (prob. 1900) but declined the Lord Mayoralty of Dublin (see list).
There is a family story that he declined because as Lord Mayor he would have to receive a forthcoming Royal Visit.
Story is that he would have received a hereditary knighthood (a Baronetcy) had he accepted (would have been 1st Baronet).
Think the origin of this story is that the person who accepted the Lord Mayoralty instead of him got a Baronetcy.
This must refer to Thomas Devereux Pile of Kenilworth House, Rathgar, Lord Mayor of Dublin 1900-01, created Baronet 1900.
There was a Royal Visit by Queen Victoria in 1900. So it seems the family story is true, and the Alderman must have been offered the Lord Mayoralty in 1900.
See entry in 1901 census at Portmahon House. He is listed as Alderman, Justice of the Peace, farmer.
Portmahon House has 13 rooms, 8 windows in front of house. There are 32 out-buildings - consisting of 6 stables, 3 coach houses, 1 harness room, 1 cow house, 1 calf house, 1 dairy, 1 piggery, 1 fowl house, 1 boiling house, 6 barns, 1 turf house, 1 potato house, 1 workshop, 4 sheds, 1 store, 1 forge and 1 laundry.
He is listed as Alderman, Justice of the Peace, in [Deed of 1902].
[Obituary of Nora Flanagan, 1957] says the hounds of the South County Dublin Harriers were kennelled at "Portmahon Lodge" around 1909. Think this is error for Portmahon House.
W.T. Cosgrave (son of Thomas Cosgrave) became Sinn Fein councillor for Usher's Quay ward in 1909. (W.T. would later marry Michael's daughter.)
Anne dies, 1910:
Anne died Sat 16 Apr 1910, at Portmahon House, age 67 yrs, after an illness of only a few days.
See death cert from here. Registered in May and they get the date of death wrong.
The United Irish League passed a vote of condolence on Sat evening, 16 Apr. See item in Freemans Journal, April 19, 1910.
See death notice and report in Freemans Journal, April 18, 1910.
Funeral Mon 18 Apr, bur Glasnevin Cemetery.
Huge attendance at the funeral, including W.T. Cosgrave and John Stanislaus Joyce and Daniel John Hishon and the Lord Mayor and many city councillors.
See funeral list, Freemans Journal, April 19, 1910.
See funeral report in Irish Independent, Apr 19, 1910.
Dublin Corporation passed resolution of sympathy for "Alderman Flanagan", 19 Apr. See item in Irish Times, April 20, 1910.
See death notice in Irish Times, 23 Apr 1910.
The Alderman is listed in 1911 census as living Portmahon House. He is "agriculturalist", He and his children live with 2 servants. The house has 6 rooms, 3 windows at front of house. There are a total of 20 out-offices and farm buildings (consisting of 4 stables, 2 coach houses, 1 harness room, 2 cow houses, 1 calf house, 1 potato house, 6 sheds, 2 stores and 1 forge).
He sold vegetables to Covent Garden, London, 1912/13.
"He was most successful, and as well as supplying the Dublin market with vegetables, he exported to Liverpool and I think possibly the Continent before and during WWI." [Liam Cosgrave].
He exported hay to Glasgow, cabbages to Scotland.
The massive Flanagan estate of SW Co.Dublin probably reached its peak around 1914.
Liam Cosgrave says his father W.T. told a story of visiting Portmahon some time before he married the Alderman's daughter in 1919. The Bird was attacking Sinn Fein, not really to annoy W.T. but rather to annoy his own father. Eventually the Alderman said to The Bird: "Are you sober enough to know you're drunk?"
Retirement, 1919:
[Thom's, 1919] for Usher's Quay ward lists Michael Flanagan as Alderman, W.T. Cosgrave as Councillor, and two other Councillors.
Lived to see many great-grandchildren (1919 on), the grandchildren of Elizabeth and Larry.
He finally retired from Dublin Corporation 1919, age 86 yrs.
He was succeeded as Alderman by his son-in-law W.T. Cosgrave who became an Alderman after the Jan 1920 local election.
He lived to see a number of the 4th generation, outlived most of his children.
[Frank Flanagan's memoirs] said: "no matter how busy he was, he went to 12.00 mass daily until his last illness".
Liam Cosgrave remembers going to 12 mass in Adam and Eve's on Merchants Quay in the trap with his grandfather the Alderman, late 1920s. Poor fellas would be hanging round outside. The Alderman would throw them six pence.
Liam remembers the Alderman using a trap in the 1920s. He was not interested in getting an automobile. His son Frank eventually bought him his first car.
Liam said the Alderman had a strong voice. When there was a game of cards on "you could hear him in the next parish".
Liam recalls visiting Portmahon House in the 1920s, with the Alderman upstairs confined to bed, and his unmarried sons Michael (died 1929) and Frank living there.
There is a letter of 1980 by his great-grand-niece Marie Boyce (born 1923) recalling visiting Portmahon House as a child: "There was a very old gentleman on a couch who looked very much like George Bernard Shaw. My mother said he was Uncle Mike".
His will is dated 14 Mar 1930. Liam Cosgrave says the Alderman left a provision in his will that if there was any contest, they would forfeit - ensured no rows.
Death, 1931:
He died Portmahon House, 16th Oct 1931, age 98 yrs.
See obituary in Irish Times, October 17, 1931.
Funeral 19 Oct, bur Glasnevin Cemetery.
Mass celebrated by Fr. John Flanagan, also presiding was Michael Fogarty, Bishop of Killaloe.
Present at the funeral were the Alderman's son-in-law, the President of the Irish Free State W.T. Cosgrave, and his entire cabinet, and a long list of politicians and clergy, including Eoin MacNeill and John A. Costello and Sean Mac Eoin and Batt O'Connor and Sir Thomas Esmonde and The Ceann Comhairle and The Chief Justice and The President of the High Court and The Lord Mayor.
See funeral report and photo in Irish Times, October 20, 1931.
See notice to creditors in Irish Times, October 28, 1931.
Will pr 13th Nov 1931 [NAI] ref. IA-7-45, "farm produce merchant".
Personal assets £18,600, land £6,500. This totals about £5m in today's money. But also many debts.
Michael and Anne had issue:
Baronetcy story:
The Alderman was apparently
offered a baronetcy
in 1900 if he would become Lord Mayor and receive a Royal visit, and he refused.
If he had accepted, he would have been the 1st Baronet.
To add a second hypothetical to that, if Michael had married the mother of his sons, the 2nd Baronet would have been in this line. And indeed the Baronetcy would still exist. But he did not marry the mother of his sons.
Back to just the single hypothetical of the Baronetcy existing in the first place, after the Alderman died, Larry's son Michael would have been the 2nd Baronet.

Marriage of Michael Flanagan and Anne Collins, 19 Aug 1866.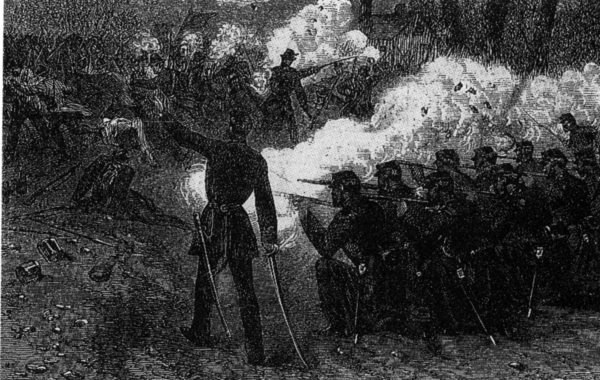 The "Battle of Tallaght", Fenian Rising, 5 March 1867.
Image courtesy of Cork Multitext Project, UCC (formerly here). Used with permission.


Alderman Michael Flanagan's notepaper from Portmahon House, 1905.
Note he had a telephone.
Note also the amusing telegraph address.
See larger and full size.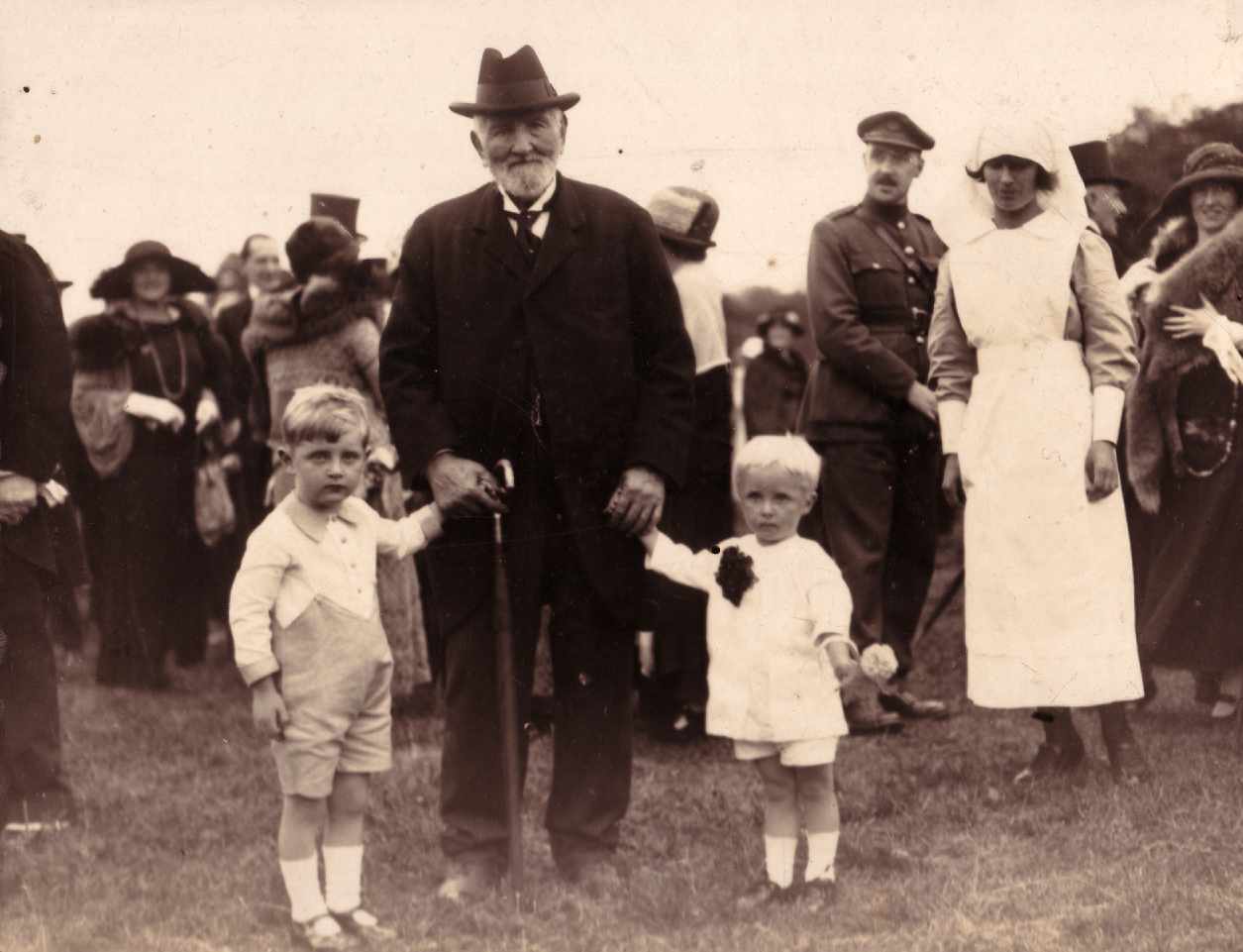 Alderman Michael Flanagan with his grandchildren Liam Cosgrave (left, born 1920) and Míceál Cosgrave (right, born 1922).
Garden party at the Cosgrave house, Beechpark, 1925.
The officer on RHS is Free State General J.J. O'Connell, who was kidnapped by the republicans at the start of the Civil War, June 1922 (later released unhurt).
See larger and full size.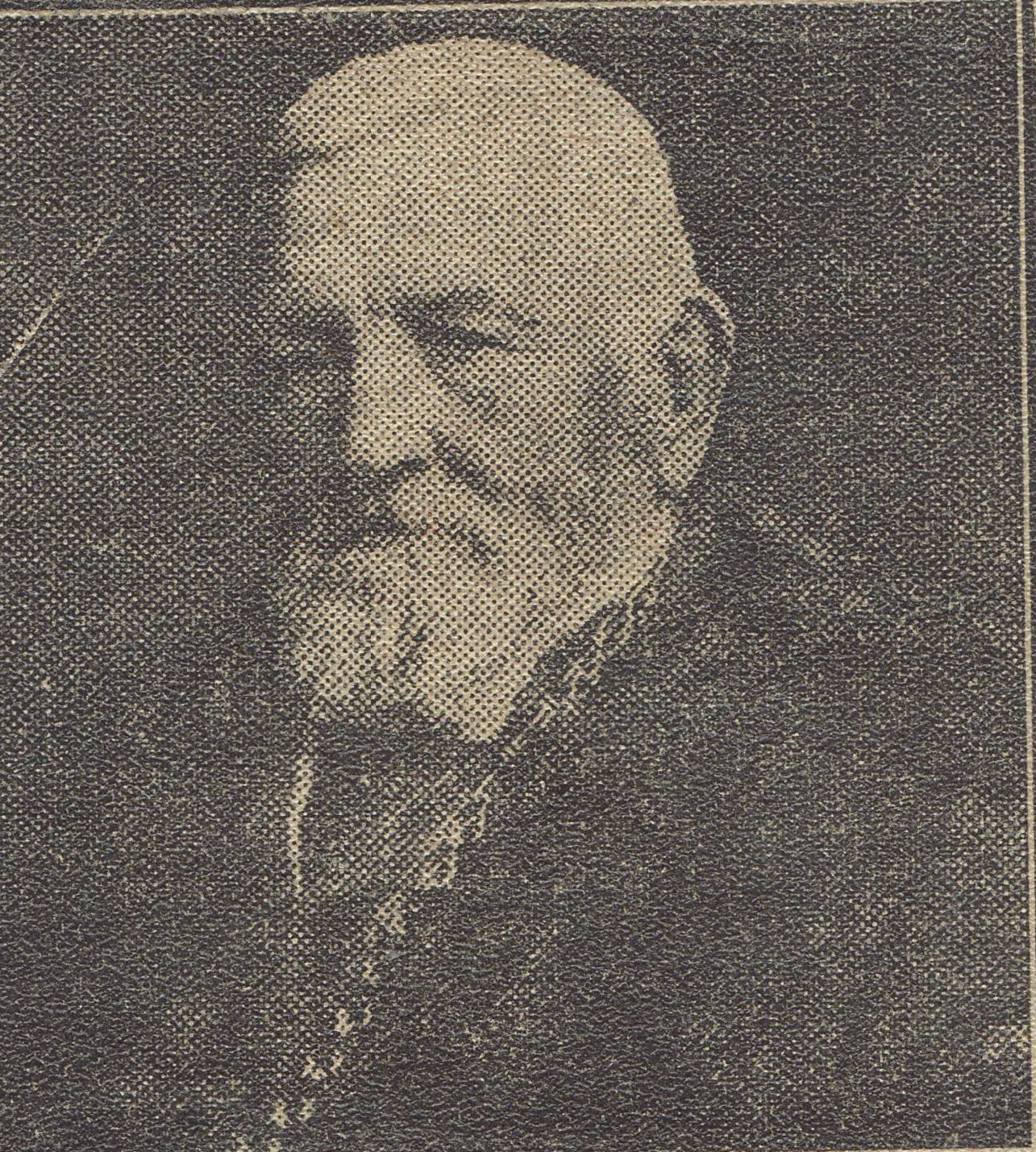 Alderman Michael Flanagan.
From obituary, Irish Times, October 17, 1931.
See wider and full size.
See other scan.
---
AI animations
AI animations of old photos.
Made using
Deep Nostalgia
at MyHeritage.
AI animation of Alderman Michael Flanagan in
1925 photo
.

AI animation of Anne Collins in photo perhaps c.1895.
---
References
---
Lease, W. Stubbs (or M. Stubbs) to Michael Flanagan, 10 Aug 1866. House and farmland of Newtown "Castle Bankroft".
Bancroft's Castle (now vanished) was in Tallaght village, on E side of village. See 1887 to 1913 map.

Lease, Angelina Rablagliati to Michael Flanagan, 4 Apr 1867 (or possibly 4 Feb). Lands and house of Portmahon. 8 acres.
Lease, Charles James to Michael Flanagan, 1874. Greenhills, Ballymount Lane, Lands of Crumlin. 37 acres.
Michael Flanagan obtained on 28th July 1875 "part of the lands of Kilmainham known as Goldenbridge North".
Lease, William O'Brien to Michael Flanagan, 8 Feb 1877. Timmon. 95 acres.

Lease, Richard Arundel to Michael Flanagan, 2 July 1878 (or 2 Aug). Parts of Kilmainham and Rialto Lodge. 11 acres.
Rialto Lodge (now vanished) was close to Portmahon House and Portmahon Lodge. See 1887 to 1913 map. See full estate.

Lease, Sir Ed. Bradstreet to Michael Flanagan, 11 Mar 1885. Lands of Portmahon, Bellare House. 10 acres.
Lease, possibly Sir Ed. Bradstreet to Michael Flanagan, 28 May 1885. Leicester House. 84 acres.
Lease, John O'Ferrall to Michael Flanagan, 30 May 1885. Carmans Park, Smithfield. 17 acres.
Lease, Mrs. E. Cullen to Michael Flanagan, 28 Aug 1888. Walkinstown. 9 acres.
Lease, M. Keogh to Michael Flanagan, 25 Mar 1889. Walkinstown. 2 acres.
Lease, Bridget Mooney to Michael Flanagan, 26 Apr 1890. Kingsfield. 35 acres.
Lease, Kate Bolger to Michael Flanagan, 5 Feb 1892. Portmahon cottages and outhouses. 3 acres.
Lease, Arthur Peakin to Michael Flanagan, 13 June 1895. Crumlin. Ferrits Lawn. 101 acres.
Lease, Mary Corrigan to Michael Flanagan, 1913. Kingsfield. 5 acres.
Lease, Louisa Cosgrave to Michael Flanagan, 19 Dec 1919. Dolphins Barn, Smithsland, Carmans Park. 17 acres.
Lease, Sir Frederick Shaw to Michael Flanagan, 7 July 1921. Walkinstown. 32 acres.
On 31st Aug 1922 the Alderman conveyed his lands of Goldenbridge North to his son Frank.

Leases from the Flanagans, 1873 to 1948. Table 6 in [Hannan].