Flanagan of Co.Dublin
---
Co.Roscommon
The tradition in our family is that the Flanagans were from
Co.Roscommon
and moved to Co.Dublin.
The family story was that
William Flanagan
(bapt 1790) was from Co.Roscommon. However, this is clearly not true. He was baptised in Co.Dublin, where his father had been living for some time.
It is possible that his father came from Co.Roscommon. Except there seem to be other connected Flanagans in this part of Co.Dublin in the late 18th century.
If they did come from Co.Roscommon, it was mid-18th century or earlier.
Frank Flanagan said there was a story that the Flanagans were stewards to The O'Conor Don at Clonalis House (or Cloonalis), Castlerea, Co.Roscommon. The original house was early 18th century. See [Irish Country Houses].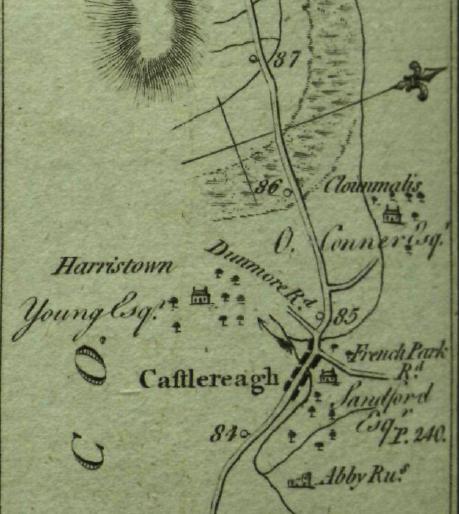 Clonalis in
[Taylor and Skinner, 1777]
.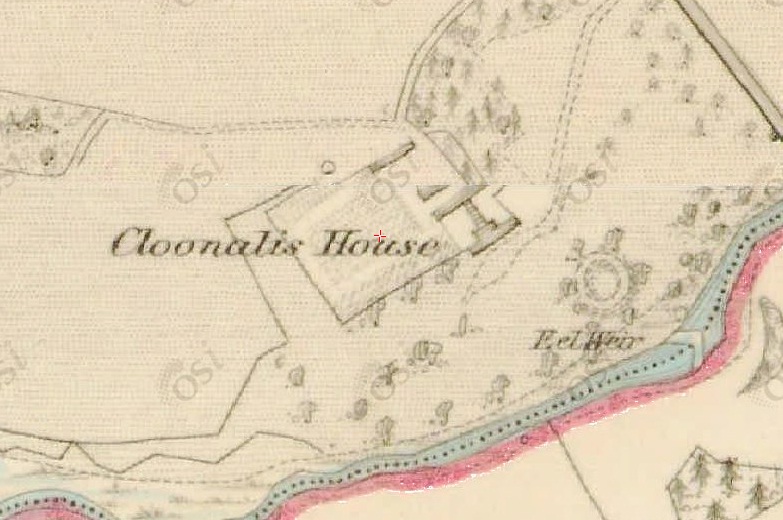 The old (early 18th century) "Cloonalis House", Co.Roscommon, on 1829 to 1842 map.
There was a story that the Flanagans were stewards to The O'Conor Don here. But there is no evidence to support this yet.
This house is now gone, replaced by the new "Clonalis House" (built 1878) a bit to the N of this site. See 1887 to 1913 map and modern satellite view and street view of entrance.
---
Edward Flanagan, of Kilnamanagh
We start with Edward Flanagan, of Kilnamanagh, Tallaght par, Co.Dublin, who I have now proven is the ancestor of our line:

The earliest record:
Baptism of the son of Edward Flanagan, in 1777, at Rathfarnham RC church.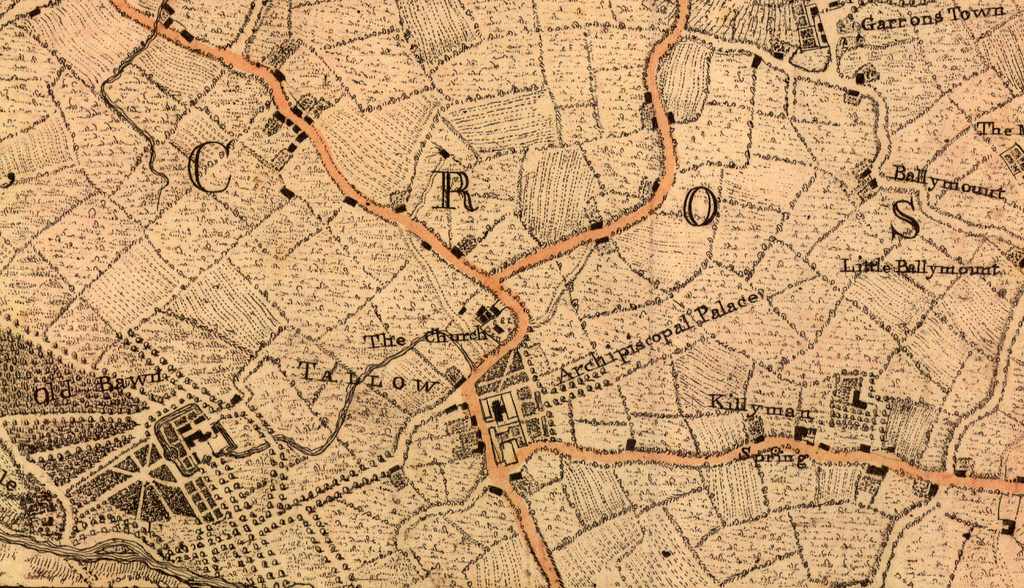 John Rocque's map of Tallaght village, 1760.
Compare with 1829 to 1842 map.
N is roughly to the right here.
The Greenhills Road is the lower road going off to the right.
"Killyman" and the "Spring" would be Kilnamanagh Castle and the spring opposite, visible on 1887 to 1913 map (though the spring is further from the road).
Further to the right (N) is the road junction just S of the Flanagan farm (the road that leads to Little Ballymount).
The Flanagan farm would be at the far right edge of this picture. One would need to see the full image to be sure.
See full size. From South Dublin Libraries.
---
---
---