Peevey
NOT Pevey or Peevy.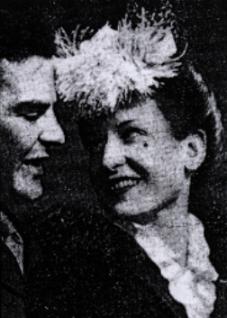 James Peevey and Sheila Winter at their wedding.
Daily Mirror, 10 Oct 1945.
James Peevey.
American, from Texas.
He was Captain in
US Air Force
.
He mar 9 Oct 1945 to
Sheila Winter
[born 17 Sept 1922].
He became head of
Mobil Oil
in Europe. He travelled all over world.
He was in Morocco temp 1954.
They lived Weybridge.
Think later lived Epsom.
He died think 2005-2006.
She died 4 Feb 2019, age 96 yrs.
They had issue:
Jim Peevey, mar Patricia Ferrall and had issue:

Charlotte Peevey.
Laura Peevey.
Alexandra Peevey.

John Peevey, mar Yolanda LaGuardia and had issue:

Nicole Marguerite Peevey.
Suzzane Marie Peevey.

Bob Peevey, mar Maureen ---- and had issue:

Patrick Peevey.

Tom Peevey, mar Thirza Charles (formerly Schnieder) and had issue:

Marian Peevey.

Sheila Peevey, mar Trevor Weyland and had issue:

Ava Weyland.

Richard Peevey, mar Carol ---- and had issue:

James Peevey.
Maxwell Peevey.
Samuel Peevey.

Michael Peevey.
DNA match to me and my mother and Mo Jackson and George Jackson.
He mar Ozlem Atmaca and had issue:

Lydia Peevey.