Morice
David Morice.
He mar 1773 to
Rachel Young
[a widow, born 1742].
He was Sheriff-Substitute of the county of Aberdeen, 1799.
They had issue:
Alexander Morice,
born Aberdeen, 27 June 1774.
Went to sea about age 14.
Became officer in East India Company.
Sailed to China in 1793 (age 19).
Engaged in business in Brazil and in London.
He mar 8 July 1810 to Isabella Gibbon [bapt 13 June 1781].
They were mar at Rio de Janeiro, Brazil, on board HMS Foudroyant (formerly Nelson's flagship).
Alexander died 1814, Aberdeen.
He was bur St.Nicholas', Aberdeen. See findagrave.
Isabella died 1859, Aberdeen.
She was bur St.Nicholas', Aberdeen.
They had issue:




David Morice,
died as an infant in 1812.

David Morice,
born 1813.
He mar Elsie Watt and had issue.

Sophia Morice,
born 1815, after father's death.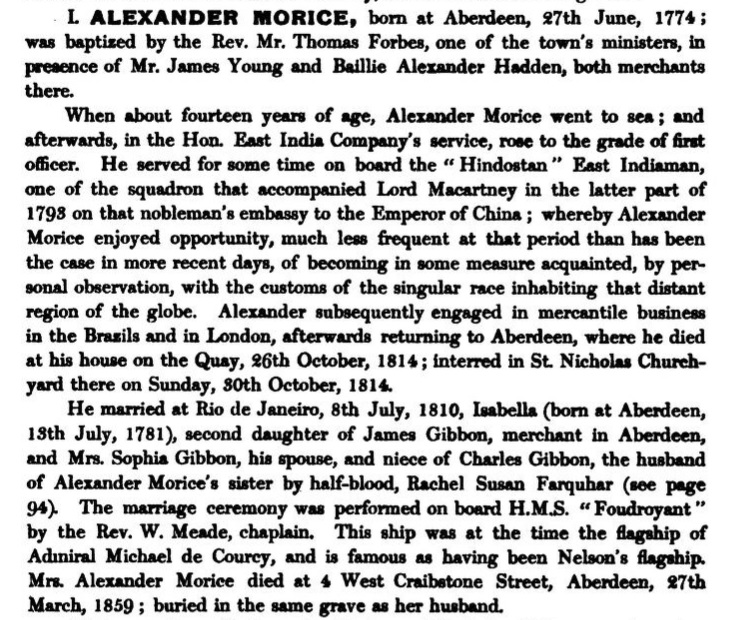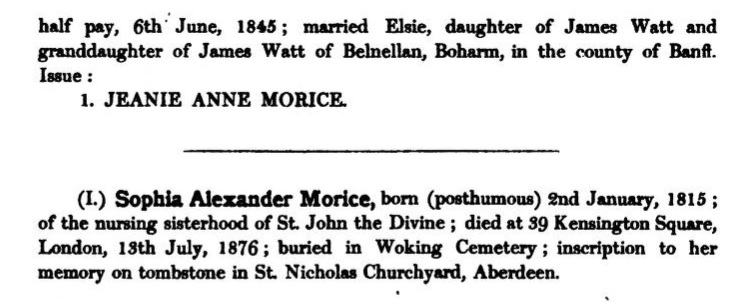 Entry on
pp.97-98
of
[Johnson, 1894]
.