Gibbon of Aberdeen, Scotland
Wider family
Our family may be related to
Gibbon of Stonehaven
. But proof is lacking.
Our family may be related to other
Gibbon of Aberdeenshire
. But proof is lacking.
Our family was granted similar arms to
Gibbon of England
. But there is no proof of any connection and it seems unlikely.
Gibbon family tree dates are too early
The old Gibbon family trees have dates that are too early.
See
start
of
[Barbara Yates Gibbon family tree]
See
copy
of
[Alexander Gibbon family tree]
.
Together these say Arthur Gibbon of Echt, father of
William Gibbon
, was
born in 1614, moved to Torry in 1640, and died c.1686
.
But these dates do not make sense, given the dates for Arthur Gibbon's children and grandchildren.
How could a man born in 1614 have a grandchild born in 1757?
How could a man who died c.1686 have a daughter who gave birth in 1752?
Arthur being born about 1670 makes more sense.
The real, historical Arthur Gibbon
In fact, we have discovered William Gibbon's father was indeed Arthur Gibbon, or Gibbons. Arthur was
living in 1732-1737.
He lived in Torry, Aberdeen.
So clearly not born in 1614, and not dying c.1686. It is a mystery where these 17th century dates came from.
Arthur who was living in 1732-1737 is a real person, so we will start with him. We will call him Arthur of Echt, though it may be a father or grandfather who came from there to Aberdeen.
Spelling
The family is often found as
"Gibbons"
in the early 18th century.
By the late 18th century they have standardised to
"Gibbon"
.

We begin with:
Arthur Gibbon,
or Gibbons,
born est c.1670.
He (or maybe an ancestor) was from Echt, Aberdeenshire (W of Aberdeen, see map), and moved to Aberdeen.
His son William got married in 1729 (which is the first definite date in the family tree).
Arthur was living at Torry, just outside Aberdeen, in 1732.
He was still alive in 1737.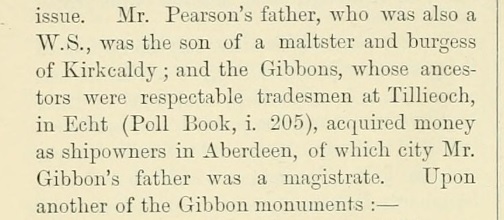 Extract from
[Jervise, 1879, p.16]
.
This says that this Gibbon family were tradesmen at
Tillioch
, near Echt, before becoming shipowners in Aberdeen.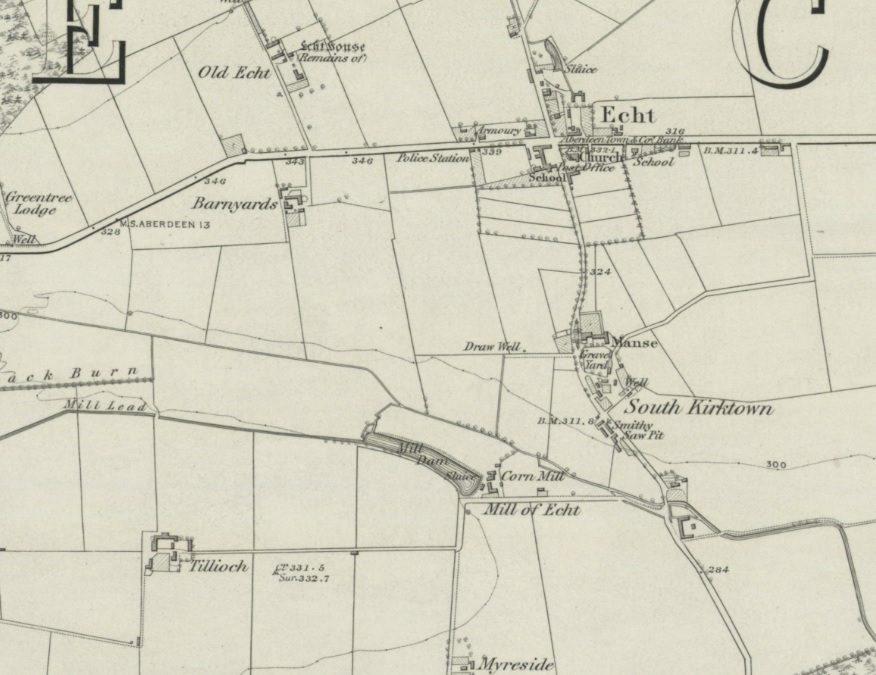 Tillioch, SW side of Echt.
From 1843-1882 map.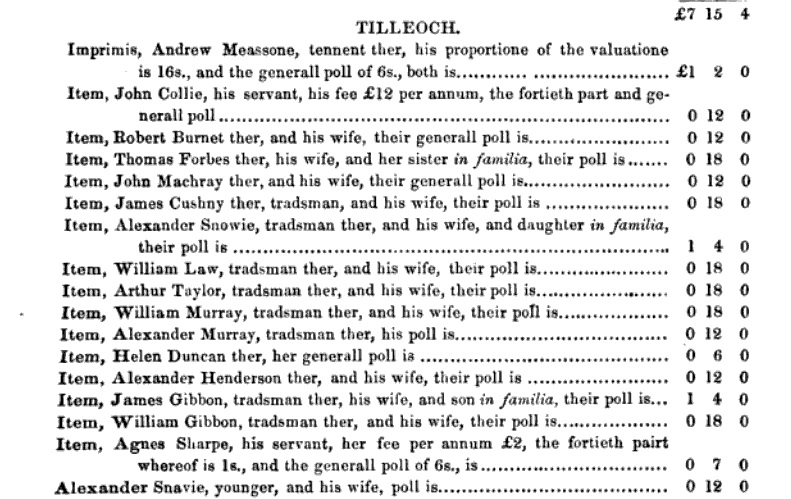 James Gibbon and William Gibbon, tradesmen, are listed at Tillioch, Echt parish, in [Poll book, 1696].
From p.205 of vol.1 of the 1844 publication.
[Jervise, 1879] thinks this is our family.
Parish of Echt is pp.203-217. I cannot see any other Gibbons in the parish.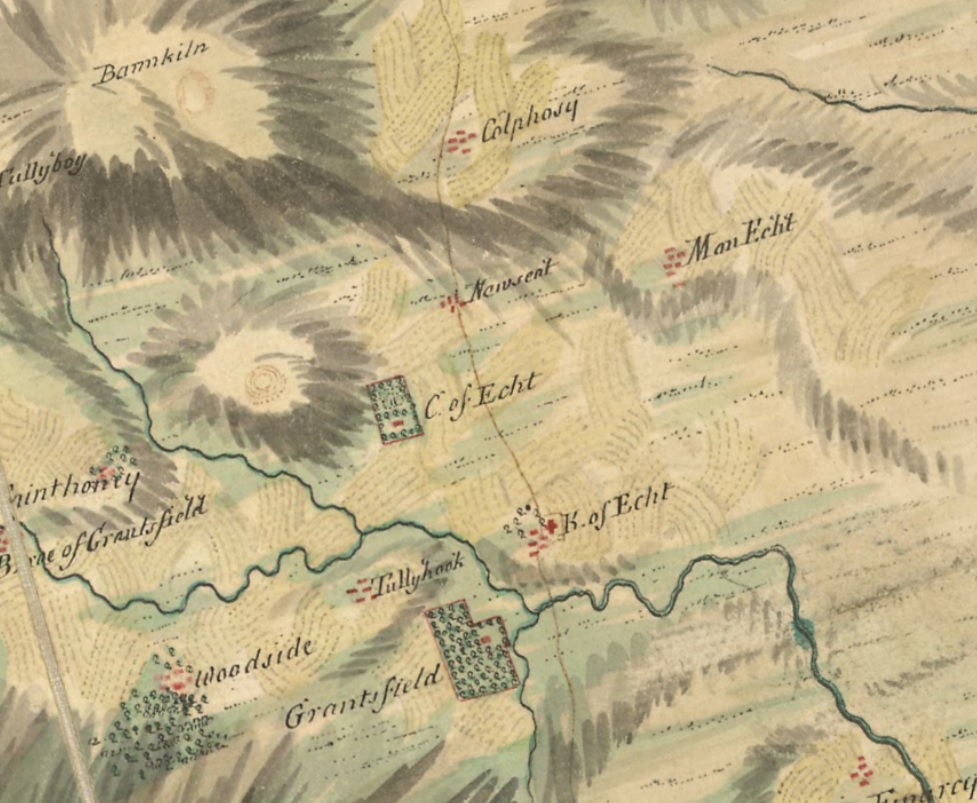 Echt on Roy Military Survey of Scotland, 1747-1755.
"Tullyhook" would be Tillioch.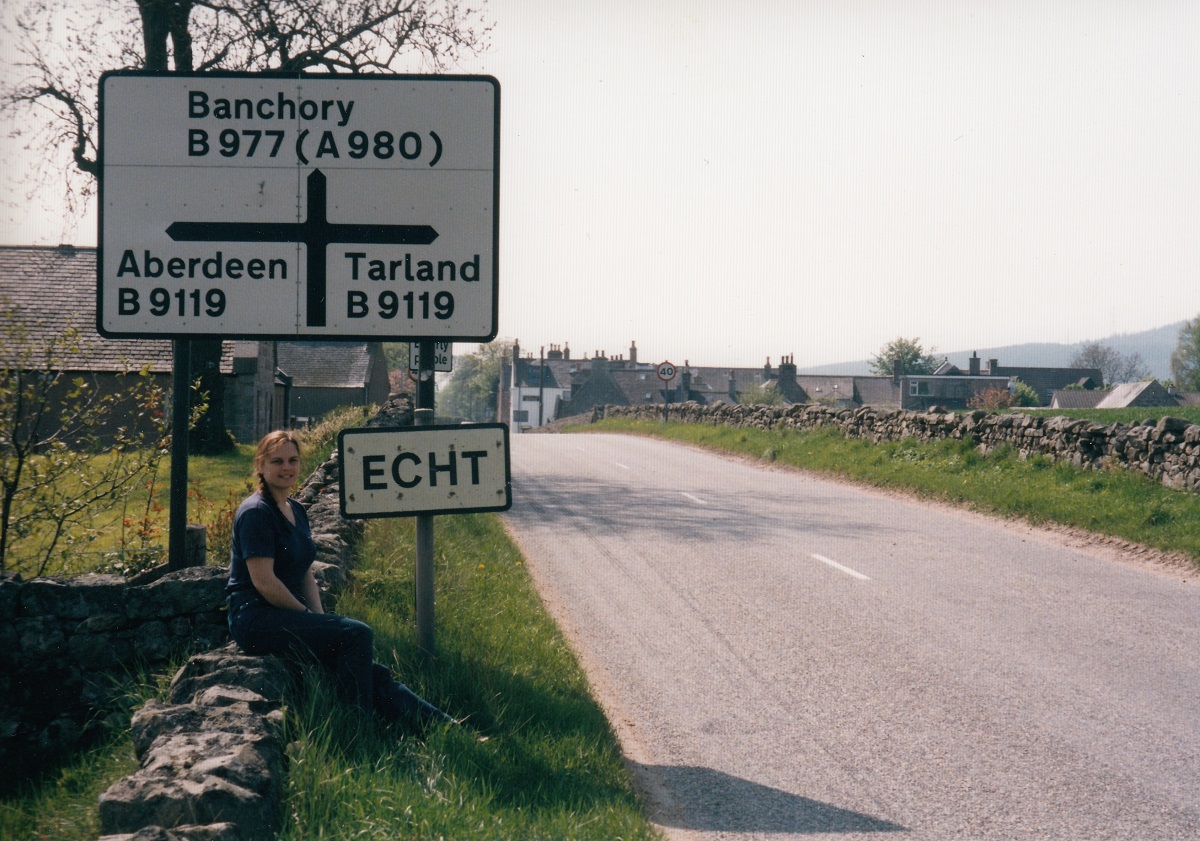 Echt, Aberdeenshire.
Photo 1998.
See larger and full size.
See modern street view.
---
The Gibbon arms (with three scallop shells) were granted to
Gibbon of Rolvenden, Kent
in 1629.
Similar arms were granted to
Gibbon of Dorset
in 1681.
Our family is Gibbon of Aberdeenshire, Scotland.
They have no known connection to Gibbon of England.
However in the 19th century they were granted the right to use a version of these Gibbon arms.
The expense book of Arthur Augustus Gibbon records periodic payments of fees to the College of Arms for an Armorial Bearings Licence, various dates 1878 through 1893. Arthur Augustus Gibbon used the arms constantly.
The papers of our Gibbon family focused on the grant of Gibbon arms to Gibbon of Dorset in 1681. Though there is no known connection to our family.
Arthur Augustus Gibbon had the stained glass crest made in 1881, on the 200th anniversary of the grant of arms in 1681.
However, the Gibbon arms are older than 1681. Gibbon of Dorset are only one Gibbon family to whom the arms (or similar) were granted.
The motto: The motto used by our Gibbons is "Per Mare et Terras" ("By sea and land").
Our Gibbons, of Aberdeen, were a maritime family. I am not sure if this motto was invented for our Gibbons in the 19th century, or is older.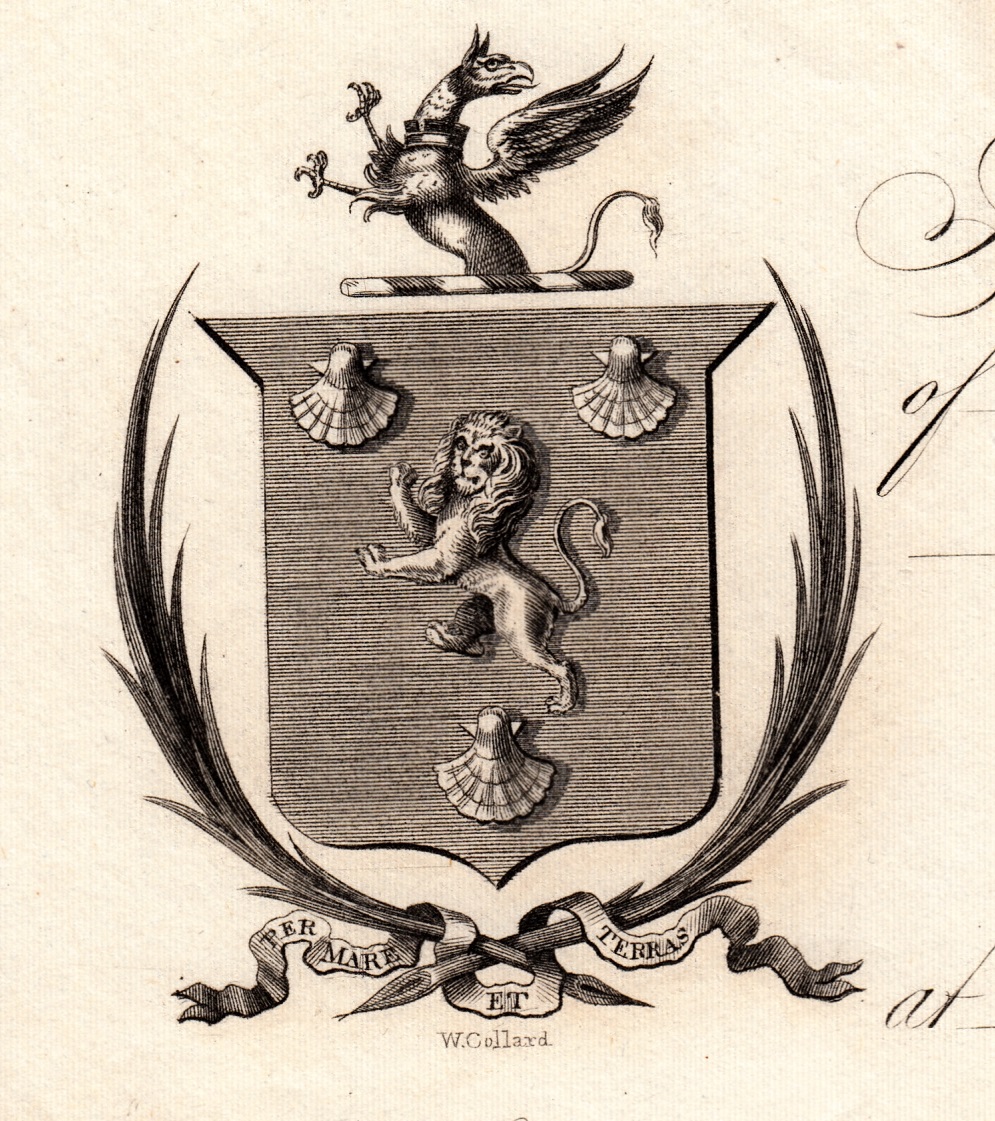 The Gibbon coat of arms. On paper.
There are multiple copies of this in
Gibbon papers
. Look like they are all cut out from some printed forms or notepaper with the Gibbon arms.
See
larger
and
full size
.
See
other photo
.
See
other version
.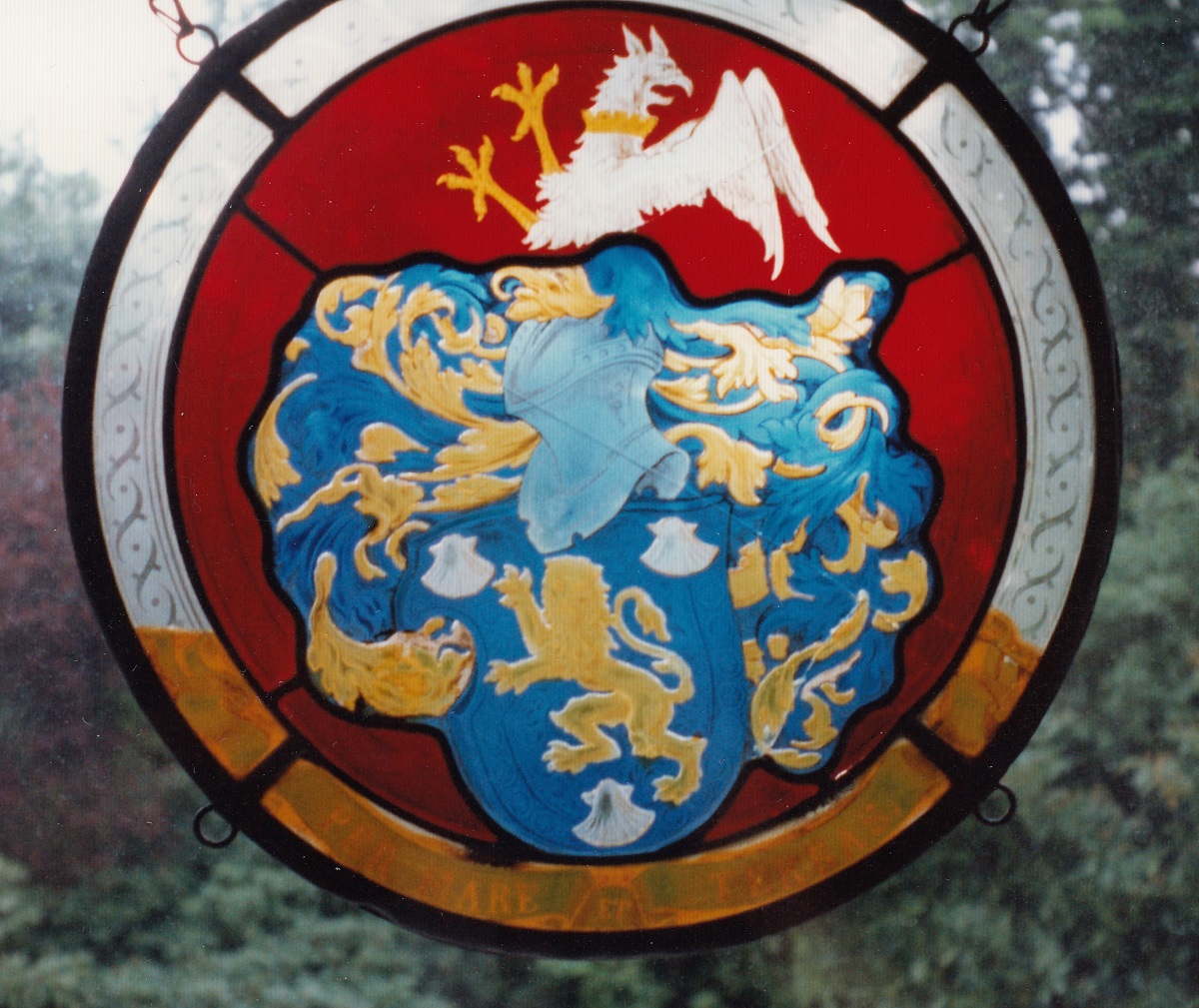 The Gibbon coat of arms.
Stained glass in our family.
Painted for Arthur Augustus Gibbon by "Herr Ziebert" in 1881.
See larger and full size.
See other shot.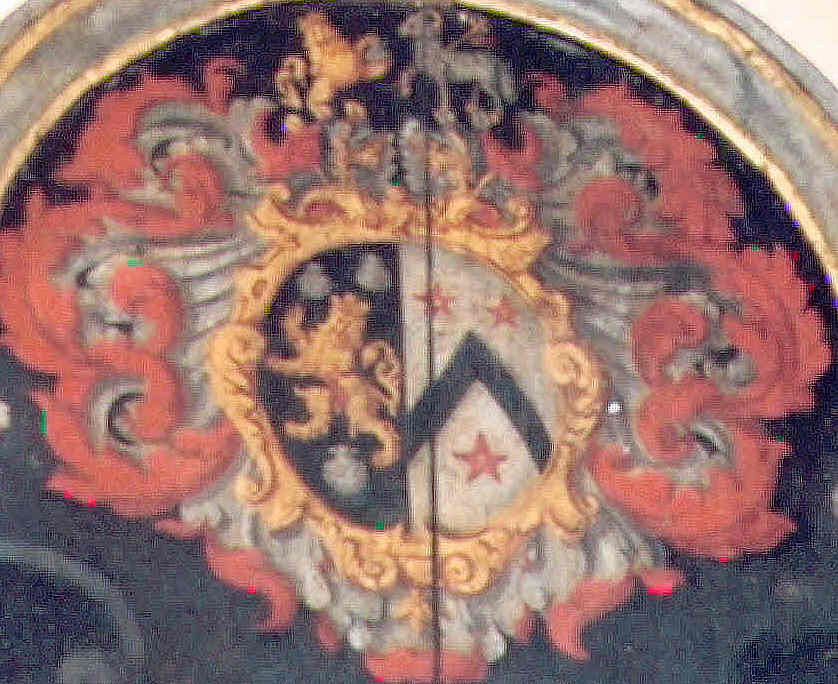 Arms of a Thomas Gibbons, dated 1660.
Christow church, Devon.
From Christine Gibbins.
---
Everyone with the surname Gibbon wonders if it is something to do with the apes called
gibbons
.
The answer is complex, and may be yes.
The name "gibbon" for the apes (Buffon, 1766)
The family of apes called gibbons were first given their name in print by the great French naturalist
Buffon
in 1766 in
Histoire naturelle
.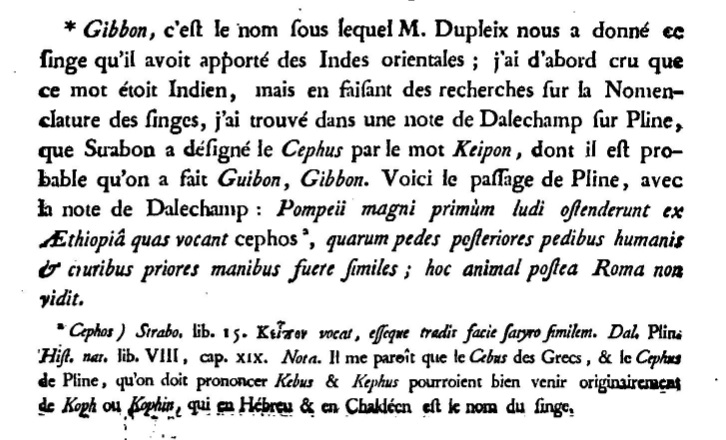 Buffon introduces the word "gibbon" for the apes.
From
p.92
of
Histoire naturelle
,
vol.14
, Paris, 1766.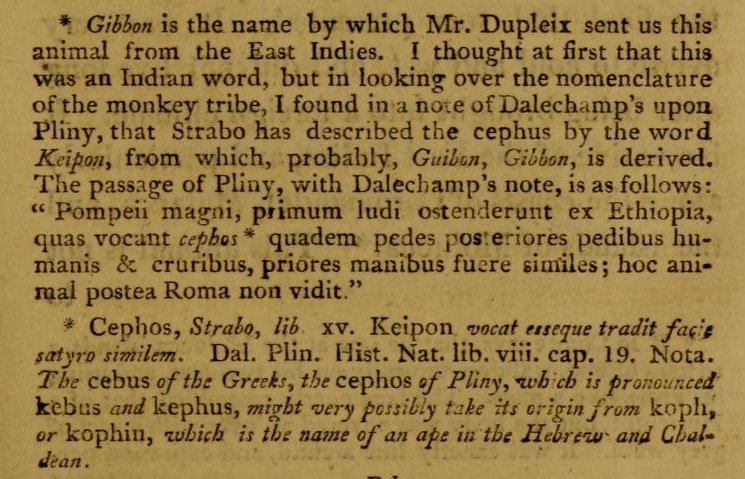 English translation of the notes.
From p.185 of Buffon's Natural History, English translation, vol.9, London, 1807.
Origin before Buffon
Buffon above says the word "gibbon" was introduced to France by Joseph Francois Dupleix (French governor general in India 1742-1754, died 1763).
There has been much debate over where the word comes from before this. Some sources say "gibbon" is French (perhaps because used by the French in India). Some say it is native Indian or native Malaysian. Other sources say it is derived from "gib" (see following).
Gilbert, Gibbon and Gib
The surname Gibbon:

Gib the cat:

Gilbert is the name of the cat in the fables of Reynard the Fox (12th century).
Perhaps as a result of these stories, Gilbert or Gib seems to have caught on as a cat's name.
"Gibbe" is the name of the cat in Chaucer's "Romaunt of the Rose" (14th century).
A gib cat became a word for a male cat, especially a castrated male cat.
Possible British origin for the ape name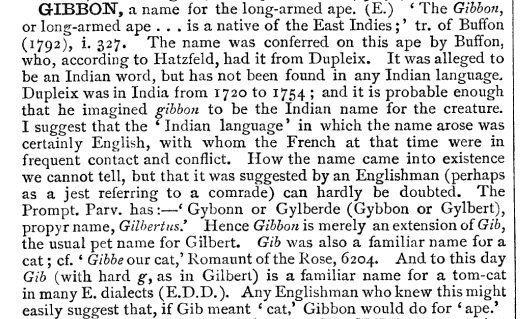 Entry for "gibbon" on
p.778
of 1910 edn of
An Etymological Dictionary of the English Language
by Walter W. Skeat.
Screenshot is from a
reprint
.
This suggests quite a plausible theory - that the French in early-mid 18th century India got the name not from the natives but from the
British in India
.
The origin may be related to "gib" the cat.
Or the ape could even be named after some British man called Gibbon.
Gibbon the historian is not the origin
The most famous person of this surname was Edward Gibbon the historian. Though he was not famous until 1776, long after the ape was named.
It is interesting that Buffon, who named the gibbon in print in 1766, knew Gibbon the historian. They met through Suzanne Curchod (Madame Necker).
Could Buffon have named the ape after him?
The dates say no, that clearly did not happen:
We can rule out Gibbon the historian being related to the naming of gibbon the ape.
However it is fascinating that some earlier Mr. Gibbon may be the origin of the name.
---
References
---
---
---
---
---